We have discussed the use of bleach, MMS, and related products as a so-called alternative medicine (SCAM) several times before. This regularly prompts advocates of this approach to claim that they are effective and safe. A recent case report seems to suggest otherwise.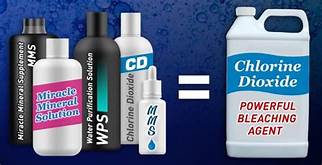 A 9-year-old boy presented with his brother after they accidentally ingested a small amount of undiluted 22.4% sodium chlorite. Symptoms included nausea, vomiting, diarrhea, and dyspnea. Oxygen saturation remained 71% despite supplemental oxygen (15L/min). The patient was noted to have dark chocolate-appearing blood, minimal urine output, diffuse pallor, and cyanosis. He developed methemoglobinemia, renal failure requiring renal replacement therapy, and hemolysis requiring blood transfusion. The authors reveal that these are the 7th and 8th reported cases of sodium chlorite toxicity by ingestion and the second and third in children.
The authors conclude that Miracle Mineral Solution is a commonly purchased potentially lethal compound that can cause methemoglobinemia with respiratory failure, hemolytic anemia requiring transfusion, and renal failure requiring dialysis.
Despite such cases, MMS continues to be promoted for viral and many other diseases, including cancer. Anyone truthfully stating that it is ineffective and dangerous is branded as a pharma shill who is biased against MMS. Would the 'bleach boys' claim the same about an agency like the UK Food Standards Authority?
Let's see!
This is what the FSA says about MMS:
… Sodium chlorite products vary in concentration, specific dosage and method of ingestion.
With products of weaker strength, any health impact from consuming these products is likely to be gastrointestinal irritation.
For stronger products, the effects can be severe nausea, vomiting and diarrhoea, potentially leading to dehydration and reduced blood pressure.
If the solution is diluted less than instructed, it could cause damage to the gut and red blood cells, potentially resulting in respiratory failure.
There are a range of alleged health benefits related to these products and all are unlikely to be authorised. Only nutrition claims listed in the GB NHC Register (Opens in a new window)may be used in Great Britain.
Health and nutrition claims are required to be authorised under retained Regulation 1924/2006 (Opens in a new window), as amended by The Nutrition (Amendment etc.) (EU Exit) Regulations 2019 (Opens in a new window)and The Nutrition (Amendment etc.) (EU Exit) Regulations 2020 (Opens in a new window). As well as being authorised and recorded on the GB NHC Register, the claim must not be 'false, ambiguous or misleading'.
Some health claims about this product that relate to the treatment of cancer may also be in contravention of the Cancer Act 1939.
Claims range from generic statements about 'purifying' the body to more specific ones around cancer and autistic spectrum disorders…
16 Responses to Miracle Mineral Solution (MMS) = potentially lethal