THE GUARDIAN published an interesting article about vaccination hesitancy yesterday. Here is a short passage from it:
One major missing piece of the puzzle, currently under consideration, is a strategy that gets to the bottom of why 5 million people remained unvaccinated, especially those in communities with an ingrained distrust of authority.
No 10 even turned to an artificial intelligence (AI) company earlier in the year to determine the causes of vaccine hesitancy, but Whitehall sources acknowledge there is still a lack of understanding about how many of the unvaccinated remain so because of entrenched anti-vax ideology, misconceptions that could be turned around, a lack of time or transport to get to vaccine centres, or just apathy.
Yesterday, it was also reported in DER STANDARD that the Austrian Science Minister Martin Polaschek has commissioned a study from Statistics Austria, which for the first time was to look at the vaccination status of the population according to socio-economic characteristics.
The study yielded fascinating findings that might shed some light on the phenomenon of 'entrenched anti-vax ideology':
Across all age groups, the proportion of vaccinated persons, including recovered persons, is 67%.
Slightly less than four percent of the population are only recovered, and about 30% are neither one nor the other.
There are no marked differences between men and women.
The willingness to vaccinate is strongly related to the level of education.
The vaccination rate in the group of 25-64 year-olds with a university degree is about 84% and thus significantly higher than among those who have only basic education (68%).
In this age group, it also seems important whether someone has a job (76%) or not (69%).
People employed in the information and communication sector (85%) and public administration (83%) are the most likely to be vaccinated.
Workers in agriculture and forestry (67%) and construction (65%) are the least likely to accept vaccinations.
Health and social services personnel have a vaccination rate of 79%.
More than half of the 600,000 schoolchildren had already been vaccinated, and in the upper secondary school it was even 72%.
The rate among teachers is also high, at 85%.
86% of the approximately 395,000 students at universities had been vaccinated.
As 92% of all medical students were vaccinated.
The vaccination rate among Austrian nationals, at about 70%, is clearly higher than that of people without an Austrian passport (52%).
The difference between those born in Austria and those not born in Austria is only five percentage points.
The willingness to be vaccinated is higher among people from Turkey (73%) than among those born in Austria (68%).
Among Germans and Afghans, it is around 72%.
People from Romania (43%) and the Russian Federation (45%) have the lowest vaccination rates.
The percentage of vaccinated people is highest among those between 75 and 84 years.
Similar findings have, of course, been reported from other countries. However, what seems new to me here is the finding that vaccination rates are strongly correlated to the level of education: the anti-vax brigade tends to be uneducated and ignorant. If confirmed, this suggests that education might be a way to make them accept vaccinations.
PS
Of course, correlation is not causality. But there seems to be a dose-response relationship between education and willingness to vaccinate. This makes a causal effect more likely.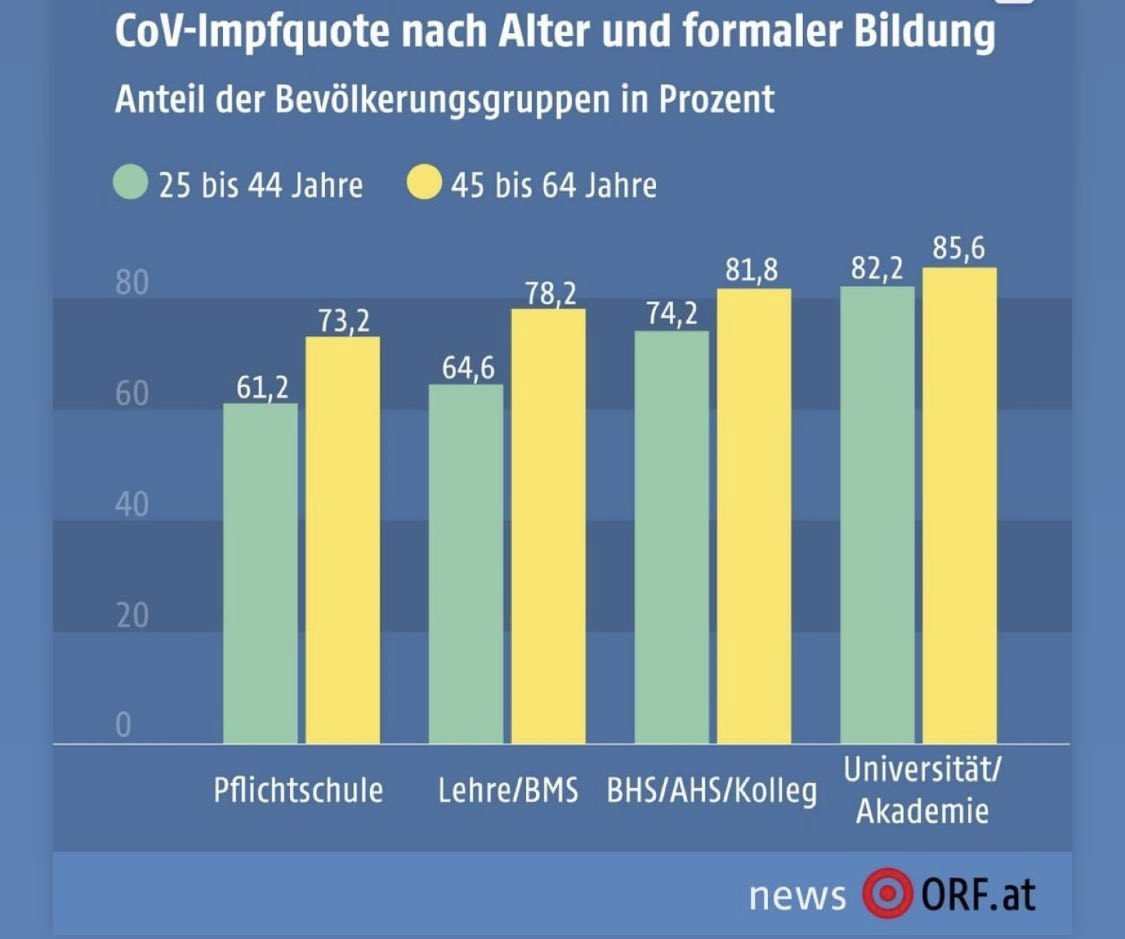 THOSE WHO KNOW NOTHING MUST BELIEVE EVERYTHING
49 Responses to Anti-vaxers tend to be uneducated and ignorant – THOSE WHO KNOW NOTHING MUST BELIEVE EVERYTHING