"There is a battle raging for humanity", claims Dr Carrie Madej, a US osteopathic doctor (in the US, osteopaths are [almost] conventional physicians). She thinks she has discovered how Big Tech collaborates with Big Pharma introduced new technologies in the coming vaccines, that will alter our DNA and turn us into hybrids. This, she submits, will end humanity as we know it, and start the process of transhumanism: HUMAN 2.0 They use vaccines to inject nanotechnology into our bodies and connect us to the Cloud and artificial intelligence. This will enable corrupt governments and tech giants to control us, without us being aware of it.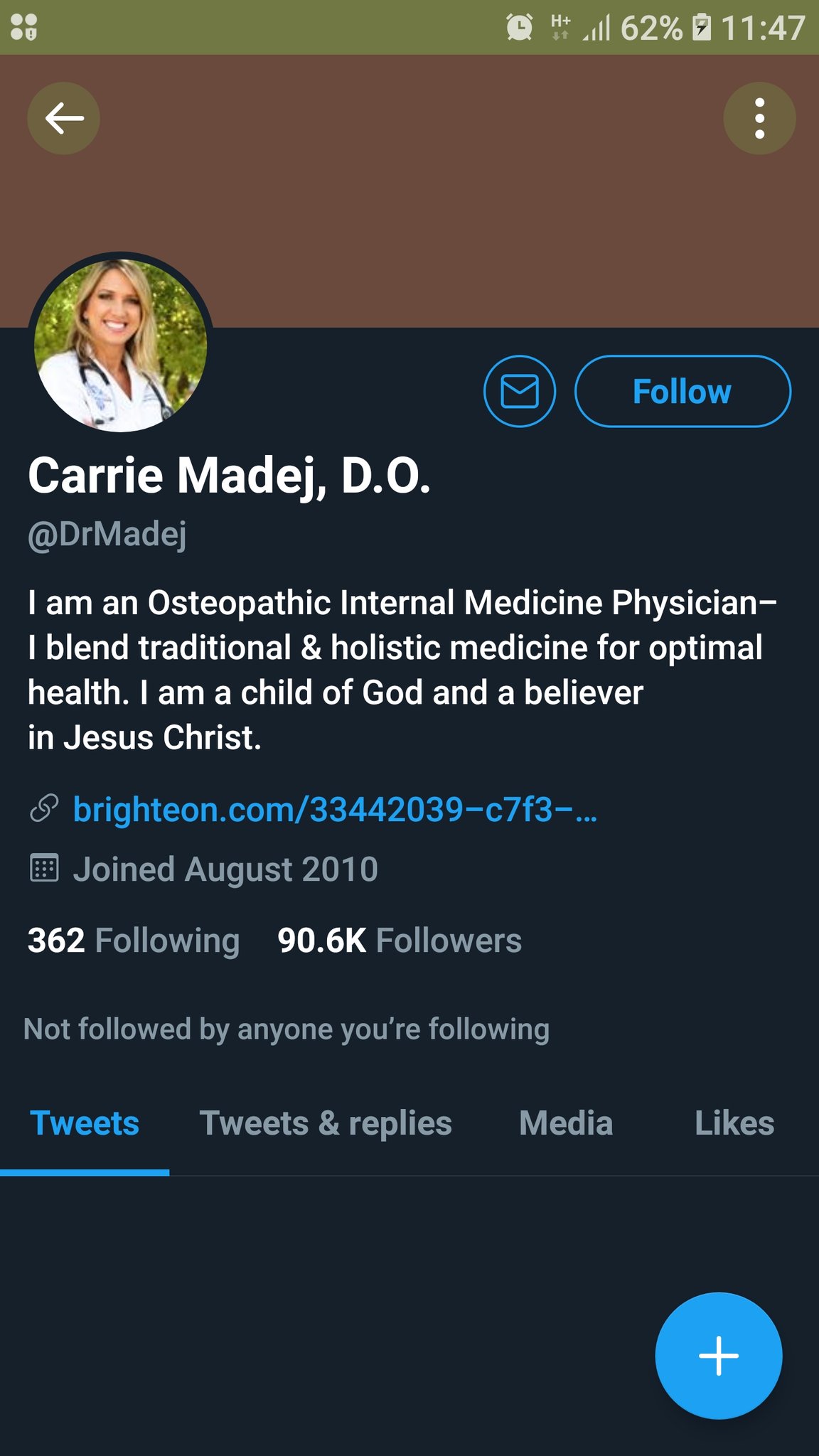 Dr. Carrie Madej is from Dearborn, Michigan, and received her medical degree from Kansas City University of Medical Biosciences in 2001. She then completed her traditional internship at The Medical Center in Columbus, Georgia, and internal medicine residency at Mercer University in Macon Georgia. Dr. Madej served as a private clinician and medical director of clinics in Georgia until 2015. Dr. Madej also served as an attending physician for the Pennsylvania College of Osteopathic Medicine. She has served as a public speaker and was featured in the documentary, "The Marketing of Madness" about the overuse of prescription psychotropic medicines. Dr. Madej now dedicates her time educating others on vaccines, nanotechnology, and human rights via multiple platforms and speaking engagements.
IN HER NEWEST SCORCHED EARTH DISCUSSION, Dr. Carrie Madej simply Can NOT stay silent about the ABSOLUTE DANGERS of the Covid-19 "vaccines" any longer! In fact, in this SCATHING PRESENTATION, she literally describes the 'Killer Concoctions' as 'THE FRANKENSTEIN CODE" and HAMMERS the 'Purveyors of the Poison Jab' as 'Murdering Psychopath Witch Doctors' who are HELL BENT on the TOTAL DESTRUCTION & ANNIHILATION of the ENTIRE HUMAN RACE, as we know it today.
The 'Kung Flu' (as it's been referred to by none other than POTUS Trump), is only 'KILLING PEOPLE who are already suffering from cancer, diabetes, heart disease and a plethora of other autoimmune problems' – so now WHY IN THE WORLD IS EVERYBODY being told to get the 'Killer Jab' when the risk of DIRE & GROTESQUE INJURY FAR OUTWEIGHS the risk of dying from Covid-19 or the fake Delta Variant, or Beta, or Gamma or WHATEVER ELSE THE DEMONIC FAUCI & GATES CONCOCT NEXT?! Get ready for a BEATING unlike you've seen in recent days, as Dr. Madej RIPS THE THROATS straight out of these Deep State Demons in this 'DO NOT MISS' Epic Video! Grab the popcorn, and get ready for a trip down the Rabbit Hole and a takedown of Satan's Army!
This was published by the 'REPUBLIC BROADCASTING NETWORK' (RBN) who also published articles such as 'Who are the Jews behind the coronavirus vaccines?'
Dr. Carrie Madej is certainly no fan of COVID vaccines: Doctor Carrie Madej says she personally examined multiple vials of the vaccines that are being forced into people's arms, and she was horrified by what she saw. She says she cried harder than she ever has before. Elsewhere she explained in detail:
"First it looked just translucent. And then as time went on, over two hours, colors appeared. I had never seen anything like this. There wasn't a chemical reaction happening. It was a brilliant blue, and royal purple, yellow, and sometimes green," she said.
She later shared that when she asked nanotech engineers what the emerging brilliant colors might come from, the engineers said the "only thing they knew that could do that" was a white light, over time, causing a reaction on "a super-conducting material." In this case, Madej noted, white light came from the microscope itself.
She pointed out that an example of a super-conducting substance would be "an injectable computing system."
Madej went on, "These fibers were appearing more and more. Some of the fibers had a little cube structure on them, I'm not sure what that was. And also metallic fragments were in there. They were not metallic fragments I'm used to seeing. They were exotic. They were very opaque."
In time, Madej said, "all the particulates, all these colors started moving to the edge" of the cover slide. "There was self-assembling going on, things were growing. They looked synthetic."
Madej noticed something else quite strange: "There was one particular object or organism, I'm not sure what to call it, that had tentacles coming from it. It was able to lift itself up off of the glass slide. It appeared to be self-aware, or to be able to grow or move in space."
She found it disturbing but said she thought, "Maybe that was a fluke in a way, maybe that was just that one vial."
Some time later, the same lab obtained more vials from a different batch of Moderna shots, as well as a J&J vial. Madej was concerned to see the same things she had observed in the first vial.
"Another one of those tentacle-like structures appeared," she said. "This was now completely under the cover slip, so there was no movement because it wasn't on the edge, but I just couldn't believe I saw another one. Same thing." Madej also saw the "same colors" appear over time, as well as the fibers.
In the J&J vial, Madej said, there was "definitely a substance that looked like graphene. They all had graphene-like structures in there. Whether or not they were, I don't have the capability of testing them in order to know at this lab, but that's what they appeared to be."
The vial's contents also had "fatty substances, a sticky glue-like substance that would be considered a hydrogel in those, both of them."
The J&J vial "also had colors appear." "Their colors were different, like a fluorescent pastel kind of color. Again, a lot of synthetic structures in there as well." Madej also noticed many "spherical ring structures" in the J&J contents.
"I've never seen anything like this before. They're not supposed to be in these injections. What are they going to do to somebody? What are they going to do to a child? I started crying when I saw these the second time under a microscope, because it was confirmation of everything I saw the first time," Madej said.
Madej again appeared on the Stew Peters show on October 20 to discuss her findings from a Pfizer jab vial as well as another J&J vial. "What I'm seeing in all of these manufacturers are synthetic substances, graphene-like, also these nano-carbon tubes," Madej said.
"In this particular J&J" vial, Madej saw "round spheres, which were not air bubbles." She continued, "There's many of these rings, and as time went on they would get thinner and thinner and expand out and then finally extrude out some gelatinous material — I'm not sure what it was, but different kinds of things were inside these spheres. So they're almost like a delivery structure, that's what they were doing."
On one of these rings, Madej saw what "looked like a translucent organism that went around, and back and forth." Madej first "thought it was another water parasite," but after continuing to observe its movements, "thought perhaps it was moving in a more robotic way."
Madej saw the "same kind of synthetic things" in the Pfizer jab, as well as "something that looks similar to teslaphoresis. That's when these little graphite-like black, metallic particles start to coalesce into strings, like a spider web. They do that through any external force — it could be light, it could be a magnetic force, it could be an impulse, like a frequency. Anyhow, all these little particles would then coalesce and form their own neural network, or their own fibers, or wires."
After listening to Madej's findings and seeing the photo and video documentation she provided, Peters commented, "It's like I'm watching a seriously bad B-movie, a horror thriller."
Madej believes the tentacled entity she found in the Moderna jabs has a connection with the organism hydra vulgaris. "It is one of the model organisms that the transhumanists like to study and look at. They feel that this is an amazing organism for humanity," said Madej, in part because "it's immortal in the lab setting" and "continuously produces its own stem cells."
"It never stops. You can chop it up into little bits, put it in a petri dish and it forms itself again and again," she continued. "They're thinking, wouldn't this be great if we could put this inside of a human body's genome, and then if your hand was chopped off by a trauma, you could grow a new hand."
My friend Joe Schwarcz recently wrote a brilliant article about Dr. Madej. He concluded by asking:  Is Dr. Madej a maddeningly malicious malfeasant, or does she just have a few loose marbles? I fear that it might be both.
46 Responses to Carrie Madej: an osteopathic doctor's "battle for humanity"