I have reported about the risks of chiropractic manipulation many times before. This is not because, as some seem to believe, I have an axe to grind but because the subject is important. This week, another case of stroke after chiropractic manipulation was in the news. Some will surely say that it is alarmist to mention such reports which lack lots of crucial details. Yet, as long as chiropractors do not establish a proper monitoring system where serious adverse effects of spinal manipulation are noted, I think it is important to record even incomplete cases in this fashion.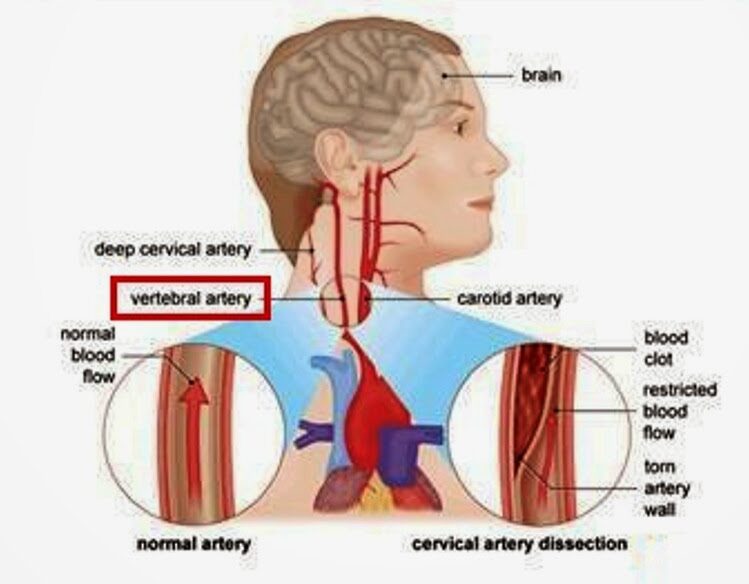 Barbara Shand is a working mom who lives in Alberta, Canada. She went to see a chiropractor because she had neck pain. "Near the very end of the appointment, the chiropractor asked: 'Do you want your neck adjusted?' I said: 'Sure.'" "As soon as she did it, everything went black," Shand recalls.
The patient was then rushed to a hospital by ambulance. "When I did open my eyes, I couldn't focus. It was all blurry, I had massive vertigo, I didn't know what was up or down," Shand told the journalist. The diagnosis, Shand explains, was a right vertebral artery dissection, followed by a stroke. Mrs. Sands continues to struggle with coordination and balance.
The Alberta College and Association of Chiropractors acknowledges "there have been reported cases of stroke associated with visits to various healthcare practitioners, including those that provide cervical spine manipulation." But they claim it is rare. They did not comment on the informed consent which, according to Shand's description, was more than incomplete.
The fact that the ACAC admits that such events have happened before is laudable and a step in the right direction (some chiropractic organizations don't even go that far). Yet, their caveat that such cases are rare is problematic. Without a monitoring system, nobody can tell how frequent they are! What we do see is merely the tip of a much bigger iceberg. There have been hundreds of cases like Mrs. Shand. The truth of the matter is this: Chiropractic neck manipulations are not supported by sound evidence of effectiveness for any condition. This means that even rare risks (if they are truly rare) would tilt the risk/benefit balance into the negative.
The conclusion is, I think, to avoid neck manipulations at all costs. Or, as one neurologist once put it:
don't let the buggars touch your neck!
21 Responses to "As soon as the chiropractor manipulated my neck, everything went black"