The authors of this review wanted to determine similarities and differences in the reasons for using or not using so-called alternative medicine (SCAM) amongst general and condition-specific populations, and amongst populations in each region of the globe.
Quantitative or qualitative original articles in English, published between 2003 and 2018 were reviewed. Conference proceedings, pilot studies, protocols, letters, and reviews were excluded. Papers were appraised using valid tools and a 'risk of bias' assessment was also performed. Thematic analysis was conducted. Reasons were coded in each paper, then codes were grouped into categories. If several categories reported similar reasons, these were combined into a theme. Themes were then analysed using χ2 tests to identify the main factors related to reasons for CAM usage.
A total of 231 publications were included. Reasons for SCAM use amongst general and condition-specific populations were similar. The top three reasons were:
(1) having an expectation of benefits of SCAM (84% of publications),
(2) dissatisfaction with conventional medicine (37%),
(3) the perceived safety of SCAM (37%).
Internal health locus of control as an influencing factor was more likely to be reported in Western populations, whereas the social networks was a common factor amongst Asian populations (p < 0.05). Affordability, easy access to SCAM and tradition were significant factors amongst African populations (p < 0.05). Negative attitudes towards SCAM and satisfaction with conventional medicine were the main reasons for non-use (p < 0.05).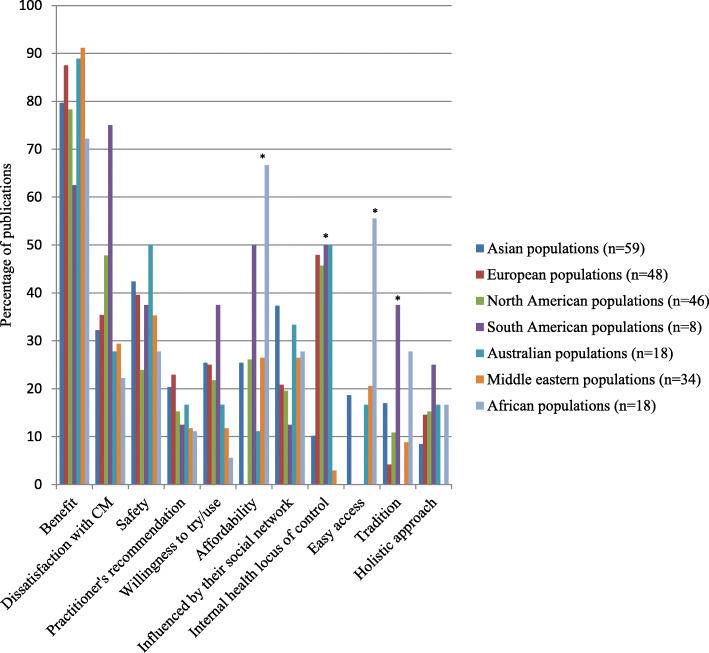 The authors concluded that dissatisfaction with conventional medicine and positive attitudes toward SCAM, motivate people to use SCAM. In contrast, satisfaction with conventional medicine and negative attitudes towards SCAM are the main reasons for non-use.
At this point, I thought: so what? This is all very obvious and does not necessitate an extensive review of the published literature. What it actually shows is that the realm of SCAM is obsessed with conducting largely useless surveys, a phenomenon, I once called 'survey mania'. But a closer look at the review does reveal some potentially interesting findings.
In less developed parts of the world, like Africa, SCAM use seems to be determined by affordability, accessibility and tradition. This makes sense and ties in with my impression that consumers in such countries would give up SCAM as soon as they can afford proper medicine.
This notion seems to be further supported by the reasons for not using SCAM. Asian consumers claim overwhelmingly that this is because they consider SCAM ineffective and unsafe.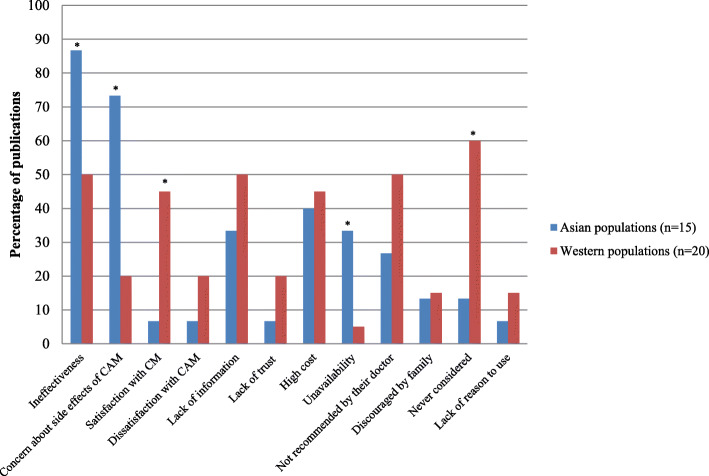 In our review of 2011 (not cited in the new review), we looked at some of the issues from a slightly different angle and evaluated the expectations of SCAM users. Seventy-three articles met our inclusion criteria of our review. A wide range of expectations emerged. In order of prevalence, they included:
the hope to influence the natural history of the disease;
the desire to prevent disease and promote health/general well-being;
the hope of fewer side effects;
the wish to be in control over one's health;
the hope for symptom relief;
the ambition to boost the immune system;
the hope to receive emotional support;
the wish to receive holistic care;
the hope to improve quality of life;
the expectation to relief of side effects of conventional medicine;
the desire for a good therapeutic relationship;
the hope to obtain information;
the hope of coping better with illness;
the expectation of supporting the natural healing process;
the availability of SCAM.
All of these aspects, issues and notions might be interesting, even fascinating to some, but we should not forget three important caveats:
Firstly, SCAM is such a diverse area that any of the above generalisations are highly problematic; the reasons and expectations of someone trying acupuncture may be entirely different from those of someone using homeopathy, for instance.
Secondly (and more importantly), the 'survey mania' of SCAM researchers has not generated the most reliable data; in fact, most of the papers are hardly worth the paper they were printed on.
Thirdly (and even more importantly, in my view), why should any of this matter? We have known about some of these issues for at least 3 decades. Has this line of research changed anything? Has it prevented consumers getting exploited by scrupulous SCAM entrepreneurs? Has it made consumers, politicians or anyone else more aware of the risks associated with SCAM? Has it saved many lives? I doubt it!
6 Responses to Factors that influence usage of so-called alternative medicine