Sorry, but (exceptionally) this post is not about so-called alternative medicine (SCAM).
During the last weekend, I had the displeasure watching video clips of Donald Trump being unable to lift a glass of water one-handedly and being unable to walk normally down a ramp. Many observers agree that his health has been in steady decline ever since he was taken to the hospital late last year. Now Trump seems to have deteriorated to the point where he sounds and acts like a zombie, loses his temper, acts irrationally, etc. To me, there is no question: this man is seriously ill, physically and mentally.
Why is that any of my business?
The answer is simple: because he is rapidly destroying not just the US but, with it, much of the world as I know it. Therefore, I feel that Trump's health should be all our business.
So, what disease might he be suffering from?
There is very little to go by for answering this question. His medical check-ups have apparently attested him perfect health, but they seem as trustworthy as a 4 £ note. Even when he was rushed to hospital, we learnt nothing about his condition. This means, we merely have little more than what we see of his behaviour to suggest a diagnosis which inevitably must remain guesswork.
Watching Trump, I often asked myself: could he be suffering from neurosyphilis? It would certainly fit in with his past life-style.
Neurosyphilis is a syphilis infection of the spinal cord or brain of people who had syphilis that has not been adequately treated. It can occur many years after they had their first infection. The physical symptoms are highly variable and can include:
Having abnormal gait
Loss of balance
Not being able to walk normally
Visual disturbances
Headaches
Incontinence
Numbness in legs, toes, or feet
Seizures
Tremors
Stiff neck
Muscular weakness
Abdominal pain
Most of these have been displayed by Trump. In addition, there are mental symptoms that are also highly variable and can include:
Irritability
Loss of ability to concentrate
Delusional thinking
Grandiosity
Problems with memory
Lack of insight
Impaired judgment
Emotional instability
Patchy hair loss can also be a sign of the later stages of syphilis, and is something that I find hard to miss when observing Trump.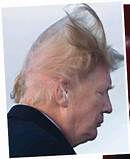 I know that neurosyphilis is highly speculative as a diagnosis of Trump's condition. What is not speculative, however, is that he is gravely ill. As such, he should not be in the Oval Office making decisions that affect us all.
Whatever disease Trump has, he is a serious danger to mankind.
56 Responses to What disease might Donald Trump be suffering from?