Yesterday, I had the honour and pleasure to present to the UK press my new book entitled 'ALTERNATIVE MEDICINE, A CRITICAL ASSESSMENT OF 150 MODALITIES' (see also my previous post). The SCIENCE MEDIA CENTRE had invited me to do a 'media briefing' on the occasion of its publication. I did this by outlining the background around so-called alternative medicine (SCAM) and explaining the concept of the new book which essentially is – as its title indicates – to provide concise and critical assessments of 150 modalities.
In the course of my short presentation, I mentioned the following exotic modalities in order to show that my book goes beyond the 'usual suspects' of acupuncture, chiropractic, etc.:
BERLIN WALL
COLLOIDAL SILVER
PALEO DIET
PLACENTOPHAGY
URINE THERAPY
CUPPING
GUA SHA
LYMPH DRAINAGE
SLAPPING THERAPY
VISCERAL OSTEOPATHY
JOHREI HEALING
LEECH THERAPY
NEURAL THERAPY
ZERO BALANCE
APPLIED KINESIOLOGY
IRIDOLOGY
LIVE BLOOD ANALYSIS
PULSE DIAGNOSIS
RADIONICS
As it turned out, the journalists present found the BERLIN WALL remedy the most fascinating aspect of my talk. And this is clearly reflected in today's articles covering the event: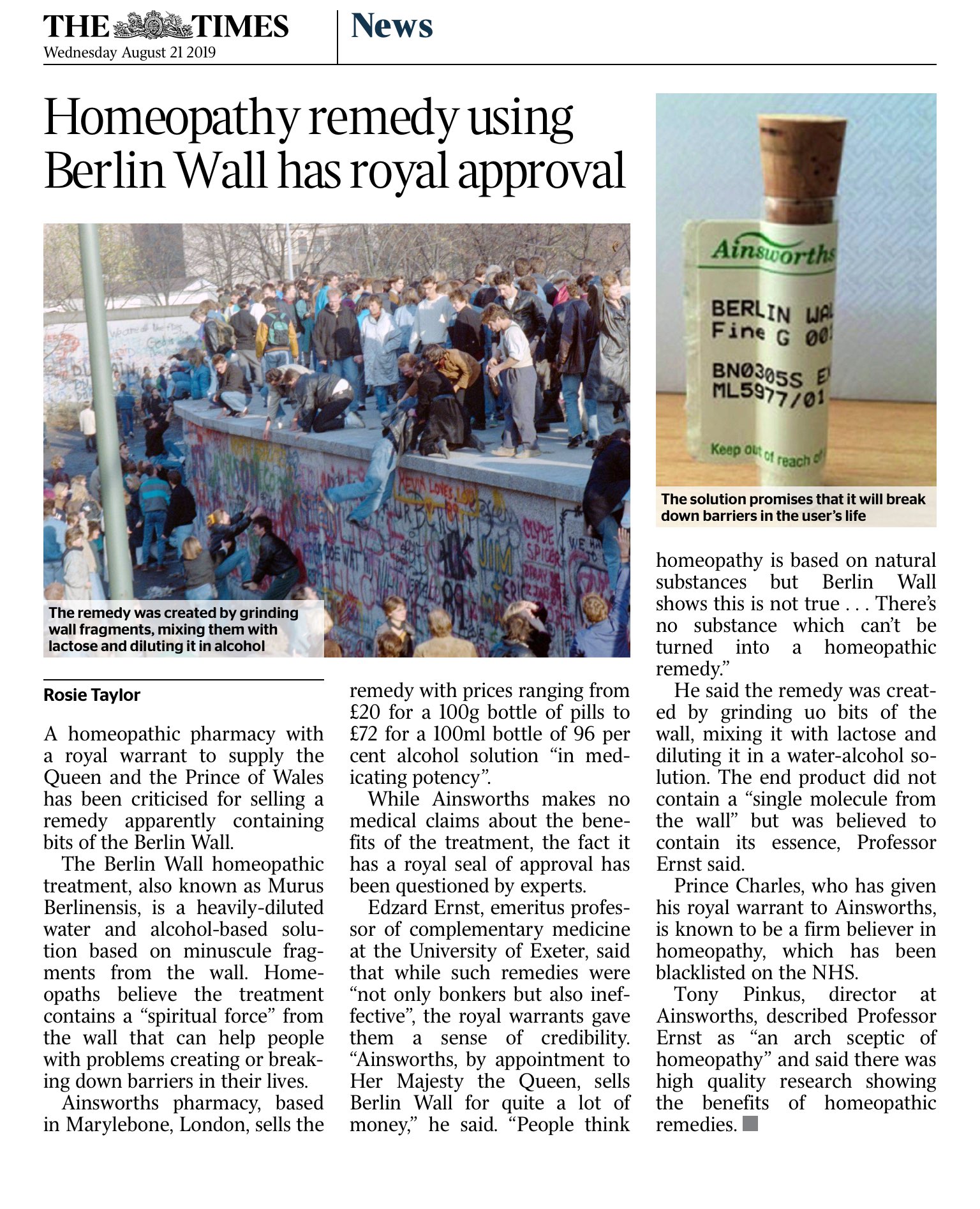 The DAILY TELEGRAPH published an article much in the same vein, and so did THE SUN and the EXPRESS (not available on line). The only UK newspaper I have seen so far going beyond the Berlin Wall topic is THE DAILY MAIL. The paper mentions several other so-called alternative medicines (SCAMs) that consumers need to be protected from, in my view.
Interestingly, none of the articles mentioned that my new book is not an exercise in debunking. During my presentation, I made the point that several of my assessments of 150 modalities do arrive at positive conclusions for therapies that demonstrably generate more good than harm.
I also tried to point out to the journalists that SCAM includes a range of diagnostic techniques. None of them are valid which means that they present a real danger to consumers through false-positive and false-negative diagnoses. In particular the latter scenario can cost lives.
All in all, I did enjoy yesterday's press briefing very much. I am aware of the fact that, in the realm of SCAM, the press have a most important role to play. Consumers rarely consult their doctor when deciding to use SCAM; frequently they go by what they read in the papers.
In this context, I find it noteworthy that, during the last years, the UK press have become considerably more sceptical. Not so long ago, most UK journalists used to praise SCAM like the best thing since sliced bread; today this attitude has laudably shifted towards a more rational stance. I am sure that the excellent work of the SCIENCE MEDIA CENTRE has played a crucial part in this positive development.
46 Responses to The UK media report about my new book … and the Berlin wall