How often do we hear this sentence: "I know, because I have done my research!" I don't doubt that most people who make this claim believe it to be true.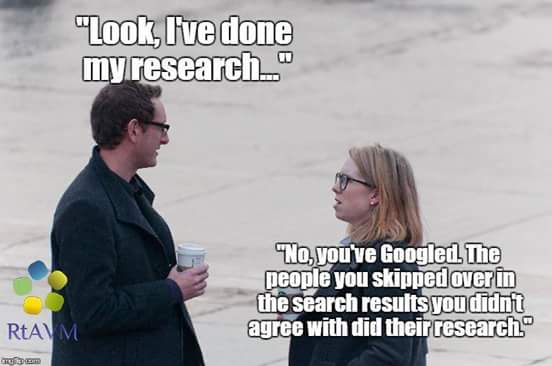 But is it?
What many mean by saying, "I know, because I have done my research", is that they went on the internet and looked at a few websites. Others might have been more thorough and read books and perhaps even some original papers. But does that justify their claim, "I know, because I have done my research"?
The thing is, there is research and there is research.
The dictionary defines research as "The systematic investigation into and study of materials and sources in order to establish facts and reach new conclusions." This definition is helpful because it mentions several issues which, I believe, are important.
Research should be:
systematic,
an investigation,
establish facts,
reach new conclusions.
To me, this indicates that none of the following can be truly called research:
looking at a few randomly chosen papers,
merely reading material published by others,
uncritically adopting the views of others,
repeating the conclusions of others.
Obviously, I am being very harsh and uncompromising here. Not many people could, according to these principles, truthfully claim to have done research in alternative medicine. Most people in this realm do not fulfil any of those criteria.
As I said, there is research and research – research that meets the above criteria, and the type of research most people mean when they claim: "I know, because I have done my research."
Personally, I don't mind that the term 'research' is used in more than one way:
there is research meeting the criteria of the strict definition
and there is a common usage of the word.
But what I do mind, however, is when the real research is claimed to be as relevant and reliable as the common usage of the term. This would be a classical false equivalence, akin to putting experts on a par with pseudo-experts, to believing that facts are no different from fantasy, or to assume that truth is akin to post-truth.
Sadly, in the realm of alternative medicine (and alarmingly, in other areas as well), this is exactly what has happened since quite some time. No doubt, this might be one reason why many consumers are so confused and often make wrong, sometimes dangerous therapeutic decisions. And this is why I think it is important to point out the difference between research and research.
22 Responses to I know, because I have done my research