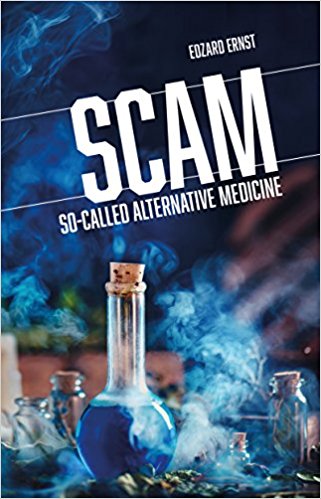 Regular readers of this blog will find plenty of things that are familiar to them in my new book 'SCAM'. Many of the thoughts in there were originally conceived on this blog; and quite a few ideas might even be inspired by your comments. In this way, SCAM can be seen as a big 'thank you' to all of my readers.
SCAM, of course, stands for 'So-Called Alternative Medicine' which might be the name best suited to my field of research. In the book, I explain why I chose this terminology:
Why do I call it SCAM? Why not just 'alternative medicine' or one of the many other possible names for it? … Mainly because, whatever it is, it is it is not an alternative:
if a therapy does not work, it cannot be an alternative to medicine;
if a therapy does work, it does not belong to alternative medicine but to medicine.
Therefore, I think, that so-called alternative medicine or SCAM is not a bad term to use.
I would be lying to you, if I said I did not want you all to buy my new book – which author does not want people to purchase his product? So, to entice you to do exactly that (and while you are at it, get one for your sister, cousin, grandma, etc. as well), here are two tiny snippets from 'SCAM', the preface and the postscript:
PREFACE
I should perhaps start with a warning: this book might unsettle you. If you are a true believer in so-called alternative medicine (SCAM), you may find the things I am about to tell you disturbing. My book was not written for true believers. In my experience, they often are emotionally or intellectually unable to rationalise and to change their minds. Any attempt at opening their eyes and making them think critically might therefore be a waste of time.
This book was written for everyone who has an interest in SCAM and is open to consider the evidence. Yet it is not a guide-book that tells you which SCAM can be employed what condition. It is a compilation of 50 essays about SCAM in more general terms. I ordered them loosely under seven headings and have tried to write them in such a way that they can be read independently. This necessitated a certain amount of repetition of crucial themes which, I hope, is forgivable. My main aim in publishing this book is to stimulate your ability to think critically about healthcare in general and, of course, about SCAM in particular.
The book is based on my 25 years of research in SCAM. It quotes numerous investigations by my team and by other researchers. It also discusses many recently published examples of pseudo-science, misleading information and unethical SCAM-promotion. The text avoids technical language and should be easily understood by anyone. The 'glossary' at the end of the book provides additional explanations of more complex issues and terminology. Throughout the book, I use hints of irony, touches of sarcasm, and sometimes even a degree of exaggeration. This makes certain points clearer and might even make you smile from time to time…
POSTSCRIPT
Some people say that I am fighting a losing battle and insist that SCAM cannot be defeated. It will be around for ever, they say.
I quite agree with the latter parts of this statement. Humans seem to need some degree of irrationality in their lives, and SCAM certainly offers plenty of that. Moreover, conventional medicine is never going be totally perfect. Therefore, disgruntled consumers will always search elsewhere, and many of them will then find SCAM.
However, I disagree with the first part of the above assumption: I did not write this book with the aim of fighting a battle against SCAM. I can even see several positive sides of SCAM. For instance, the current SCAM-boom might finally force conventional healthcare professionals to remember that time, compassion and empathy are some of their core values which cannot be delegated to others. Whatever the current popularity signifies, it is a poignant criticism of what is going on in conventional healthcare – and we would be ill-advised to ignore this criticism.
In the preface, I stated that my main aim in publishing this book was to stimulate my readers' ability to think critically about SCAM and healthcare generally. My book is therefore not a text against but as a plea for something. If reading it has, in fact, made some of my readers a little less gullible, it … could improve both their health and their bank balance.