Chiropractic is hugely popular, we are often told. The fallacious implication is, of course, that popularity can serve as a surrogate measure for effectiveness. In the United States, chiropractors provided 18.6 million clinical services under Medicare in 2015, and overall spending for chiropractic services was estimated at USD $12.5 billion. Elsewhere, chiropractic seems to be less commonly used, and the global situation has not recently been outlined. The authors of this 'global overview' might fill this gap by summarizing the current literature on the utilization of chiropractic services, reasons for seeking care, patient profiles, and assessment and treatment provided.
Systematic searches were conducted in MEDLINE, CINAHL, and Index to Chiropractic Literature from database inception to January 2016. Eligible articles
1) were published in English or French (not all that global then!);
2) were case series, descriptive, cross-sectional, or cohort studies;
3) described patients receiving chiropractic services;
4) reported on the following theme(s): utilization rates of chiropractic services; reasons for attending chiropractic care; profiles of chiropractic patients; or, types of chiropractic services provided.
The literature searches retrieved 328 studies (reported in 337 articles) that reported on chiropractic utilization (245 studies), reason for attending chiropractic care (85 studies), patient demographics (130 studies), and assessment and treatment provided (34 studies).
Globally, the median 12-month utilization of chiropractic services was 9.1% (interquartile range (IQR): 6.7%-13.1%) and remained stable between 1980 and 2015. Most patients consulting chiropractors were female (57.0%, IQR: 53.2%-60.0%) with a median age of 43.4 years (IQR: 39.6-48.0), and were employed.
The most common reported reasons for people attending chiropractic care were (median) low back pain (49.7%, IQR: 43.0%-60.2%), neck pain (22.5%, IQR: 16.3%-24.5%), and extremity problems (10.0%, IQR: 4.3%-22.0%). The most common treatment provided by chiropractors included (median) spinal manipulation (79.3%, IQR: 55.4%-91.3%), soft-tissue therapy (35.1%, IQR: 16.5%-52.0%), and formal patient education (31.3%, IQR: 22.6%-65.0%).
The authors concluded that this comprehensive overview on the world-wide state of the chiropractic profession documented trends in the literature over the last four decades. The findings support the diverse nature of chiropractic practice, although common trends emerged.
My interpretation of the data presented is somewhat different from that of the authors. For instance, I fail to share the notion that utilization remained stable over time.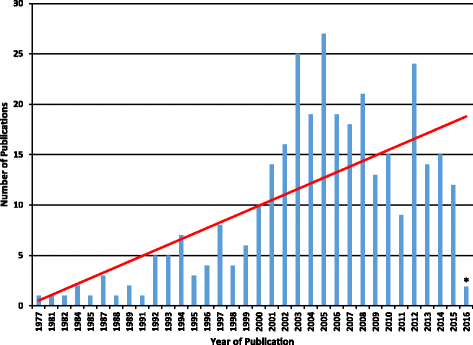 The figure might not be totally conclusive, but I seem to detect a peak in 2005, followed by a decline. Also, as the vast majority of studies originate from the US, I find it difficult to conclude anything about global trends in utilization.
Some of the more remarkable findings of this paper include the fact that 3.1% (IQR: 1.6%-6.1%) of the general population sought chiropractic care for visceral/non-musculoskeletal conditions. Some of the reasons for attending chiropractic care reported by the paediatric population are equally noteworthy: 7% for infections, 5% for asthma, and 5% for stomach problems. Globally, 5% of all consultations were for wellness/maintenance. None of these indications is even remotely evidence-based, of course.
Remarkably, 35% of chiropractors used X-ray diagnostics, and only 31% did a full history of their patients. Spinal manipulation was used by 79%, 31% sold nutritional supplements to their patients, and 10% used applied kinesiology.
In general, this is an informative paper. However, it suffers from a distinct lack of critical input. It seems to skip over almost all areas that might be less than favourable for chiropractors. The reason for this becomes clear, I think, when we read the source of funding for the research: PJHB, AEB, SAM and SDF have received research funding from the Canadian national and provincial chiropractic organizations, either as salary support or for research project funding. JJW received research project funding from the Ontario Chiropractic Association, outside the submitted work. SDF is Deputy Editor-in-Chief for Chiropractic and Manual Therapies; however, he did not have any involvement in the editorial process for this manuscript and was blinded from the editorial system for this paper from submission to decision.
4 Responses to Chiropractic: a 'global overview'