In the realm of alternative medicine, the Internet is a double-edged sword. It can be most useful to many, particularly to those who are able to think critically. To those who do not have this ability, it can be outright dangerous. We have researched this area in several way and always arrived at this very conclusion. For instance, we evaluated websites providing advice for cancer patients and concluded that "the most popular websites on complementary and alternative medicine for cancer offer information of extremely variable quality. Many endorse unproven therapies and some are outright dangerous."
This makes it abundantly clear that, for some, the Internet can become a danger to their health and life. Recently I was reminded of this fact when I saw this website entitled 'Foods that will naturally cleanse your arteries'. Its message is instantly clear, particularly as it provides this impressive drawing.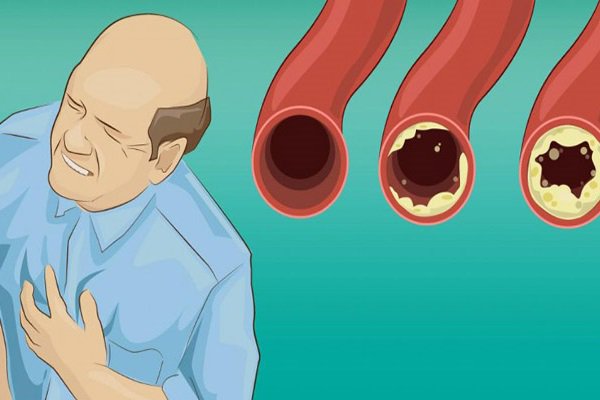 .
The implication here is that we can all clear our arteries of atherosclerotic plaques by eating the right foods. The site also lists the exact foods. Here they are:
START OF QUOTE
Salmon
Salmon is one of the best heart foods as it is packed with healthy fats which reduce cholesterol, triglycerides, and inflammation. However you must make sure that the fish is organic.
Orange juice
Orange juice is rich in antioxidants which strengthens the blood vessels and lowers blood pressure. Simply drink 2 glasses of fresh orange juice a day and you're good to go.
Coffee
According to numerous studies 2-4 cups of coffee a day can significantly reduce the risk of stroke and heart attack by 20%. However don't drink excessively as it may cause problems with your digestion.
Nuts
Nuts are packed with omega-3 fatty acids, healthy properties and unsaturated fats which regulate your memory, cholesterol and prevent joint pain.
Persimmon fruit
The persimmon fruit is packed with fiber and sterols which help lower cholesterol. It makes a great addition to salads and cereals
Turmeric
Curcumin, the active ingredient in turmeric provides a large variety of health benefits. It helps reduce tissue inflammation and prevents overactive fat accumulation. Feel free to add it to your meals or to your tasty cup of tea.
Green tea
Aside from having a soothing effect, green tea helps energize the whole body, boost the metabolism and lower the absorption of cholesterol. Just drink 1-2 cups of green tea a day and you have nothing to worry about.
Cheese
Cheese can also help lower blood pressure and cholesterol.
Watermelon
Watermelon is the most delicious summer fruit. But aside from its amazing taste, it also improves the production of nitric oxide which enhances the function of the blood vessels.
Whole grain
Whole grains are rich in fiber content which helps lower cholesterol and cholesterol accumulation in the arteries. Consume more whole grain bread, brown rice and oats.
Cranberries
Cranberries have been long known to be the richest source of potassium. Due to this, they can easily lower bad cholesterol and increase the good one. 2 glasses of cranberry juice a day can lower the risk of heart attack by 40%.
Seaweed
Seaweeds are packed with vitamins, proteins, minerals and carotenoids which easily regulate your blood pressure.
Cinnamon
Cinnamon prevents buildups in the arteries and lower cholesterol.
Pomegranate
It is an exotic fruit that provides a healthy portion of phytochemicals. These improve the production of nitric oxide, and boost circulation. Add pomegranate seeds to your salads.
Spinach
It is high in folic acid and potassium. You need this to lower your blood pressure, strengthen muscles, and prevent heart attack.
Broccoli
Broccoli is rich in vitamin K, which help lower blood pressure and cholesterol when eaten steam-cooked or raw.
Olive oil
Olive oil helps maintain your health at its peak. Be sure to use cold-pressed oil as it is rich in healthy fats which lower cholesterol and reduce the risk of heart attack by 40%.
Asparagus
Asparagus prevents inflammation, clogging and lowers cholesterols. Implement it to dishes, noodles, soups or potatoes.
Blueberries
Blueberries are high in potassium and as we mentioned above, potassium is the key to reducing bad cholesterol and increasing the good one. Drink 2 glasses of blueberry juice a day.
Avocado
Avocadoes are without a doubt – one of the healthiest fruits known to man. They're rich in healthy fat and improve the balance of bad and good cholesterol.
END OF QUOTE
As far as I know, there is no good evidence for the claim that any of these 20 foods will clear arteriosclerotic arteries. There is some evidence for fish oil and some for green tea to reduce the risk of cardiovascular disease. But surely, this is quite a different matter than reversing atherosclerotic plaques.
What's the harm? I believe the potential for harm is obvious: people at high risk of suffering a major cardiovascular event who read such nonsense and believe it might think they can abandon the treatments, drugs and life-styles they have been advised to follow and take. Instead they might eat a bit more of the 20 ingredients listed above. If they did that, many would die.
I think many of us who know better have become far too tolerant of dangerous nonsense of such nature. We tend to think that either nobody is as stupid as to follow such silly advice, or we assume that taking a bit of daft advice will not do much harm. I fear we are wrong on both accounts.
25 Responses to 'Foods that will naturally cleanse your arteries'