evidence
'Red ginseng' is an herbal medicine prepared by steaming raw ginseng. This process is believed to increase its pharmacological activity. Further conversion through fermentation is thought to increase its intestinal absorption and bioactivity to diminish its toxicity.
Red ginseng (RG) is traditionally used for diabetes. Our own systematic review of 4 RCTs concluded that the evidence for the effectiveness of RG in controlling glucose in type 2 diabetes is not convincing. Few included studies with various treatment regimens prohibit definitive conclusions. More rigorous studies are needed to clarify the effects of RG on this condition.
Now a new RCT has become available. This study was conducted to investigate the effects of daily supplementation with fermented red ginseng (FRG) on blood sugar levels in subjects with impaired fasting glucose or type 2 diabetes. It was a four-week long, randomized, double-blind, placebo-controlled trial. Forty-two subjects with impaired fasting glucose or type 2 diabetes were randomly allocated to two groups assigned to consume either placebo or FRG three times per day for 4 weeks. Fasting and postprandial glucose profiles during meal tolerance tests were assessed before and after the intervention.
Compared to the placebo, FRG supplementation led to a significant reduction in postprandial glucose levels and to an increase in postprandial insulin levels. There also was a significant improvement in the area under the curve (AUC) in the FRG group. However, fasting glucose, insulin, and lipid profiles did not differ from the placebo group.
The authors of this trial concluded that daily supplementation with FRG lowered postprandial glucose levels in subjects with impaired fasting glucose or type 2 diabetes.
What should we make of these findings? Do they indicate that FRG might be an alternative to conventional anti-diabetic drugs? I would caution that we have tons of data for the latter, while we know far too little about FRG to recommend it for routine use.
On the contrary, the findings could suggest that diabetic patients who are well-controlled with diet or anti-diabetic medication should be avoiding ginseng products. If they actually work, they might significantly interfere with their metabolic control which, in turn, could even endanger their lives.
Dr. Oz, famous through his TV show promoting all types of quackery, recently testified before a US Senate subcommittee hearing on protecting consumers from false and deceptive advertising of weight loss products. This event turned out to be less than flattering for Dr Oz. One journalist commented that he "might as well be a cowardly lion — sent home with his tail between his legs after being accused at a congressional hearing of lying on his show about weight-loss claims."
"I don't get why you need to say this stuff, because you know it's not true," said Senator Claire McCaskill, who led the commerce subcommittee hearing. "The scientific community is almost monolithically against you in terms of the efficacy of the products you called 'miracles,' " the Democratic senator from Missouri told Oz. "It's a major problem when people are spending more and more money and they're gaining more and more weight," said Senator Amy Klobuchar."Either you don't talk about these things at all, or you're going to have to be more specific because right now . . . this is not working."
A source close to Dr Oz said he was perplexed: "We were invited down to Washington to testify at a hearing about scams and instead it became all about how much we hate your show." Oz himself testified that he "heard the message…I do personally believe in the items that I talk about."
"I intensively study them. I have given my family these products. . . . If you can lose a pound a week more than you would have lost by using them, it jump-starts you and gets you going. I think it makes sense." "I'm surprised you're defending this," McCaskill replied. "It's something that gives people false hope. I don't see why you need to go there."
Another journalist commented that the Senators repeatedly placed him on the defense over his weight loss products: "I know you know how much power you have. I know you know that. You are very powerful and [with] power comes a great deal of responsibility," Senator Claire McCaskill , who led the Senate's consumer protection hearing titled "Protecting Consumers from False and Deceptive Advertising of Weight-Loss Products…You are being made an example of today because of the power you have in this space…We didn't call this hearing to beat up on you but we did call this hearing to talk about a real crisis in consumer protection. You can either be part of the police here or you can be part of the problem."
Oz insisted he was no huckster but admitted the products promoted on his show don't always have "the scientific muster" to present their benefits as "fact…I actually do personally believe in the items that I talk about in the show. I passionately studied them. I recognize that oftentimes they don't have the scientific muster to present as fact but nevertheless I would give my audience the advice I give my family all the time. And I have given my family these products," he said.
Dr Oz also said that some alternative treatments, such as prayer, cannot be tested scientifically. "I don't think this ought to be a referendum on the use of alternative medical therapies. Because if that's the case, listen, I've been criticized for having folks coming on my show talking about the power of prayer," he said. "I can't prove that prayer helps people survive an illness."
No, Dr Oz! I know you are mistaken! I have done the research – both on alternative slimming aids and on spiritual healing. The results quite clearly show that these methods are not more effective than a placebo.
In the early 1920s, a French physician thought he had discovered the virus that caused the Spanish flu. It oscillated under his microscope, and he thus called it oscillococcus. Not only did it cause the flu, in the opinion of his discoverer, but it was also responsible for a whole host of other diseases, including cancer. In fact, the virus does not exist, or at least nobody ever confirmed it existed, but that fact did not stop our good doctor to make a homeopathic remedy from it which he thought would cure all these diseases. His remedy, Oscillococcinum, is made from the liver and heart of a duck because the imaginative inventor believed that the fictitious virus was present in these organs of this animal.
To understand all this fully, one needs to know that the duck organs are so highly diluted that no molecule of the duck is present in the remedy. It is sold in the C200 potency. This means that one part of organ extract is diluted 1: 10 000 000 000 000 000 000 000 000 000 000 000 000 000 000 000 000 000 000 000 000 000 000 000 000 000 000 000 000 000 000 000 000 000 000 000 000 000 000 000 000 000 000 000 000 000 000 000 000 000 000 000 000 000 000 000 000 000 000 000 000 000 000 000 000 000 000 000 000 000 000 000 000 000 000 000 000 000 000 000 000 000 000 000 000 000 000 000 000 000 000 000 000 000 000 000 000 000 000 000 000 000 000 000 000 000 000 000 000 000 000 000 000 000 000 000 000 000 000 000 000 000 000 000 000 000 000 000 000 000 000 000 000 000 (a note to Boiron's legal team: I had a hell of a time getting all these zeros right; in case, I got it wrong after all, it is an honest error – please do not sue me for it!). The dilution is so extreme that it amounts to a single molecule per a multitude of universes.
Given these facts it seems unlikely that the remedy has any effects on human health which go beyond those of a placebo. Let's see what the current Cochrane review says about its effectiveness: There is insufficient good evidence to enable robust conclusions to be made about Oscillococcinum(®) in the prevention or treatment of influenza and influenza-like illness. Our findings do not rule out the possibility that Oscillococcinum(®) could have a clinically useful treatment effect but, given the low quality of the eligible studies, the evidence is not compelling. There was no evidence of clinically important harms due to Oscillococcinum(®).
Considering that the first author of this review works for the British Homeopathic Association and the senior author is the homeopath of the Queen, this seems a pretty clear statement, don't you think?
Regardless of the scientific evidence, Oscillococcinum made of 'Anas Barbariae Hepatis et Cordis Extractum', as it is officially called, became a homeopathic best-seller. In the US alone Boiron, the manufacturer, is said to sell US$ 15 m per year of this product. Not only that, in France, where the remedy is a popular medicine sold in virtually all pharmacies and often recommended as soon as you walk into a pharmacy, it is hard to find anyone who does not swear by the 'potentized' duck or is willing to discuss its merits critically.
The amazing duck, it seems, has turned into a 'holy cow'.
One alternative therapy that I have so far neglected on this blog is the Alexander Technique (AT). Actually, it was not really meant to become an alternative therapy when it was first discovered.
F.M. Alexander (1869-1955), an Australian actor, often experienced chronic laryngitis while performing. As his doctors could not help him, he developed a solution on his own. He found that excess muscular tension in his neck and body were causing his problems, and began to experiment on new ways to speak and move with greater ease. His health improved to such an extent that he decided to teach others what he had learned. Over a career span of more than fifty years, he refined his methods. After teaching for over 35 years, he began to train teachers of the 'Alexander Technique'.
As used in alternative medicine, AT is an educational method aimed at increased sensory awareness and kinesthetic control to modify postural and movement patterns which might be associated with musculoskeletal problems. Proponents claim AT works for a range of conditions, including:
It has been suggested that AT is effective for chronic low back pain; however, so far only one recent study has determined its effects on chronic non-specific neck pain.
In this randomized controlled trial, patients were randomly allocated to either 5 weekly sessions of AT, heat pack application (HEAT) or guided imagery (GI). The primary outcome measure  was the neck pain intensity on a 100-mm visual analogue scale at week 5. Secondary outcomes included neck disability, quality of life, satisfaction and adverse effects. Analyses of covariance were applied on an intention-to-treat population testing ordered hypotheses AT vs. HEAT and AT vs. GI.
A total of 72 patients were included, and 52 of them received all 5 interventions. No significant group difference was found for neck pain intensity when AT was compared to HEAT. However, an exploratory analysis revealed superiority of AT over GI. Significant group differences were also found for physical quality of life in favor of AT vs. HEAT or GI. Adverse events mainly related to slightly increased pain and muscle soreness. AT patients reported increased body awareness and control over the body, relaxing or stimulating effects and mood changes after the sessions.
The authors conclude that 5 sessions of AT were no better than a heat pack application for relieving chronic non-specific neck pain. Therefore it cannot be recommended as routine intervention at this time. Since exploratory analysis revealed some improvements of AT further trials are warranted for conclusive judgment.
One of the most irritating things with alternative medicine research, in my view, is the phenomenon that researchers tend to be quasi-religious advocates of the treatment they investigate. This seems to compel them all too often to extrapolate beyond reason and to drawing conclusions which are way too optimistic, frequently to an extend that borders on scientific misconduct. It is therefore a real pleasure to find an article that does not fall into this trap. I commend the authors for reporting this RCT and for their wisdom of being adequately cautious when formulating their conclusions.
I only wished it would happen more often!
I have often asked myself whether it is right/necessary to scientifically test things which are entirely implausible. Should we, for instance test the effectiveness of treatments which have a very low prior probability of generating a positive effect such as paranormal healing, homeopathy or Bach flower remedies? If you believe in the principles of evidence-based medicine you might focus on the clinical evidence and see biological plausibility as secondary. If you are a basic scientist, you are likely to do the reverse.
A recent article addressed this issue. The author points out that evaluating the absurd is absurd. Specifically, he noted that the empirical evaluation of a therapy would normally assume a plausible rationale regarding the mechanism of action. However, examination of the historical background and underlying principles for reflexology, iridology, acupuncture, auricular acupuncture, and some herbal medicines, reveals a rationale founded on the principle of analogical correspondences, which is a common basis for magical thinking and pseudoscientific beliefs such as astrology and chiromancy. Where this is the case, it is suggested that subjecting these therapies to empirical evaluation may be tantamount to evaluating the absurd.
This makes a lot of sense – but is it really entirely true? Are there no legitimate reasons at all for testing alternative treatments that lack biological plausibility? Ten or twenty years ago, I would have disagreed with the notion that plausibility is an essential prerequisite for scientific testing; today, I have changed my mind a little, but not as much as to agree completely with the assumption. In other words, I still see more than one good reason why evaluating the absurd might be reasonable or even advisable.
Using plausibility as the only arbiter of scientific

'evaluability'

, assumes that we understand everything about plausibility there is to know. Yet it might just be possible that we mis-categorise something as implausible simply because we are not yet fully aware of all the facts.
Declaring something as plausible and another thing as implausible are not hard and fast verdicts but judgements which, at least to some degree, are subjective. Sceptics find the axioms of homeopathy utterly implausible, for instance - but ask a homeopath, and you will hear all sorts of explanations which, at least to them, sound plausible.
If an implausible alternative treatment is in wide-spread use, we arguably have a responsibility to test it scientifically in order to demonstrate the truth about it (to those proponents of that therapy who are willing to accept that rigorous science can find the truth). If we fail to do this, it will be the enthusiasts of that therapy who conduct less than rigorous science and produce false positive results. In turn, this will give the impression that the treatment is effective and mislead consumers, politicians, journalists etc. Seen from this perspective, it might even be unethical to not do the science.
So, I am in two minds about this (which might be a reflection of the fact that, during different periods of my life, I have been a clinician, a basic scientist and a clinical researcher). I realise that plausibility and prior probability are important – much more so than I appreciated years ago. But I think they should not be the only criteria. The clinical evidence should not be pushed aside completely.
I'd be interested to learn your views on this tricky issue.
In China (and increasingly elsewhere too), the gentle, meditative exercise of tai chi is being promoted and used for disease prevention, particularly for the prevention of cardiovascular disease (CVD). But are these exercises effective? We carried out a Cochrane review to find out.
We searched both English language and Asian electronic databases as well as trial registers and reference lists for relevant studies. No language restrictions were applied. We considered randomised clinical trials (RCTs) of tai chi lasting at least three months and involving healthy adults or adults at high risk of CVD. The comparison groups received no or only minimal interventions. Our outcome measures were CVD clinical events and CVD risk factors. We excluded trials involving multifactorial lifestyle interventions or focusing on weight loss. Two reviewers independently selected trials for inclusion, abstracted the data and assessed the risk of bias of each included study.
We identified 13 trials with a total of 1520 participants and three on-going studies. All of them had at least one domain with unclear risk of bias, and some were at high risk of bias. Duration and style of tai chi differed between trials. Seven studies recruited 903 healthy participants, the other studies recruited people with hypertension, elderly people at high risk of falling, and people with 'liver or kidney yin deficiency syndromes'.
No studies reported on cardiovascular mortality, all-cause mortality or non-fatal events as most studies were short-term. There was also considerable heterogeneity between studies, which meant that it was not possible to combine studies statistically for cardiovascular risk. Nine trials measured systolic blood pressure (SBP), and 6 of them found reductions in SBP. Two trials found no clear evidence of a difference, and one trial found an increase in SBP with tai chi. A similar pattern was seen for diastolic blood pressure (DBP): three trials found a reduction in DBP, while three found no clear evidence of a difference.
Three trials reported lipid levels and two found reductions in total cholesterol, LDL-C and triglycerides, while the third study found no clear evidence of a difference between groups on lipid levels. Quality of life was measured in only one trial: tai chi improved quality of life at three months. None of the included trials reported on adverse events, costs or occurrence of type 2 diabetes.
From these findings, we drew the following conclusions: "There are currently no long-term trials examining tai chi for the primary prevention of CVD. Due to the limited evidence available currently no conclusions can be drawn as to the effectiveness of tai chi on CVD risk factors. There was some suggestion of beneficial effects of tai chi on CVD risk factors but this was not consistent across all studies. There was considerable heterogeneity between the studies included in this review and studies were small and at some risk of bias. Results of the ongoing trials will add to the evidence base but additional longer-term, high-quality trials are needed."
These findings are somewhat disappointing. Tai chi might convey many health benefits, but whether a reduction of cardiovascular risk is amongst them seems doubtful. Even if a risk reduction were established beyond doubt, one would need to ask whether its effect size is larger than that achievable through regular conventional exercise. In my view, this is unlikely.
According to the CDC, more than 30,000 people died as a result of a drug overdose in 2010. Of those deaths none were attributed to marijuana. Instead the vast majority were linked to drugs that are legally prescribed such as opiates, anti-depressants, anti-psychotics, tranquilizers and benzodiazepines. As misuse and abuse of prescription medications continues to rise, the marijuana legalization debate is also heating up.
Nearly 100 years of propaganda, fear mongering and blatant misinformation regarding marijuana has taken its toll on our society. As the veil of lies surrounding marijuana is being lifted, more and more people are pushing for legalization. Marijuana is now legal for both medicinal and recreational use in two states and other states are introducing legislation of their own. Marijuana is approved for medicinal use with a prescription in 21 states and also Washington, D.C. with most other states expected to introduce legislation to approve use for medicinal purposes in the next few years.
Last year Dr. Sanjay Gupta, the medical correspondent for CNN, aired a controversial documentary, "Weed", where he showed various promising medicinal uses for marijuana. He admits that he was wrong for many years about marijuana legalization, and after doing his own extensive research he is encouraged by the many real life cases he has seen where people with chronic, serious medical issues have been and continue to be helped by marijuana. He noted that marijuana does not have the dangerous side effects that many prescription medications do and that it is actually safer than many drugs being prescribed today. Dr. Gupta said in the program that there is not one documented case where death was due to marijuana overdose and he is right.
But as with any systematic paradigm shift, there will always be those whose minds are closed to change. So as the march toward legalization continues, there is new anti-legalization propaganda being written and spread through mainstream and social media. There have been multiple reports out of Colorado that there are now deaths attributed to marijuana overdose. Some say children were involved which automatically evokes feelings of fear in parents across the country. But when I tried to find more reliable sources to verify these articles, none existed. The AP reported on April 2 that a Wyoming college student jumped to his death in Colorado after eating a marijuana cookie while on Spring Break in Colorado. The autopsy listed marijuana intoxication as a "significant contributing factor" in the teen's death. (Gurman)
Like alcohol, Colorado bans the sale of marijuana and marijuana edibles to people under the age of 21. But much like alcohol, teens that want to get it will always find a way. This young man was just 19, and his death has been ruled accidental. While it is true his death is tragic, is it a reason to reverse the course with marijuana? If you believe this is the case then you must consider the real dangers posed by alcohol. Many people who would like to see marijuana legalized say that it is much safer than the legal drug alcohol. Based solely on the numbers of hospitalizations and deaths, especially with young people, they would be right.
According to an article posted on Forbes.com in March of this year, "1,825 college students between the ages of 18 and 24 die each school year from alcohol-related unintentional injuries." The author, Dr. Robert Glatter, MD attributes these deaths to one of the leading health risks facing our young people, and that is binge drinking. This number is quite small in comparison to emergency room visits and hospitalizations of young people that are a direct result of alcohol use.
Taking the most heat are the marijuana edibles that are now for sale in states where marijuana has become legal. The concern is that children are eating marijuana laced candy and baked goods and becoming ill. This would seem to be confirmed by an article in USA Today that reported that calls to the Rocky Mountain Poison Control is Colorado regarding marijuana ingestion in children had risen to 70 cases last year. While they admitted that this number was low, it was the rapid rise from years previous that caused concern. To put this in perspective, there are approximately 1.4 million pediatric poisonings each year involving prescription medications not including marijuana. (Henry, et.al) That is an average of approximately 28,000 calls per state. Tragically several hundreds of these cases result in deaths of these children, with the highest rates of death involving narcotics, sedatives and anti-depressants. (Henry, et.al.)
Of those 70 cases reported in Colorado involving marijuana, none resulted in death. The results are quite clear marijuana is as safe as prescription drugs are dangerous. For those who want to weigh in on the marijuana legalization debate, it is important to do your research, look at the big picture and put everything in perspective. Alcohol is legal and heavily regulated, yet its use is linked to thousands of deaths each year. Prescription drugs are legal and heavily regulated, yet they too are linked to thousands of deaths each year. Marijuana, on the other hand, is not legal and not available in much of the country, and thus far has not caused one death from overdose ever.
Additionally, research is showing marijuana has promise in treating many diseases more effectively and safely than dangerous prescription medications being used today. From cancer to epilepsy to depression and anxiety, to chronic autoimmune diseases, scientists are just scratching the surface when it comes to the potential life-changing and perhaps even, life-saving uses for marijuana.
References:
Drug Overdose in the United States: Fact Sheet. (2014, February 10). Centers for Disease Control and Prevention. Retrieved May 4, 2014, from http://www.cdc.gov/homeandrecreationalsafety/overdose/facts.html
Glatter, R. (2014, March 11). Spring Break's Greatest Danger. Forbes. Retrieved May 5, 2014, from http://www.forbes.com/sites/robertglatter/2014/03/11/spring-breaks-greatest-danger/
Gurman, S. (2014, April 2). Young man leaps to death after eating pot-laced cookie. USA Today. Retrieved May 5, 2014, from http://www.usatoday.com/story/news/nation/2014/04/02/marijuana-pot-edible-death-colorado-denver/7220685/
Henry, K., & Harris, C. R. (2006). Deadly Ingestions. Pediatric Clinics of North America, 53(2), 293-315.
Hughes, T. (2014, April 2). Colo. Kids getting into parents' pot-laced goodies. USA Today. Retrieved May 5, 2014 from http://www.usatoday.com/story/news/nation/2014/04/02/marijuana-pot-edibles-colorado/7154651/
Homeopathy is a deeply puzzling subject for many observers. Perhaps it gets a little easier to understand, if we consider the three main perspectives on homeopathy. For the purpose of this post, I take the liberty of exaggerating, almost caricaturizing, these perspectives in order to contrast them as clearly as possible.
THE SCEPTICS' PERSPECTIVE
Sceptics take a brief look at the two main assumptions which underpin homeopathy (like cures like and potentiation/dilution/water memory) and henceforward are convinced that homeopathic remedies are pure placebos. Homeopathy flies in the face of science; if homeopathy is right, several laws of nature must be wrong, they love to point out. As this is most unlikely, they reject homeopathy outright, usually even without looking in any detail at what homeopaths consider to be evidence in support of their trade. If sceptics are forced to consider a positive study of homeopathy, they know before they have seen it that its results are wrong – due to an error caused by chance, faulty study design or fabrication. The sceptics' conclusion on homeopathy: it is a placebo-therapy, no doubt about it; and further investment into research is a waste of scarce resources which must be stopped.
THE BELIEVERS' PERSPECTIVE
The believers in homeopathy know from experience that homeopathy works. They therefore feel that they have no choice but to reject almost every word the sceptics might tell them. They cling on to the gospel of Hahnemann and elaborate on the modern but vague theories that might support the theoretical assumptions of homeopathy. They point to positive clinical trials and outcome studies, to 200 years of experience, and to the endorsement of homeopathy by VIPs. When confronted with the weaknesses of their arguments, they find even weaker ones, such as 'much of conventional medicine is also not based on good evidence, and the mechanism of action of many mainstream drugs is also not fully understood'. Alternatively, they employ the phoniest argument of them all: 'even if it works via a placebo effect, it still helps patients and therefore is a useful therapy'. When even this fails, they tend to resort to ad hominem attacks against their opponents. The believers' conclusion on homeopathy: it is unquestionably a valuable type of therapy regardless of what anyone else might say; research is merely needed to confirm their belief.
THE PERSPECTIVE OF THE ADVOCATES OF EVIDENCE-BASED MEDICINE (EBM)
The perspective of EBM-advocates is pragmatic; they simply say: "show me the evidence!" If the majority of the most reliable clinical trials of homeopathic remedies (or anything else) suggests an effect beyond placebo, they conclude that they are effective. If that is not the case, they doubt the effectiveness. If the evidence is highly contradictory or incomplete, they are likely to advocate more rigorous research. Advocates of EBM are usually not all that concerned by the lack of plausibility of the interventions they evaluate. If it works, it works, they think – and if a plausible mechanism is currently not available, it might be found in due course. The advocates of EBM have no preconceived ideas about homeopathy. Their conclusion on homeopathy goes exactly where the available best evidence leads them.
COMMENT
The arguments and counter-arguments originating from the various perspectives would surely continue for another 200 years - unless, of course, two of the three perspectives merge and arrive at the same or very similar conclusions. And this is precisely what has now happened. As I have pointed out in a recent post, the most thorough and independent evaluation of homeopathy according to rigorous EBM-standards has concluded that "the evidence from research in humans does not show that homeopathy is effective for treating the range of health conditions considered."
In other words, two of the three principal perspectives have now drawn conclusions which are virtually identical: there is a consensus between the EBM-advocates and the sceptics. This isolates the believers and renders their position no longer tenable. If we furthermore consider that the believers are heavily burdened with obvious conflicts of interest, while the other two groups are by definition much more independent and objective, it appears more and more as though homeopathy is fast degenerating into a cult characterised by the unquestioning commitment and unconditional submission of its members who are too heavily brain-washed to realize that their fervour has isolated them from the rational sections of society. And a cult is hardly what we need in heath care, I should think.
It seems to me therefore that these intriguing developments might finally end the error that homeopathy represented for nearly 200 years.
Progress at last?
Recently, I have been invited by the final year pharmacy students of the 'SWISS FEDERAL INSTITUTE OF TECHNOLOGY ZURICH' to discuss alternative medicine with them. The aspect I was keen to debate was the issue of retail-pharmacists selling medicines which are unproven or even disproven. Using the example of homeopathic remedies, I asked them how many might, when working as retail-pharmacists, sell such products. About half of them admitted that they would do this. In real life, this figure is probably closer to 100%, and this discrepancy may well be a reflection of the idealism of the students, still largely untouched by the realities of retail-pharmacy.
In our discussions, we also explored the reasons why retail-pharmacists might offer unproven or disproven medicines like homeopathic remedies to their customers. The ethical codes of pharmacists across the world quite clearly prohibit this – but, during the discussions, we all realised that the moral high ground is not easily defended against the necessity of making a living. So, what are the possible motivations for pharmacists to sell bogus medicines?
One reason would be that they are convinced of their efficacy. Whenever I talk to pharmacists, I do not get the impression that many of them believe in homeopathy. During their training, they are taught the facts about homeopathy which clearly do not support the notion of efficacy. If some pharmacists nevertheless were convinced of the efficacy of homeopathy, they would obviously not be well informed and thus find themselves in conflict with their duty to practice according to the current best evidence. On reflection therefore, strong positive belief can probably be discarded as a prominent reason for pharmacists selling bogus medicines like homeopathic remedies.
Another common argument is the notion that, because patients want such products, pharmacists must offer them. When considering it, the tension between the ethical duties as a health care professional and the commercial pressures of a shop-keeper becomes painfully obvious. For a shop-keeper, it may be perfectly fine to offer all products which might customers want. For a heath care professional, however, this is not necessarily true. The ethical codes of pharmacists make it perfectly clear that the sale of unproven or disproven medicines is not ethical. Therefore, this often cited notion may well be what pharmacists feel, but it does not seem to be a valid excuse for selling bogus medicines.
A variation of this theme is the argument that, if patients were unable to buy homeopathic remedies for self-limiting conditions which do not really require treatment at all, they would only obtain more harmful drugs. The notion here is that it might be better to sell harmless homeopathic placebos in order to avoid the side-effects of real but non-indicated medicines. In my view, this argument does not hold water: if no (drug) treatment is indicated, professionals have a duty to explain this to their patients. In this sector of health care, a smaller evil cannot easily be justified by avoiding a bigger one; on the contrary, we should always thrive for the optimal course of action, and if this means reassurance that no medical treatment is needed, so be it.
An all too obvious reason for selling bogus medicines is the undeniable fact that pharmacists earn money by doing so. There clearly is a conflict of interest here, whether pharmacists want to admit it or not – and mostly they fail to do so or play down this motivation in their decision to sell bogus medicines.
Often I hear from pharmacists working in large chain pharmacies like Boots that they have no influence whatsoever over the range of products on sale. This perception mat well be true. But equally true is the fact that no health care professional can be forced to do things which violate their code of ethics. If Boots insists on selling bogus medicines, it is up to individual pharmacists and their professional organisations to change this situation by protesting against such unethical malpractice. In my view, the argument is therefore not convincing and certainly does not provide an excuse in the long-term.
While discussing with the Swiss pharmacy students, I was made aware of yet another reason for selling bogus medicines in pharmacies. Some pharmacists might feel that stocking such products provides an opportunity for talking to patients and informing them about the evidence related to the remedy they were about to buy. This might dissuade them from purchasing it and could persuade them to get something that is effective instead. In this case, the pharmacist would merely offer the bogus medicine in order to advise customers against employing it. This strategy might well be an ethical way out of the dilemma; however, I doubt that this strategy is common practice with many pharmacists today.
With all this, we should keep in mind that there are many shades of grey between the black and white of the two extreme attitudes towards bogus medicines. There is clearly a difference whether pharmacists actively encourage their customers to buy bogus treatments (in the way it often happens in France, for instance), or whether they merely stock such products and, where possible, offer responsible, evidence-based advise to people who are tempted to buy them.
At the end of the lively but fruitful discussion with the Swiss students I felt optimistic: perhaps the days when pharmacists were the snake-oil salesmen of the modern era are counted?
There is much debate about the usefulness of chiropractic. Specifically, many people doubt that their chiropractic spinal manipulations generate more good than harm, particularly for conditions which are not related to the spine. But do chiropractors treat such conditions frequently and, if yes, what techniques do they employ?
This investigation was aimed at describing the clinical practices of chiropractors in Victoria, Australia. It was a cross-sectional survey of 180 chiropractors in active clinical practice in Victoria who had been randomly selected from the list of 1298 chiropractors registered on Chiropractors Registration Board of Victoria. Twenty-four chiropractors were ineligible, 72 agreed to participate, and 52 completed the study.
Each participating chiropractor documented encounters with up to 100 consecutive patients. For each chiropractor-patient encounter, information collected included patient health profile, patient reasons for encounter, problems and diagnoses, and chiropractic care.
Data were collected on 4464 chiropractor-patient encounters between 11 December 2010 and 28 September 2012. In most (71%) cases, patients were aged 25-64 years; 1% of encounters were with infants. Musculoskeletal reasons for the consultation were described by patients at a rate of 60 per 100 encounters, while maintenance and wellness or check-up reasons were described at a rate of 39 per 100 encounters. Back problems were managed at a rate of 62 per 100 encounters.
The most frequent care provided by the chiropractors was spinal manipulative therapy and massage. The table shows the precise conditions treated
Distribution of problems managed (20 most frequent problems), as reported  by chiropractors
| | | | | |
| --- | --- | --- | --- | --- |
| Problem group | No. (%) of recorded diagnoses* (n = 5985) | Rate per 100 encounters (n = 4417) | 95% CI | ICC |
| Back problem | 2757 (46.07%) | 62.42 | (55.24–70.53) | 0.312 |
| Neck problem | 683 (11.41%) | 15.46 | (11.23–21.30) | 0.233 |
| Muscle problem | 434 (7.25%) | 9.83 | (6.64–14.55) | 0.207 |
| Health maintenance or preventive care | 254 (4.24%) | 5.75 | (3.24–10.22) | 0.251 |
| Back syndrome with radiating pain | 215 (3.59%) | 4.87 | (2.91–8.14) | 0.165 |
| Musculoskeletal symptom or complaint, or other | 219 (3.66%) | 4.96 | (2.39–10.28) | 0.350 |
| Headache | 179 (2.99%) | 4.05 | (2.87–5.71) | 0.053 |
| Sprain or strain of joint | 167 (2.79%) | 3.78 | (2.30–6.22) | 0.115 |
| Shoulder problem | 87 (1.45%) | 1.97 | (1.37–2.83) | 0.022 |
| Nerve-related problem | 62 (1.04%) | 1.40 | (0.72–2.75) | 0.072 |
| General symptom or complaint, other | 51 (0.85%) | 1.15 | (0.22–6.06) | 0.407 |
| Bursitis, tendinitis or synovitis | 47 (0.79%) | 1.06 | (0.71–1.60) | 0.011 |
| Kyphosis and scoliosis | 47 (0.79%) | 1.06 | (0.65–1.75) | 0.023 |
| Foot or toe symptom or complaint | 48 (0.80%) | 1.09 | (0.41–2.87) | 0.123 |
| Ankle problem | 46 (0.77%) | 1.04 | (0.40–2.69) | 0.112 |
| Osteoarthrosis, other (not spine) | 39 (0.65%) | 0.88 | (0.51–1.53) | 0.023 |
| Hip symptom or complaint | 35 (0.58%) | 0.79 | (0.53–1.19) | 0.006 |
| Leg or thigh symptom or complaint | 35 (0.58%) | 0.79 | (0.49–1.28) | 0.012 |
| Musculoskeletal injury | 33 (0.55%) | 0.75 | (0.45–1.24) | 0.013 |
| Depression | 29 (0.48%) | 0.66 | (0.10–4.23) | 0.288 |
These findings are impressive in that they suggest that most Australian chiropractors treat non-spinal conditions for which there is no evidence that the most frequently used interventions are effective. The treatments employed are depicted in this graph:
Distribution of techniques and care provided by chiropractors, with 95% CI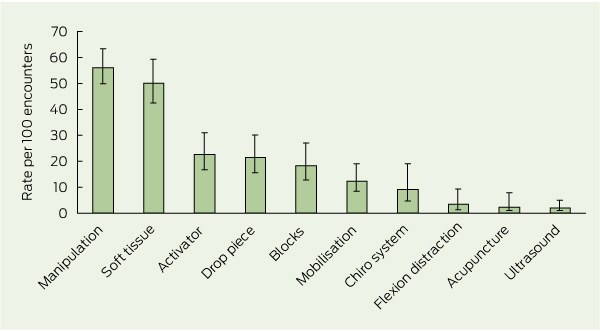 [Activator = hand-held spring-loaded device that delivers an impulse to the spine. Drop piece = chiropractic treatment table with a segmented drop system which quickly lowers the section of the patient's body corresponding with the spinal region being treated. Blocks = wedge-shaped blocks placed under the pelvis.
Chiro system = chiropractic system of care, eg, Applied Kinesiology, Sacro-Occipital Technique, Neuroemotional Technique. Flexion distraction = chiropractic treatment table that flexes in the middle to provide traction and mobilisation to the lumbar spine.]
There is no good evidence I know of demonstrating these techniques to be effective for the majority of the conditions listed in the above table.
A similar bone of contention is the frequent use of 'maintenance' and 'wellness' care. The authors of the article comment: The common use of maintenance and wellness-related terms reflects current debate in the chiropractic profession. "Chiropractic wellness care" is considered by an indeterminate proportion of the profession as an integral part of chiropractic practice, with the belief that regular chiropractic care may have value in maintaining and promoting health, as well as preventing disease. The definition of wellness chiropractic care is controversial, with some chiropractors promoting only spine care as a form of wellness, and others promoting evidence-based health promotion, eg, smoking cessation and weight reduction, alongside spine care. A 2011 consensus process in the chiropractic profession in the United States emphasised that wellness practice must include health promotion and education, and active strategies to foster positive changes in health behaviours. My own systematic review of regular chiropractic care, however, shows that the claimed effects are totally unproven.
One does not need to be overly critical to conclude from all this that the chiropractors surveyed in this investigation earn their daily bread mostly by being economical with the truth regarding the lack of evidence for their actions.