There is much debate about the usefulness of chiropractic. Specifically, many people doubt that their chiropractic spinal manipulations generate more good than harm, particularly for conditions which are not related to the spine. But do chiropractors treat such conditions frequently and, if yes, what techniques do they employ?
This investigation was aimed at describing the clinical practices of chiropractors in Victoria, Australia. It was a cross-sectional survey of 180 chiropractors in active clinical practice in Victoria who had been randomly selected from the list of 1298 chiropractors registered on Chiropractors Registration Board of Victoria. Twenty-four chiropractors were ineligible, 72 agreed to participate, and 52 completed the study.
Each participating chiropractor documented encounters with up to 100 consecutive patients. For each chiropractor-patient encounter, information collected included patient health profile, patient reasons for encounter, problems and diagnoses, and chiropractic care.
Data were collected on 4464 chiropractor-patient encounters between 11 December 2010 and 28 September 2012. In most (71%) cases, patients were aged 25-64 years; 1% of encounters were with infants. Musculoskeletal reasons for the consultation were described by patients at a rate of 60 per 100 encounters, while maintenance and wellness or check-up reasons were described at a rate of 39 per 100 encounters. Back problems were managed at a rate of 62 per 100 encounters.
The most frequent care provided by the chiropractors was spinal manipulative therapy and massage. The table shows the precise conditions treated
Distribution of problems managed (20 most frequent problems), as reported  by chiropractors
Problem group
No. (%) of recorded diagnoses*  (n = 5985)
Rate per 100 encounters (n = 4417)
95% CI
ICC

---

Back problem
2757 (46.07%)
62.42
(55.24–70.53)
0.312
Neck problem
683 (11.41%)
15.46
(11.23–21.30)
0.233
Muscle problem
434 (7.25%)
9.83
(6.64–14.55)
0.207
Health maintenance or preventive care
254 (4.24%)
5.75
(3.24–10.22)
0.251
Back syndrome with radiating pain
215 (3.59%)
4.87
(2.91–8.14)
0.165
Musculoskeletal symptom or complaint, or other
219 (3.66%)
4.96
(2.39–10.28)
0.350
Headache
179 (2.99%)
4.05
(2.87–5.71)
0.053
Sprain or strain of joint
167 (2.79%)
3.78
(2.30–6.22)
0.115
Shoulder problem
87 (1.45%)
1.97
(1.37–2.83)
0.022
Nerve-related problem
62 (1.04%)
1.40
(0.72–2.75)
0.072
General symptom or complaint, other
51 (0.85%)
1.15
(0.22–6.06)
0.407
 Bursitis, tendinitis or synovitis
47 (0.79%)
1.06
(0.71–1.60)
0.011
 Kyphosis and scoliosis
47 (0.79%)
1.06
(0.65–1.75)
0.023
Foot or toe symptom or complaint
48 (0.80%)
1.09
(0.41–2.87)
0.123
Ankle problem
46 (0.77%)
1.04
(0.40–2.69)
0.112
 Osteoarthrosis, other (not spine)
39 (0.65%)
0.88
(0.51–1.53)
0.023
Hip symptom or complaint
35 (0.58%)
0.79
(0.53–1.19)
0.006
Leg or thigh symptom or complaint
35 (0.58%)
0.79
(0.49–1.28)
0.012
Musculoskeletal injury
33 (0.55%)
0.75
(0.45–1.24)
0.013
Depression
29 (0.48%)
0.66
(0.10–4.23)
0.288
These findings are impressive in that they suggest that most Australian chiropractors treat non-spinal conditions for which there is no evidence that the most frequently used interventions are effective. The treatments employed are depicted in this graph:
Distribution of techniques and care provided by chiropractors, with 95% CI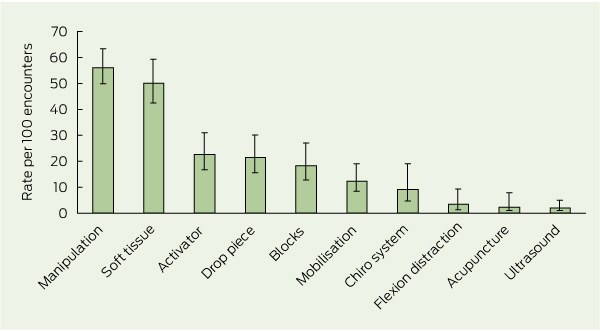 [Activator = hand-held spring-loaded device that delivers an impulse to the spine. Drop piece = chiropractic treatment table with a segmented drop system which quickly lowers the section of the patient's body corresponding with the spinal region being treated. Blocks = wedge-shaped blocks placed under the pelvis.
Chiro system = chiropractic system of care, eg, Applied Kinesiology, Sacro-Occipital Technique, Neuroemotional Technique. Flexion distraction = chiropractic treatment table that flexes in the middle to provide traction and mobilisation to the lumbar spine.]
There is no good evidence I know of demonstrating these techniques to be effective for the majority of the conditions listed in the above table.
A similar bone of contention is the frequent use of 'maintenance' and 'wellness' care. The authors of the article comment: The common use of maintenance and wellness-related terms reflects current debate in the chiropractic profession. "Chiropractic wellness care" is considered by an indeterminate proportion of the profession as an integral part of chiropractic practice, with the belief that regular chiropractic care may have value in maintaining and promoting health, as well as preventing disease. The definition of wellness chiropractic care is controversial, with some chiropractors promoting only spine care as a form of wellness, and others promoting evidence-based health promotion, eg, smoking cessation and weight reduction, alongside spine care. A 2011 consensus process in the chiropractic profession in the United States emphasised that wellness practice must include health promotion and education, and active strategies to foster positive changes in health behaviours. My own systematic review of regular chiropractic care, however, shows that the claimed effects are totally unproven.
One does not need to be overly critical to conclude from all this that the chiropractors surveyed in this investigation earn their daily bread mostly by being economical with the truth regarding the lack of evidence for their actions.