quackery
We should not have to repeat this! But, as it is currently topical and certainly true, let me tell you again:
DETOX IS BUNK!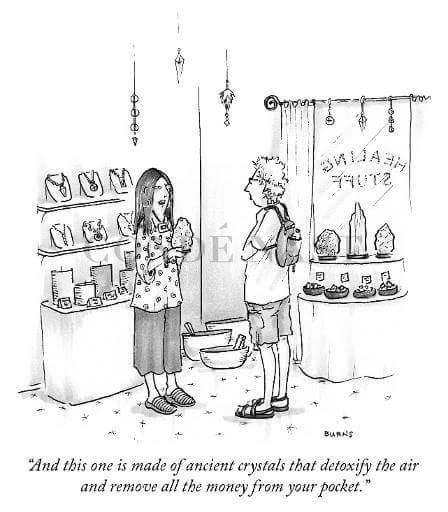 After the season of gluttony, it seems that half the population has fallen victim to the legion of alternative practitioners and entrepreneurs who claim that their particular form of quackery is ideally suited for detoxifying the body – and, sure enough, rid their clients of money instead of poisons. I have pointed out again and again why detox, as promoted in alternative medicine. is bogus and occasionally even harmful – see for instance here, here and here. And years ago, I published a review of the evidence on 'alternative detox' (AD); it concluded that "the principles of AD make no sense from a scientific perspective and there is no clinical evidence to support them. The promotion of AD treatments provides income for some entrepreneurs but has the potential to cause harm to patients and consumers. In alternative medicine, simplistic but incorrect concepts such as AD abound. All therapeutic claims should be scientifically tested before being advertised-and AD cannot be an exception."
But I have, of course, many readers who do not trust a word I am putting on paper. So, please don't take it from me, take it from others; read for example this recent article: 
Detox diets are popular dieting strategies that claim to facilitate toxin elimination and weight loss, thereby promoting health and well-being. The present review examines whether detox diets are necessary, what they involve, whether they are effective and whether they present any dangers. Although the detox industry is booming, there is very little clinical evidence to support the use of these diets. A handful of clinical studies have shown that commercial detox diets enhance liver detoxification and eliminate persistent organic pollutants from the body, although these studies are hampered by flawed methodologies and small sample sizes. There is preliminary evidence to suggest that certain foods such as coriander, nori and olestra have detoxification properties, although the majority of these studies have been performed in animals. To the best of our knowledge, no randomised controlled trials have been conducted to assess the effectiveness of commercial detox diets in humans. This is an area that deserves attention so that consumers can be informed of the potential benefits and risks of detox programmes.
To the best of our knowledge, no randomised controlled trials have been conducted to assess the effectiveness of commercial detox diets in humans. I think that says enough; and it applies not just to detox diets, it applies to all detox methods promoted in alternative medicine.
DETOX IS BUNK!
Save your hard-earned money for stuff that is proven to work.
In 2017, Medline listed just over 1800 articles on 'complementary alternative medicine'. If you find this number impressively high, consider that, for 'surgery' (a subject that has often been branded as less that active in conducting research), there were almost 18 000 Medline-listed papers.
So, the research activity in CAM is relatively small. Vis a vis the plethora of open questions, this inactivity is perhaps lamentable. What I find much more regrettable, however, is the near total lack of investigations into the ethical issues in CAM. In 2017, there were just 11 articles on Medline on 'ethics and CAM' (24393 articles on 'ethics and surgery').
One of the 11 papers that tackled the ethics directly and that was (in my opinion) one of the best is this article. Here is its concluding paragraph:
When we encounter patients who use or consider the use of complementary and/or alternative medicine, we should respect their autonomy while also fulfilling our obligations of beneficence and nonmaleficence. Physicians should become more knowledgeable about research on CAM therapies and approach discussions in an open, nonjudgmental manner to enhance patient trust. In situations where there is little risk of harm and the possibility of benefit, supporting a patient in their interest in complementary therapies can strengthen the patient-physician relationship. However, when a patient's desire to utilize alternative therapies poses a health risk, physicians have the ethical obligation to skillfully counsel the patient toward those therapies that are medically appropriate.
I have had a long-lasting and keen interest in the ethics of CAM which resulted in the publication of many papers. Here is a selection:
Problems with ethical approval and how to fix them: lessons from three trials in rheumatoid arthritis.
'Complementary & Alternative Medicine' (CAM): Ethical And Policy Issues.
Pharmacists and homeopathic remedies.
No obligation to report adverse effects in British complementary and alternative medicine: evidence for double standards.
Homeopathy, a "helpful placebo" or an unethical intervention?
Advice offered by practitioners of complementary/ alternative medicine: an important ethical issue.
The ethics of British professional homoeopaths.
Evidence-based practice in British complementary and alternative medicine: double standards?
Ethics of complementary medicine: practical issues.
Reporting of ethical standards: differences between complementary and orthodox medicine journals?
Informed consent: a potential dilemma for complementary medicine.
Ethical problems arising in evidence based complementary and alternative medicine.
Complementary medicine: implications for informed consent in general practice.
Ethics and complementary and alternative medicine.
Research ethics questioned in Qigong study.
Informed consent in complementary and alternative medicine.
The ethics of complementary medicine.
For most of the time conducting this research, I felt that I was almost alone in realising the importance of this topic. And all this time, I was convinced that the subject needed more attention and recognition. Therefore, I teamed up with with the excellent ethicist Kevin Smith from the University of Dundee, and together we spent the best part of 2017 writing about it.
Our book is entitled 'MORE HARM THAN GOOD? THE MORAL MAZE OF COMPLEMENTARY AND ALTERNATIVE MEDICINE' and will be published shortly by Springer.
It is an attempt to highlight some of the most important topics in this broad and under-researched area. While working on it, I was continually struck by the fact that most of the issues we have been struggling with on this blog are, in the final analysis, ethical by nature.
My hope is that, in 2018, we will see many more high quality papers filling the almost total void of ethical perspectives on CAM. In my view, it is unquestionably an area that needs to be addressed with some urgency.
Electrohomeopathy is a version of homeopathy few people know about. Allow me to explain:
Cesare Mattei (1809–1896), an Italian count, was interested in homeopathy. Mattei believed that fermented plants gave off 'electrical' energy that could be used to cure illness. He also believed that every illness had a cure provided in the vegetable kingdom by God. He began to develop his system from 1849. The large bottles are labelled "Red", "Green", "White", "Yellow" and "Blue" so the actual ingredients remained a secret. Ointments were made up with ingredients from the small and large bottles. The vial labelled "Canceroso 5" was used for bruises, cancers, chilblains, hair loss, skin diseases and varicose veins, among other conditions. Although dismissed by the medical profession as quackery, Mattei's system was popular. It formed part of the treatment at St Saviour's Cancer Hospital in London from 1873.
Wikipedia offers more informing us that:
"… Mattei, a nobleman living in a castle in the vicinity of Bologna studied natural science, anatomy, physiology, pathology, chemistry and botany. He ultimately focused on the supposed therapeutic power of "electricity" in botanical extracts. Mattei made bold, unsupported claims for the efficacy of his treatments, including the claim that his treatments offered a nonsurgical alternative to cancer. His treatment regimens were met with scepticism by mainstream medicine:
The electrohomeopathic system is an invention of Count Mattei who prates of "red", "blue", and "green" electricity, a theory that, in spite of its utter idiocy, has attracted a considerable following and earned a large fortune for its chief promoter.
Notwithstanding criticisms, including a challenge by the British medical establishment to the claimed success of his cancer treatments,  electrohomeopathy (or Matteism, as it was sometimes known at the time) had adherents in Germany, France, the USA and the UK by the beginning of the 20th century; electrohomeopathy had been the subject of approximately 100 publications and there were three journals dedicated to it.
Remedies are derived from what are said to be the active micro nutrients or mineral salts of certain plants. One contemporary account of the process of producing electrohomeopathic remedies was as follows:
As to the nature of his remedies we learn … that … they are manufactured from certain herbs, and that the directions for the preparation of the necessary dilutions are given in the ordinary jargon of homeopathy. The globules and liquids, however, are "instinct with a potent, vital, electrical force, which enables them to work wonders". This process of "fixing the electrical principle" is carried on in the secret central chamber of a Neo-Moorish castle which Count Mattei has built for himself in the Bolognese Apennines… The "red electricity" and "white electricity" supposed to be "fixed" in these "vegetable compounds" are in their very nomenclature and suggestion poor and miserable fictions.
According to Mattei's own ideas however, every disease originates in the change of blood or of the lymphatic system or both, and remedies can therefore be mainly divided into two broad categories to be used in response to the dominant affected system. Mattei wrote that having obtained plant extracts, he was "able to determine in the liquid vegetable electricity". Allied to his theories and therapies were elements of Chinese medicine, of medical humours, of apparent Brownianism, as well as modified versions of Samuel Hahnemann's homeopathic principles. Electrohomeopathy has some associations with Spagyric medicine, a holistic medical philosophy claimed to be the practical application of alchemy in medical treatment, so that the principle of modern electrohomeopathy is that disease is typically multi-organic in cause or effect and therefore requires holistic treatment that is at once both complex and natural."
END OF QUOTE
If one would assume that electrohomeopathy is nothing more than a bizarre and long-forgotten chapter in the colourful history of homeopathy, one would be mistaken; it is still used and promoted by enthusiasts who continue to make bold claims. This article, for instance, informs us that:
Electro Homeopathic remedies tone up the brain and the nerves through which overall body processes are controlled and strengthen the digestion process.
The tablets provide food for the red blood cells and provide nourishment for the white corpuscles of the lymph and the blood.
They provide the useful elements to the plasma of the blood and provide required nutrients for the cells of which tissues are made.
They enhance the eviction through the skin and other modes and unnecessary substances which disturb the function and health of the body.
They cure the diseases and are helpful to the patients who use them.
They are curative as well as palliatives.
They are helpful in curing the serious diseases whether it is acute or chronic, non-surgical or surgical, for women, men, and children. They provide 100 percent cure.
They cure diseases such as tuberculosis, cancer, fistula, and cancer. They can cure these diseases without operation.
They cure all type of infectious diseases with certainty and are also helpful in prophylactics in the epidemics.
This article also provides even more specific claims:
Here are the 5 best Electro Homeopathic medicines for curing kidney stones –
Berberis Vulgaris – is the best medicine for left-sided kidney stones
Cantharis Vesicatoria– is one of the best medicine for kidney stones with burning in urine
Lycopodium – is the best remedy for right-sided kidney stones
Sarsaparilla – is the best medicine for kidney stones with white sand in urine
Benzoic Acid – is best homeopathic medicine for renal calculi…
The aforesaid homeopathic medicines for kidney stones have been found to be very effective in getting these stones out of the system. It does not mean that only these medicines are used.
What all of this highlights yet again is this, I think:
There are many seriously deluded people out there who are totally ignorant of medicine, healthcare and science.
To a desperate patient, these quacks can seem reasonable in their pretence of medical competence.
Loons make very specific health claims (even about very serious conditions), thus endangering the lives of the many gullible people who believe them.
Even though this has been known and well-documented for many years, t here seems to be nobody stopping the deluded pretenders in their tracks; the public therefore remains largely unprotected from their fraudulent and harmful acts.
In particular, the allegedly more reasonable end of the 'alt med community' does nothing to limit the harm done by such charlatans – on the contrary, whether knowingly or not, groups such as doctors of 'integrative medicine' lend significant support to them.
The Society of Homeopaths (SoH) has launched a campaign to inform the public that, despite everything non-homeopaths may say and despite the undeniable facts about homeopathy, their remedies are highly effective. This article provides a detailed account of their incompetence.
I saw the image below first on Twitter. It is part of their current campaign and summarises 'POSITIVE MESSAGES ABOUT HOMEOPATHY' as the SoH proclaim them. Presumably, they did this piece of work to help their members finding the right arguments when defending the indefensible.
I am not usually prone to laughing fits, but this had me in stiches! It is hilarious, I think; a true masterpiece of comedy.
The masterpiece is almost too perfect to tarnish with my comments; however, I cannot resist. Sorry!
I will take the arguments in turn going clockwise and starting with
'HOMEOPATHY MEDICINES ARE TESTED SAFELY AND EFFECTIVELY ON HEALTHY HUMANS'
Should this not be 'homeopathic medicines'? In any case, the remedies (medicines seems too strong a word) are tested in so-called 'provings' – yes, safely because they normally contain no active ingredient… and effectively? I cannot see why provings might be 'effective'; they are pure fantasy.
HOMEOPATHY MAKES A POSITIVE CONTRIBUTION TO INTEGRATED HEALTHCARE
No, as we have discussed often on this blog, adding cow pie to apple pie is not a positive contribution to anything.
HOMEOPATHY HAS BEEN AVAILABLE ON THE NHS SINCE 1948
Appeal to tradition = fallacy.
Appeal to authority = fallacy.
HOMEOPATHY PUTS THE PATIENT AT THE CENTRE OF THEIR HEALTHCARE
This too is false logic, because all good medicine puts the patient at the centre; in addition it is grammatically false English (if I as a non-native speaker may be so bold).
HOMEOPATHY IS USED BY 15% OF UK CITIZENS
I doubt it. But even if this figure is correct, an appeal to popularity is a fallacy and not a logical argument.
HOMEOPATHY IS USED BY 450 MILLION PEOPLE WORLDWIDE
I doubt it. But even if this figure is correct, an appeal to popularity is a fallacy and not a logical argument.
HOMEOPATHY IS A SYSTEM OF NATURAL HEALTHCARE THAT HAS BEEN USED WORLDWIDE FOR 200 YEARS
What is 'natural' in endlessly diluting things like 'Berlin Wall' and pretending it is a medicine? In any case, the appeal to tradition is yet another fallacy.
HOMEOPATHY DOES NOT CONTRADICT SCIENTIFIC PROGRESS, IT IS PART OF IT
This is where I almost fell off my chair; homeopathy is the opposite of progress, it is a dogma and a belief-system.
HOMEOPATHY IS HOLISTIC
All good medicine is holistic; arguably, homeopathy is not holistic.
HOMEOPATHY IS EFFECTIVE IN BOTH ACUTE AND CHRONIC ILLNESS
Yes, this is what homeopaths believe, but it is not true.
To conclude what better than quoting the person who, a long time ago, said: "HOMEOPATHS ARE THE CLOWNS AMONGST THE HEALTHCARE PROFESSIONALS" ?
Who could resist reading an article entitled "Is Dead Vagina Syndrome Real? Plus, 4 Ways To Boost Your Libido"?
Well I couldn't, particularly as it came from a site promisingly called 'ALTERNATIVE DAILY'!
And I did not regret it. Here are some excerpts:
…"Dead vagina syndrome" or DVS is used to describe a woman's over-sensitized vagina. Some people believe that regularly using a strong vibrator can cause a woman to lose feeling in her private parts. What's worse, it's thought that this desensitization of the nether regions makes it almost impossible for a woman to get aroused with an actual human partner. Thus, DVS is born. The theory behind the condition suggests that using a strong vibrator regularly will ultimately damage sensitive nerves around the clitoris and in the vagina…"
[Luckily, there is help – help from all natural, herbal remedies, no less. The article recommends the following cures]
Saffron
Saffron, a culinary delicacy, has a powerful libido-boosting effect. In fact, research suggests that saffron has been used traditionally as an aphrodisiac. And a little goes a long way. All you need is one or two strands to do the trick.
Maca root
Used for centuries in Asian countries, maca root has traditionally been used for male sexuality. But a study from the Department of Psychiatry, Massachusetts General Hospital has found that it may also be helpful for women in need of a sexual boost.
Nutmeg
In animal studies, nutmeg has been found to increase sexual activity in male rats. Interestingly, nutmeg has also been used traditionally as an aphrodisiac by African women and is still used today by women of all cultures. So, what's good for men is obviously good for women too…
END OF QUOTE
Before you get all excited and start planting your own physic garden or hurry to the next health food shop, let me tell you this: I have looked into the evidence, and to call it flimsy would be the understatement of the year. There is no good reason to believe that these herbal remedies (or any other alternative therapy) can help women increase their libido.
Thankfully, the article ends on a truthful and reassuringly positive note: "most experts agree that DVS is not a real medical concern for women."
… nor for men, I hasten to add.
Sorry, but something I stated in my last post was not entirely correct!
I wrote that "I could not find a single study on Schuessler Salts".
Yet, I do know of a 'study' of Schuessler Salts after all; I hesitate to write about it because it is an exceedingly ugly story that goes back to the 'Third Reich', and some people do not seem to appreciate me reporting about my research on this period.
The truth, however, is that I already did mention the Schuessler salts before on this blog: "…in 1941 a research unit was established in 'block 5' [of the Dachau Concetration Camp] which, according to Rascher's biographer, Sigfried Baer, contained his department and a homeopathic research unit led by Hanno von Weyherns and Rudolf Brachtel (1909-1988). I found the following relevant comment about von Weyherns: "Zu Jahresbeginn 1941 wurde in der Krankenabteilung eine Versuchsstation eingerichtet, in der 114 registrierte Tuberkulosekranke homöopathisch behandelt wurden. Leitender Arzt war von Weyherns. Er erprobte im Februar biochemische Mittel an Häftlingen." My translation: At the beginning of 1941, an experimental unit was established in the sick-quarters in which 114 patients with TB were treated homeopathically. The chief physician was von Weyherns. In February, he tested Schuessler Salts [a derivative of homeopathy still popular in Germany today] on prisoners."
Wikipedia provides further details: [Im Dritten Reich] konnten erstmals mit staatlicher Billigung und Förderung Untersuchungen durchgeführt werden, in denen die behauptete Wirksamkeit "biochemischer" Arzneimittel überprüft wurde. Solche Versuche fanden auch in den Konzentrationslagern Dachau und Auschwitz statt, unter Leitung des Reichsarztes SS Ernst-Robert Grawitz. Dabei wurden unter anderem künstlich herbeigeführte Fälle von Blutvergiftung und Malaria weitgehend erfolglos behandelt. Für die Häftlinge nahmen diese Experimente in den meisten Fällen einen tödlichen Ausgang.
My translation: During the Third Reich, it became possible for the first time possible to conduct with governmental support investigations into the alleged effectiveness of 'biochemical' Schuessler Salts. Such tests were carried out in the concentration camps of Dachau and Auschwitz under the leadership of Reichsarzt SS Ernst-Robert Grawitz. They involved infecting prisoners with sepsis and malaria and treating them – largely without success. Most of the prisoners used for these experiments died.
I also found several further sources on the Internet. They confirm what was stated above and also mention the treatment of TB with Schuessler Salts. Furthermore, they state that the victims were mostly Polish priests:
The last source claims that at least 28 prisoners died as a result of these unspeakably cruel experiments.
The most detailed account (and even there, it is just 2 or 3 pages) about these experiments that I could find is in the superb and extremely well-researched book 'AUSCHWITZ, DIE NS MEDIZIN UND IHRE OPFER' by Ernst Klee. In it (p 146), Klee cites Grawitz's correspondence with Himmler where Grawitz discloses that, prior to the Dachau 'Schuessler experiments', there were also some in Auschwitz where all three victims had died. Apparently Grawitz tried to persuade Himmler to stop these futile and (even for his standards) exceedingly cruel tests; the prisoners suffered unimaginable pain before their deaths. However, Himmler reprimanded him sharply and instructed him to continue. Dr Kiesswetter was subsequently recruited to the team because he was considered to be an expert on the clinical use of Schuessler Salts.
[Another book entitled
'

Der Deutsche Zentralverein homöopathischer Ärzte im Nationalsozialismus
' also mentions these experiments. Its author claims that Weyherns was not a doctor but a Heilpraktiker (all other sources agree that he was a medic). In general, the book seems to down-play this deplorable story and reads like an attempt to white-wash German homeopathy during the Third Reich] .
Klee concludes his chapter by reporting the post-war fate of all the doctors involved in the 'Schuessler experiments':
Dr Waldemar Wolter was sentenced to death and executed.
Dr Hermann Pape disappeared.
Dr Rudolf Kiesswetter disappeared.
Dr Babor fled to Addis Abeba.
Dr Laue died.
Dr Heinrich Schuetz managed to become a successful consultant in Essen. Only in 1972, he was charged and tried by a German court to 10 years of jail. Several of his colleagues, however, certify that he was too ill to be imprisoned, and Schuetz thus escaped his sentence.
Why do I dwell on this most unpleasant subject?
Surely, this has nothing to do with today's use of Schuessler Salts!
Do I do it to "smear homeopathy and other forms of complementary medicine with a 'guilt by association' argument, associating them with the Nazis", as Peter Fisher once so stupidly put it?
No!
I have other, more important reasons:
I do not think that the evidence regarding Schuessler Salts is complete without these details.
I believe that these are important historical facts.
I feel that the history of alternative medicine during the Third Reich is under-researched and almost unknown (contrary to that of conventional medicine for which a very large body of published evidence is now available).
I feel it should be known and ought to be much better documented than it is today.
I fear that we live in times where the memory of such atrocities might serve as a preventative for a resurgence of fascism in all its forms.
Yes, I did promise to report on my participation in the 'Goldenes Brett' award which took place in Vienna and Hamburg on 23/11/2017. I had been asked to come to Vienna and do the laudation for the life-time achievement in producing ridiculous nonsense. This year, the award went to the 'DEUTSCHER ZENTRALVEREIN HOMOEOPATHISCHER AERZTE' (DZVhÄ), the German Central Society of Homoeopathic Doctors.
In my short speech, I pointed out that this group is a deserving recipient of this prestigious negative award. Founded in 1829, the DZVhÄ  is a lobby-group aimed at promoting homeopathy where and how they can. It is partly responsible for the fact that homeopathy is still highly popular in Germany, and that many German consumers seem to think that homeopathy is an evidence-based therapy.
Cornelia Bajic, the current president of this organisation stated on her website that "Homöopathie hilft bei allen Krankheiten, die keiner chirurgischen oder intensivmedizinischen Behandlung bedürfen" (homeopathy helps with all diseases which do not need surgical or intensive care), advice that, in my view, has the potential to kill millions.
The DZVhÄ also sponsors the publication of a large range of books such as 'Was kann die Homoeopathie bei Krebs' (What can homeopathy do for cancer?). This should be a very short volume consisting of just one page with just one word: NOTHING. But, in fact, it provides all sorts of therapeutic claims that are not supported by evidence and might seriously harm those cancer patients who take it seriously.
But the DZVhÄ does much, much more than just promotion. For instance it organises annual 'scientific' conferences – I have mentioned two of them previously here, here and here. In recent years one of its main activity must have been the defamation of certain critics of homeopathy. For instance, they supported Claus Fritzsche in his activities to defame me and others. And recently, they attacked Natalie Grams for her criticism of homeopathy. Only a few days ago, Cornelia Bajic attacked doctor Gram's new book – embarrassingly, Bajic then had to admit that she had not even read the new book!
The master-stroke of the DZVhÄ , in my opinion, was the fact that they supported the 4 homeopathic doctors who went to Liberia during the Ebola crisis wanting to treat Ebola patients with homeopathy. At the time Bajic stated that "Unsere Erfahrung aus der Behandlung anderer Epidemien in der Geschichte der Medizin lässt den Schluss zu, dass eine homöopathische Behandlung die Sterblichkeitsrate der Ebola-Patienten signifikant verringern könnte" (Our experience with other epidemics in the history of medicine allows the conclusion that homeopathic treatment might significantly reduce the mortality of Ebola patients).
As I said: the DZVhÄ are a well-deserving winner of this award!
Malaria is an infection caused by protozoa usually transmitted via mosquito bites. Malaria is an important disease for homeopaths because of Hahnemann's quinine experiment: it made him postulate his 'like cures like' theory. Today, many experts assume that Hahnemann misinterpreted the results of this experience. Yet most homeopaths are still convinced that potentised cinchona bark is an effective prophylaxis against malaria. Some homeopathic pharmacies still offer homeopathic immunisations against the infection. In several cases, this has caused people who believed to be protected fall ill with the infection.
Perhaps because of this long tradition, homeopaths seem to have difficulties giving up the idea that they hold the key to effective malaria prevention. An article published in THE INDIAN EXPRESS entitled 'Research suggests hope for homoeopathic vaccine to treat malaria' reminds us of this bizarre phenomenon:
…In a laboratory test set-up, an ultra-dilute homoeopathic preparation was prepared by extracting samples from Plasmodium falciparum, the parasite that causes malaria. The homoeopathic preparation was used in-vitro to check if it had anti-malarial activity… "Homoeopathy has been criticised for lack of scientific evidence. This lab-model test established that a medicine developed from an organism that causes malaria can be used to treat the infection," said Dr Rajesh Shah, principal investigator in the research.
Following the tests, Shah is approaching the government in order to conduct a full-fledged clinical trial for the homoeopathic medicine. "We found that the homoeopathic medicine exhibited 65 per cent inhibition against malaria while chloroquine treatment has 54 per cent efficacy," Shah claimed. The research was published in the International Journal of Medical and Health Research in July. It observed that the homoeopathic solution inhibited enzyme called hemozoin is known to have an anti-malarial effect…
END OF QUOTE
I thought this story was both remarkable and odd. So I looked up the original paper. Here is the abstract:
The inventor has developed malaria nosode and has subjected it for evaluation of antimalarial activity in vitro assay along with few other homeopathy preparations. The potential antimalarial activity of the Malaria nosode, Malaria officinalis and China officinalis was evaluated by β-Hematin Formation Assay. The hemozoin content was determined by measuring the absorbance at 400 nm. The results were recorded as % inhibition of heme crystallization compared to negative control (DMSO) Malaria nosode, Malaria officinalis and China officinalis exhibited inhibition of hemozoin and the inhibition was greater than the positive control Chloroquine diphosphate used in the study. The study has shown anti-disease activity of an ultra-dilute (potentized) homeopathic preparation. The Malaria nosode prepared by potentizing Plasmodium falciparum organisms has demonstrated antimalarial activity, which supports the basic principle behind homeopathy, the law of similar.
Now I am just as puzzled!
Why would any responsible scientist advocate running a 'full-fledged clinical trial' on the basis of such flimsy and implausible findings?
Would that not be highly unethical?
Would one not do further in-vitro tests?
Then perhaps some animal studies?
Followed by first studies in humans?
Followed perhaps by a small pilot study?
And, if all these have generated positive results, eventually a proper clinical trial?
The answers to all these questions is YES.
But not in homeopathy, it seems!
This is too wonderful (I found it on Twitter where it was posted by 'Doctors Leonard and Michael Valentine', chiropractors at Valentine Chiropractic in Fountain Valley, CA.) – I have to show it to you.
This could almost pass without a comment. But for what it's worth, here are my 7 points:
platitude,
platitude,
no, they do not easily move out of alignment, and if they do, you are severely ill and need urgent treatment but not chiropractic,
subluxations as dreamt up by chiropractors are a myth; they simply do not exist,
it is vital that we don't disclose this BS, if not chiros need to find new jobs,
chiros pretend to find subluxations because this is their livelihood,
pathetic platitude.
This article is worth reading, I think.
It again begs the question whether the GCC is fit for purpose.
START OF QUOTE
AN ILKLEY chiropractor has been found guilty of unacceptable professional conduct by the General Chiropractic Council (GCC).
Dr John Rees, who works at Ilkley Chiropractic Clinic, Wilmot House, Railway Road, appeared before the Professional Conduct Committee of the Council at a hearing in London from November 6 to 8. Dr Rees faced allegations in relation to a female patient, known as patient A, who was registered under the care of Mr Rees on various dates between May 20, 2016 and June 10, 2016 and June 11, 2016 and June 15, 2016.
The committee found the admitted particulars proved, however, other, more serious allegations he had been facing, but had always denied, were dropped as there was no reliable evidence to support them. Ms Harris for the GCC told the hearing that notwithstanding the concessions made by the GCC the registrant's behaviour, even if well received by the patient, was inappropriate, an abuse of the patient-practitioner relationship and the sort of behaviour that brings the profession into disrepute.
Dr Rees was represented at the hearing by Mr Kitching who described the events of 2016 as "a professional disaster for the registrant, an embarrassment which he regretted on a personal and professional level." Mr Kitching submitted that physical contact with patient A had gone no further than drinks, a kiss, a hug and that the matters were at the lower end of the scale of breaches. He invited the committee to consider patient A had been a willing participant and was both intelligent and mature and could not be considered as vulnerable.
However, the committee determined that Dr Rees's behaviour "embraced both a risk to the reputation of the profession and also the protection of patients. The committee added: "Whilst much of the behaviour had been consensual the registrant had been in a position of power, he had planned the progression of the relationship and this amounted to serious acts on his behalf."
The hearing concluded that Dr Rees's conduct "fell seriously below the standards expected of a chiropractor and that, consequently, Dr Rees is guilty of unacceptable professional conduct." In making a sanction against Dr Rees the committee noted a wide range of supportive testimonials and references and his previous good character. The committee was satisfied that the misconduct was not "fundamentally incompatible with continued registration". It imposed the sanction of an admonishment – a formal warning – upon Dr Rees.
Following the hearing Dr Rees told the Gazette: "My professional body has considered all the pertinent facts and come to its decision. The matter is now closed. I would like to thank my patients for their generous support during this difficult period."
END OF QUOTE
ADDITIONAL INFO COPIED FROM THE GCC 'NOTICE OF DECISION':
The kiss or attempted kiss was 'on the lips'.
Rees gave the patient presents, including a bikini.
Rees attended patient's home address.
Rees seems to have falsified the patient's case notes and thus 'acted dishonestly'.
Rees called the patient 'an evil loose woman', 'a bunny boiler' and 'a slapper'.
Do I understand this right? The GCC concluded that "much of the behaviour had been consensual". To me, this indicates that some of the behaviour was not consensual. How then could the GCC find that Rees's behaviour was compatible with continued registration?  And how could they imposed merely a formal warning upon Dr Rees?
I fail to comprehend this verdict.
Also I fail to understand why Rees allows himself to be called a 'doctor'.
And I again ask: IS THE GCC FIT FOR PURPOSE?