medical ethics
A remarkable article about homeopathy and immunisation entitled THE IMMUNISATION DILEMMA came to my attention recently. Its abstract promised: "evidence quantifying the effectiveness of vaccination and HP (
homeoprophylaxis

) will be examined. New international research describing and analysing HP interventions will be reported. An evidence-based conclusion will be reached."

Sounds interesting? Let's see what the article really offers. Here is the relevant text:

…evidence does exist to support claims regarding the effectiveness of homeopathic immunisation is undeniable.

I was first invited to visit Cuba in December 2008 to present at an international conference hosted by the Finlay Institute, which is a W. H. O.-accredited vaccine manufacturer. The Cubans described their use of HP to control an outbreak of leptospirosis (Weil's syndrome – a potentially fatal, water-born bacterial disease) in 2007 among the residents of the three eastern provinces which were most severely damaged by a severe hurricane – over 2.2 million people [7]. 2008 was an even worse year involving three hurricanes, and the country's food production was only just recovering at the time of the conference. The HP program had been repeated in 2008, but data was not available at the conference regarding that intervention.

I revisited Cuba in 2010 and 2012, each time to work with the leader of the HP interventions, Dr. Bracho, to analyse the data available. Dr. Bracho is not a homeopath; he is a published and internationally recognised expert in the manufacture of vaccine adjuvants. He worked in Australia at Flinders University during 2004 with a team trying to develop an antimalarial vaccine.

In 2012 we accessed the raw leptospirosis surveillance data, comprising weekly reports from 15 provinces over 9 years (2000 to 2008) reporting 21 variables. This yielded a matrix with 147 420 possible entries. This included data concerning possible confounders, such as vaccination and chemoprophylaxis, which allowed a careful examination of possible distorting effects. With the permission of the Cubans, I brought this data back to Australia and it is being examined by mathematicians at an Australian university to see what other information can be extracted. Clearly, there is objective data supporting claims regarding the effectiveness of HP.

The 2008 result was remarkable, and could only be explained by the effectiveness of the HP intervention. Whilst the three hurricanes caused immense damage throughout the country it was again worse in the east, yet the three homeopathically immunised provinces experienced a negligible increase in cases whilst the rest of the country showed significant increases until the dry season in January 2009 [8].

This is but one example – there are many more. It is cited to show that there is significant data available, and that orthodox scientists and doctors have driven the HP interventions, in the Cuban case. Many people internationally now know this, so once again claims by orthodox authorities that there is no evidence merely serves to show that either the authorities are making uninformed/unscientific statements, or that they are aware but are intentionally withholding information. Either way, confidence is destroyed and leads to groups of people questioning what they are told…
Final Conclusions
The attacks against homeopathy in general and HP in particular will almost certainly continue. If we can achieve a significant level of agreement then we would be able to answer challenges to HP with a single, cohesive, evidence-based, and generally united response. This would be a significant improvement to the existing situation.
Reference 7 is the following article: Bracho G, Varela E, Fernández R et al. Large-scale application of highly-diluted bacteria for Leptospirosis epidemic control. Homeopathy 2010; 99: 156-166. The crucial bit if this paper are as follows:
A homeoprophylactic formulation was prepared from dilutions of four circulating strains of Leptospirosis. This formulation was administered orally to 2.3 million persons at high risk in an epidemic in a region affected by natural disasters. The data from surveillance were used to measure the impact of the intervention by comparing with historical trends and non-intervention regions.
After the homeoprophylactic intervention a significant decrease of the disease incidence was observed in the intervention regions. No such modifications were observed in non-intervention regions. In the intervention region the incidence of Leptospirosis fell below the historic median. This observation was independent of rainfall.
The homeoprophylactic approach was associated with a large reduction of disease incidence and control of the epidemic. The results suggest the use of HP as a feasible tool for epidemic control, further research is warranted.
The paper thus describes little more than an observational study. It shows that one region was less affected than another. I think it is quite clear that this could have many reasons which are unrelated to the homeopathic immunisation. Even the authors are cautious and speak in their conclusions not of a causal effect but of an "association".
The 2012 data cited in the text remains unpublished; until it is available for public scrutiny, it is impossible to confirm that it is sound and meaningful.
Reference 8 refers to this article: Golden I, Bracho G. Adaptability of homœoprophylaxis in endemic, epidemic and stable background conditions. Homœopathic Links 2009; 22: 211-213. I have no access to this paper (if someone does, please fill us in) but, judging from both its title and the way it is described in the text, it does not seem to show reliable data about the efficacy of homeopathic immunisation.
So, is it true that "evidence does exist to support claims regarding the effectiveness of homeopathic immunisation"?
I do not think so!
Immunisation is by no means a trivial matter; wrong decisions in this area have the potential to cost the lives of millions. Therefore proofs of efficacy need to be published in peer-reviewed journals of high standing. These findings need then be criticised, replicated and re-criticised and re-replicated. Only when there is a wide consensus about the efficacy/safety or lack of efficacy/safety of a new form of immunisation, can it be generally accepted and implemented into clinical practice.
The current consensus about homeopathic immunisation is that it is nothing less than dangerous phantasy. Those who promote this quackery should be publicly exposed as charlatans of the worst kind.
Dr. Oz, famous through his TV show promoting all types of quackery, recently testified before a US Senate subcommittee hearing on protecting consumers from false and deceptive advertising of weight loss products. This event turned out to be less than flattering for Dr Oz. One journalist commented that he "might as well be a cowardly lion — sent home with his tail between his legs after being accused at a congressional hearing of lying on his show about weight-loss claims."
"I don't get why you need to say this stuff, because you know it's not true," said Senator Claire McCaskill, who led the commerce subcommittee hearing. "The scientific community is almost monolithically against you in terms of the efficacy of the products you called 'miracles,' " the Democratic senator from Missouri told Oz. "It's a major problem when people are spending more and more money and they're gaining more and more weight," said Senator Amy Klobuchar."Either you don't talk about these things at all, or you're going to have to be more specific because right now . . . this is not working."
A source close to Dr Oz said he was perplexed: "We were invited down to Washington to testify at a hearing about scams and instead it became all about how much we hate your show." Oz himself testified that he "heard the message…I do personally believe in the items that I talk about."
"I intensively study them. I have given my family these products. . . . If you can lose a pound a week more than you would have lost by using them, it jump-starts you and gets you going. I think it makes sense." "I'm surprised you're defending this," McCaskill replied. "It's something that gives people false hope. I don't see why you need to go there."
Another journalist commented that the Senators repeatedly placed him on the defense over his weight loss products: "I know you know how much power you have. I know you know that. You are very powerful and [with] power comes a great deal of responsibility," Senator Claire McCaskill , who led the Senate's consumer protection hearing titled "Protecting Consumers from False and Deceptive Advertising of Weight-Loss Products…You are being made an example of today because of the power you have in this space…We didn't call this hearing to beat up on you but we did call this hearing to talk about a real crisis in consumer protection. You can either be part of the police here or you can be part of the problem."
Oz insisted he was no huckster but admitted the products promoted on his show don't always have "the scientific muster" to present their benefits as "fact…I actually do personally believe in the items that I talk about in the show. I passionately studied them. I recognize that oftentimes they don't have the scientific muster to present as fact but nevertheless I would give my audience the advice I give my family all the time. And I have given my family these products," he said.
Dr Oz also said that some alternative treatments, such as prayer, cannot be tested scientifically. "I don't think this ought to be a referendum on the use of alternative medical therapies. Because if that's the case, listen, I've been criticized for having folks coming on my show talking about the power of prayer," he said. "I can't prove that prayer helps people survive an illness."
No, Dr Oz! I know you are mistaken! I have done the research – both on alternative slimming aids and on spiritual healing. The results quite clearly show that these methods are not more effective than a placebo.
Today, there are several dozens of journals publishing articles on alternative medicine. 'The Journal of Alternative and Complementary Medicine' is one of the best known, and it has one of the highest impact factors of them all. The current issue holds a few 'gems' which might be worthy of a comment or two. Here I have selected three articles reporting clinical studies, and I reproduce their abstracts (almost) in full (in italics) and add my comments (for clarity in bold). All the articles are available electronically, and I have provided the links for those who want to investigate beyond the abstracts.
STUDY No 1
The first 'pilot study' was aimed to demonstrate the potential of auricular acupuncture (AAT) for insomnia in maintenance haemodialysis (MHD) patients and to prepare for a future randomized controlled trial.
Eligible patients were enrolled into this descriptive pilot study and received AAT designed to manage insomnia for 4 weeks. Questionnaires that used the Pittsburgh sleep quality index (PSQI) were completed at baseline, after a 4-week intervention, and 1 month after completion of treatment. Sleep quality and other clinical characteristics, including sleeping pills taken, were statistically compared between different time points.
A total of 22 patients were selected as eligible participants and completed the treatment and questionnaires. The mean global PSQI score was significantly decreased after AAT intervention (p<0.05). Participants reported improved sleep quality (p<0.01), shorter sleep latency (p<0.05), less sleep disturbance (p<0.01), and less daytime dysfunction (p=0.01). They also exhibited less dependency on sleep medications, indicated by the reduction in weekly estazolam consumption from 6.98±4.44 pills to 4.23±2.66 pills (p<0.01). However, these improvements were not preserved 1 month after treatment.
Conclusions: In this single-center pilot study, complementary AAT for MHD patients with severe insomnia was feasible and well tolerated and showed encouraging results for sleep quality.
My comments:
In alternative medicine research, it has become far too common (almost generally accepted) to call a flimsy trial a 'pilot study'. The authors give their game away by stating that, by conducting this trial, they want to 'demonstrate the potential of AAT'. This is not a legitimate aim of research; science is for TESTING hypotheses, not for PROVING them!
The results of this trial show that patients experienced improvements after receiving AAT which, however, did not last. As there was no placebo control group, the most likely explanation for these outcomes would be that AAT generated a short-lasting placebo effect.
A sample size of 22 is, of course, far to small to allow any conclusions about the safety of the intervention. Despite these obvious facts, the authors seem convinced that AAT is both safe and effective.
STUDY No 2
The aim of the second study was to compare the therapeutic effect of Yamamoto new scalp acupuncture (YNSA), a recently developed microcupuncture system, with traditional acupuncture (TCA) for the prophylaxis and treatment of migraine headache.
In a randomized clinical trial, 80 patients with migraine headache were assigned to receive YNSA or TCA. A pain visual analogue scale (VAS) and migraine therapy assessment questionnaire (MTAQ) were completed before treatment, after 6 and 18 sections of treatment, and 1 month after completion of therapy.
All the recruited patients completed the study. Baseline characteristics were similar between the two groups. Frequency and severity of migraine attacks, nausea, the need for rescue treatment, and work absence rate decreased similarly in both groups. Recovery from headache and ability to continue daily activities 2 hours after medical treatment showed similar improvement in both groups (p>0.05).
Conclusions: Classic acupuncture and YNSA are similarly effective in the prophylaxis and treatment of migraine headache and may be considered as alternatives to pharmacotherapy.
My comments:
This is what is technically called an 'equivalence trial', i.e. a study that compares an experimental treatment (YNSA) to one that is (assumed to be) effective. To demonstrate equivalence, such trials need to have large sample sizes, and this study is woefully underpowered. As it stands, the results show nothing meaningful at all; if anything, they suggest that both interventions were similarly useless.
STUDY No 3
The third study determined whether injection with hypertonic dextrose and morrhuate sodium (prolotherapy) using a pragmatic, clinically determined injection schedule for knee osteoarthritis (KOA) results in improved knee pain, function, and stiffness compared to baseline status.
The participants were 38 adults who had at least 3 months of symptomatic KOA and who were in the control groups of a prior prolotherapy randomized controlled trial (RCT) (Prior-Control), were ineligible for the RCT (Prior-Ineligible), or were eligible but declined the RCT (Prior-Declined).
The injection sessions at occurred at 1, 5, and 9 weeks with as-needed treatment at weeks 13 and 17. Extra-articular injections of 15% dextrose and 5% morrhuate sodium were done at peri-articular tendon and ligament insertions. A single intra-articular injection of 6 mL 25% dextrose was performed through an inferomedial approach.
The primary outcome measure was the validated Western Ontario McMaster University Osteoarthritis Index (WOMAC). The secondary outcome measure was the Knee Pain Scale and postprocedure opioid medication use and participant satisfaction.
The Prior-Declined group reported the most severe baseline WOMAC score (p=0.02). Compared to baseline status, participants in the Prior-Control group reported a score change of 12.4±3.5 points (19.5%, p=0.002). Prior-Decline and Prior-Ineligible groups improved by 19.4±7.0 (42.9%, p=0.05) and 17.8±3.9 (28.4%, p=0.008) points, respectively; 55.6% of Prior-Control, 75% of Prior-Decline, and 50% of Prior-Ineligible participants reported score improvement in excess of the 12-point minimal clinical important difference on the WOMAC measure. Postprocedure opioid medication resulted in rapid diminution of prolotherapy injection pain. Satisfaction was high and there were no adverse events.
Conclusions: Prolotherapy using dextrose and morrhuate sodium injections for participants with mild-to-severe KOA resulted in safe, significant, sustained improvement of WOMAC-based knee pain, function, and stiffness scores compared to baseline status.
My Comments:
This study had nothing that one might call a proper control group: all the three groups mentioned were treated with the experimental treatment. No attempt was made to control for even the most obvious biases: the observed effects could have been due to placebo or any other non-specific effects. The authors conclusions imply a causal relationship between the treatment and the outcome which is wrong. The notion that the experimental treatment is 'safe' is based on just 38 patients and therefore not reasonable.
IMPLICATION
All of this might seem rather trivial, and my comments could be viewed as a deliberate and vicious attempt to discredit one of the most respected journals of alternative medicine. Yet, considering that articles of this nature are more the rule than the exception in alternative medicine, I do think that this flagrant lack of scientific rigour is a relevant issue and has important implications.
As long as research in this area continues to be deeply flawed, as long as reviewers turn a blind eye to (or are not smart enough to detect) even the most obvious mistakes, as long as journal editors accept any rubbish in order to fill their pages, there is a great danger that we are being continuously being mislead about the supposed therapeutic value of alternative therapies.
Many who read this blog will, of course, have the capacity to think critically and might therefore not fall into the trap of accepting the conclusions of fatally flawed research. But many other people, including politicians, journalists and consumers, might not have the necessary appraisal skills and will thus not be able to tell that such studies can serve only one purpose: to popularise bogus treatments and thereby render health care less effective and more dangerous. Enthusiasts of alternative medicine are usually fully convinced that such studies amount to evidence and ram this pseudo-information down the throat of health care decision makers – the effects of such lobbying on public health can be disastrous.
And there is another downside to the publication of such dismal drivel: assuming (as I do) that not all of alternative medicine is completely useless, such embarrassingly poor research will inevitably have detrimental effects on the discipline of alternative medicine. After being exposed to a seemingly endless stream of pseudo-research, critics will eventually give up taking any of it seriously and might claim that none of it is worth the bother. In other words, those who conduct, accept or publish such nonsensical papers are not only endangering medical progress in general, they are also harming the very cause they try so desperately hard to advance.
I have often asked myself whether it is right/necessary to scientifically test things which are entirely implausible. Should we, for instance test the effectiveness of treatments which have a very low prior probability of generating a positive effect such as paranormal healing, homeopathy or Bach flower remedies? If you believe in the principles of evidence-based medicine you might focus on the clinical evidence and see biological plausibility as secondary. If you are a basic scientist, you are likely to do the reverse.
A recent article addressed this issue. The author points out that evaluating the absurd is absurd. Specifically, he noted that the empirical evaluation of a therapy would normally assume a plausible rationale regarding the mechanism of action. However, examination of the historical background and underlying principles for reflexology, iridology, acupuncture, auricular acupuncture, and some herbal medicines, reveals a rationale founded on the principle of analogical correspondences, which is a common basis for magical thinking and pseudoscientific beliefs such as astrology and chiromancy. Where this is the case, it is suggested that subjecting these therapies to empirical evaluation may be tantamount to evaluating the absurd.
This makes a lot of sense – but is it really entirely true? Are there no legitimate reasons at all for testing alternative treatments that lack biological plausibility? Ten or twenty years ago, I would have disagreed with the notion that plausibility is an essential prerequisite for scientific testing; today, I have changed my mind a little, but not as much as to agree completely with the assumption. In other words, I still see more than one good reason why evaluating the absurd might be reasonable or even advisable.
Using plausibility as the only arbiter of scientific

'evaluability'

, assumes that we understand everything about plausibility there is to know. Yet it might just be possible that we mis-categorise something as implausible simply because we are not yet fully aware of all the facts.
Declaring something as plausible and another thing as implausible are not hard and fast verdicts but judgements which, at least to some degree, are subjective. Sceptics find the axioms of homeopathy utterly implausible, for instance - but ask a homeopath, and you will hear all sorts of explanations which, at least to them, sound plausible.
If an implausible alternative treatment is in wide-spread use, we arguably have a responsibility to test it scientifically in order to demonstrate the truth about it (to those proponents of that therapy who are willing to accept that rigorous science can find the truth). If we fail to do this, it will be the enthusiasts of that therapy who conduct less than rigorous science and produce false positive results. In turn, this will give the impression that the treatment is effective and mislead consumers, politicians, journalists etc. Seen from this perspective, it might even be unethical to not do the science.
So, I am in two minds about this (which might be a reflection of the fact that, during different periods of my life, I have been a clinician, a basic scientist and a clinical researcher). I realise that plausibility and prior probability are important – much more so than I appreciated years ago. But I think they should not be the only criteria. The clinical evidence should not be pushed aside completely.
I'd be interested to learn your views on this tricky issue.
It has been reported that Belgium has just officially recognised homeopathy. The government had given the green light already in July last year, but the Royal Decree has only now become official. This means that, from now on, Belgian doctors, dentists and midwives can only call themselves homeopaths, if they have attended recognised courses in homeopathy and are officially certified. While much of the new regulation is as yet unclear (at least to me), it seems that, in future, only doctors, dentists and midwives are allowed to practice homeopathy, according to one source.
However, the new law also seems to provide that those clinicians with a Bachelor degree in health care who have already been practicing as homeopaths can continue their activities under a temporary measure.
Moreover, the official recognition as a homeopath does not automatically imply that the services will be refunded from a health insurance.
It is said that, in general, homeopaths are happy with the new regulation; they are delighted to have been up-graded in this way and argue that the changes will result in higher quality standards: "This is a very important step and it can only be to the benefit of the patients' safety. Patients will know whether or not they are dealing with someone who correctly applies homeopathic medicine", Leon Schepers of the Unio Homeopathica Belgica was quoted saying.
The delight of homeopaths is in sharp contrast to the dismay of rational thinkers. The NHMRC recently assessed the effectiveness of homeopathy. The evaluation is both comprehensive and independent; it concluded that "the evidence from research in humans does not show that homeopathy is effective for treating the range of health conditions considered." In other words, homeopathic remedies are implausible, over-priced placebos.
Granting an official status to homeopaths cannot possibly benefit patients. On the contrary, it will only render health care less effective and charlatans more assertive.
Recently, I have been invited by the final year pharmacy students of the 'SWISS FEDERAL INSTITUTE OF TECHNOLOGY ZURICH' to discuss alternative medicine with them. The aspect I was keen to debate was the issue of retail-pharmacists selling medicines which are unproven or even disproven. Using the example of homeopathic remedies, I asked them how many might, when working as retail-pharmacists, sell such products. About half of them admitted that they would do this. In real life, this figure is probably closer to 100%, and this discrepancy may well be a reflection of the idealism of the students, still largely untouched by the realities of retail-pharmacy.
In our discussions, we also explored the reasons why retail-pharmacists might offer unproven or disproven medicines like homeopathic remedies to their customers. The ethical codes of pharmacists across the world quite clearly prohibit this – but, during the discussions, we all realised that the moral high ground is not easily defended against the necessity of making a living. So, what are the possible motivations for pharmacists to sell bogus medicines?
One reason would be that they are convinced of their efficacy. Whenever I talk to pharmacists, I do not get the impression that many of them believe in homeopathy. During their training, they are taught the facts about homeopathy which clearly do not support the notion of efficacy. If some pharmacists nevertheless were convinced of the efficacy of homeopathy, they would obviously not be well informed and thus find themselves in conflict with their duty to practice according to the current best evidence. On reflection therefore, strong positive belief can probably be discarded as a prominent reason for pharmacists selling bogus medicines like homeopathic remedies.
Another common argument is the notion that, because patients want such products, pharmacists must offer them. When considering it, the tension between the ethical duties as a health care professional and the commercial pressures of a shop-keeper becomes painfully obvious. For a shop-keeper, it may be perfectly fine to offer all products which might customers want. For a heath care professional, however, this is not necessarily true. The ethical codes of pharmacists make it perfectly clear that the sale of unproven or disproven medicines is not ethical. Therefore, this often cited notion may well be what pharmacists feel, but it does not seem to be a valid excuse for selling bogus medicines.
A variation of this theme is the argument that, if patients were unable to buy homeopathic remedies for self-limiting conditions which do not really require treatment at all, they would only obtain more harmful drugs. The notion here is that it might be better to sell harmless homeopathic placebos in order to avoid the side-effects of real but non-indicated medicines. In my view, this argument does not hold water: if no (drug) treatment is indicated, professionals have a duty to explain this to their patients. In this sector of health care, a smaller evil cannot easily be justified by avoiding a bigger one; on the contrary, we should always thrive for the optimal course of action, and if this means reassurance that no medical treatment is needed, so be it.
An all too obvious reason for selling bogus medicines is the undeniable fact that pharmacists earn money by doing so. There clearly is a conflict of interest here, whether pharmacists want to admit it or not – and mostly they fail to do so or play down this motivation in their decision to sell bogus medicines.
Often I hear from pharmacists working in large chain pharmacies like Boots that they have no influence whatsoever over the range of products on sale. This perception mat well be true. But equally true is the fact that no health care professional can be forced to do things which violate their code of ethics. If Boots insists on selling bogus medicines, it is up to individual pharmacists and their professional organisations to change this situation by protesting against such unethical malpractice. In my view, the argument is therefore not convincing and certainly does not provide an excuse in the long-term.
While discussing with the Swiss pharmacy students, I was made aware of yet another reason for selling bogus medicines in pharmacies. Some pharmacists might feel that stocking such products provides an opportunity for talking to patients and informing them about the evidence related to the remedy they were about to buy. This might dissuade them from purchasing it and could persuade them to get something that is effective instead. In this case, the pharmacist would merely offer the bogus medicine in order to advise customers against employing it. This strategy might well be an ethical way out of the dilemma; however, I doubt that this strategy is common practice with many pharmacists today.
With all this, we should keep in mind that there are many shades of grey between the black and white of the two extreme attitudes towards bogus medicines. There is clearly a difference whether pharmacists actively encourage their customers to buy bogus treatments (in the way it often happens in France, for instance), or whether they merely stock such products and, where possible, offer responsible, evidence-based advise to people who are tempted to buy them.
At the end of the lively but fruitful discussion with the Swiss students I felt optimistic: perhaps the days when pharmacists were the snake-oil salesmen of the modern era are counted?
There is much debate about the usefulness of chiropractic. Specifically, many people doubt that their chiropractic spinal manipulations generate more good than harm, particularly for conditions which are not related to the spine. But do chiropractors treat such conditions frequently and, if yes, what techniques do they employ?
This investigation was aimed at describing the clinical practices of chiropractors in Victoria, Australia. It was a cross-sectional survey of 180 chiropractors in active clinical practice in Victoria who had been randomly selected from the list of 1298 chiropractors registered on Chiropractors Registration Board of Victoria. Twenty-four chiropractors were ineligible, 72 agreed to participate, and 52 completed the study.
Each participating chiropractor documented encounters with up to 100 consecutive patients. For each chiropractor-patient encounter, information collected included patient health profile, patient reasons for encounter, problems and diagnoses, and chiropractic care.
Data were collected on 4464 chiropractor-patient encounters between 11 December 2010 and 28 September 2012. In most (71%) cases, patients were aged 25-64 years; 1% of encounters were with infants. Musculoskeletal reasons for the consultation were described by patients at a rate of 60 per 100 encounters, while maintenance and wellness or check-up reasons were described at a rate of 39 per 100 encounters. Back problems were managed at a rate of 62 per 100 encounters.
The most frequent care provided by the chiropractors was spinal manipulative therapy and massage. The table shows the precise conditions treated
Distribution of problems managed (20 most frequent problems), as reported  by chiropractors
| | | | | |
| --- | --- | --- | --- | --- |
| Problem group | No. (%) of recorded diagnoses* (n = 5985) | Rate per 100 encounters (n = 4417) | 95% CI | ICC |
| Back problem | 2757 (46.07%) | 62.42 | (55.24–70.53) | 0.312 |
| Neck problem | 683 (11.41%) | 15.46 | (11.23–21.30) | 0.233 |
| Muscle problem | 434 (7.25%) | 9.83 | (6.64–14.55) | 0.207 |
| Health maintenance or preventive care | 254 (4.24%) | 5.75 | (3.24–10.22) | 0.251 |
| Back syndrome with radiating pain | 215 (3.59%) | 4.87 | (2.91–8.14) | 0.165 |
| Musculoskeletal symptom or complaint, or other | 219 (3.66%) | 4.96 | (2.39–10.28) | 0.350 |
| Headache | 179 (2.99%) | 4.05 | (2.87–5.71) | 0.053 |
| Sprain or strain of joint | 167 (2.79%) | 3.78 | (2.30–6.22) | 0.115 |
| Shoulder problem | 87 (1.45%) | 1.97 | (1.37–2.83) | 0.022 |
| Nerve-related problem | 62 (1.04%) | 1.40 | (0.72–2.75) | 0.072 |
| General symptom or complaint, other | 51 (0.85%) | 1.15 | (0.22–6.06) | 0.407 |
| Bursitis, tendinitis or synovitis | 47 (0.79%) | 1.06 | (0.71–1.60) | 0.011 |
| Kyphosis and scoliosis | 47 (0.79%) | 1.06 | (0.65–1.75) | 0.023 |
| Foot or toe symptom or complaint | 48 (0.80%) | 1.09 | (0.41–2.87) | 0.123 |
| Ankle problem | 46 (0.77%) | 1.04 | (0.40–2.69) | 0.112 |
| Osteoarthrosis, other (not spine) | 39 (0.65%) | 0.88 | (0.51–1.53) | 0.023 |
| Hip symptom or complaint | 35 (0.58%) | 0.79 | (0.53–1.19) | 0.006 |
| Leg or thigh symptom or complaint | 35 (0.58%) | 0.79 | (0.49–1.28) | 0.012 |
| Musculoskeletal injury | 33 (0.55%) | 0.75 | (0.45–1.24) | 0.013 |
| Depression | 29 (0.48%) | 0.66 | (0.10–4.23) | 0.288 |
These findings are impressive in that they suggest that most Australian chiropractors treat non-spinal conditions for which there is no evidence that the most frequently used interventions are effective. The treatments employed are depicted in this graph:
Distribution of techniques and care provided by chiropractors, with 95% CI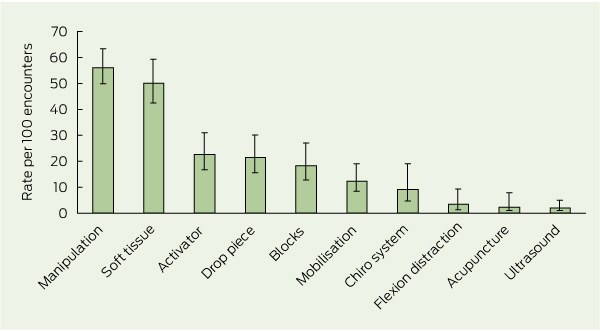 [Activator = hand-held spring-loaded device that delivers an impulse to the spine. Drop piece = chiropractic treatment table with a segmented drop system which quickly lowers the section of the patient's body corresponding with the spinal region being treated. Blocks = wedge-shaped blocks placed under the pelvis.
Chiro system = chiropractic system of care, eg, Applied Kinesiology, Sacro-Occipital Technique, Neuroemotional Technique. Flexion distraction = chiropractic treatment table that flexes in the middle to provide traction and mobilisation to the lumbar spine.]
There is no good evidence I know of demonstrating these techniques to be effective for the majority of the conditions listed in the above table.
A similar bone of contention is the frequent use of 'maintenance' and 'wellness' care. The authors of the article comment: The common use of maintenance and wellness-related terms reflects current debate in the chiropractic profession. "Chiropractic wellness care" is considered by an indeterminate proportion of the profession as an integral part of chiropractic practice, with the belief that regular chiropractic care may have value in maintaining and promoting health, as well as preventing disease. The definition of wellness chiropractic care is controversial, with some chiropractors promoting only spine care as a form of wellness, and others promoting evidence-based health promotion, eg, smoking cessation and weight reduction, alongside spine care. A 2011 consensus process in the chiropractic profession in the United States emphasised that wellness practice must include health promotion and education, and active strategies to foster positive changes in health behaviours. My own systematic review of regular chiropractic care, however, shows that the claimed effects are totally unproven.
One does not need to be overly critical to conclude from all this that the chiropractors surveyed in this investigation earn their daily bread mostly by being economical with the truth regarding the lack of evidence for their actions.
These days, there is so much hype about alternative cancer treatments that it is hard to find a cancer patient who is not tempted to try this or that alternative medicine. Often it is employed without the knowledge of the oncology team, solely on the advice of non-medically qualified practitioners (NMPs). But is that wise? The aim of this survey was to find out.
Members of several German NMP-associations were invited to complete an online questionnaire. The questionnaire explored areas such as the diagnosis and treatment, goals for using complementary/alternative medicine (CAM), communication with the oncologist, and sources of information.
Of a total of 1,500 members of the NMP associations, 299 took part in this survey. The results show that the treatments employed by NMPs were heterogeneous. Homeopathy was used by 45% of the NMPs, and 10% believed it to be a treatment directly against cancer. Herbal therapy, vitamins, orthomolecular medicine, ordinal therapy, mistletoe preparations, acupuncture, and cancer diets were used by more than 10% of the NMPs. None of the treatments were discussed with the respective physician on a regular basis.
The authors concluded from these findings that many therapies provided by NMPs are biologically based and therefore may interfere with conventional cancer therapy. Thus, patients are at risk of interactions, especially as most NMPs do not adjust their therapies to those of the oncologist. Moreover, risks may arise from these CAM methods as NMPs partly believe them to be useful anticancer treatments. This may lead to the delay or even omission of effective therapies.
Anyone faced with a diagnosis of CANCER is understandably keen to leave no stone unturned to bring about a cure of the disease. Many patients thus go on to the Internet and look what alternative options are on offer. There they find virtually millions of sites advertising thousands of bogus cancer 'cures'. Others consult their alternative practitioners and seek help. This new survey shows yet again that the advice they receive is dangerous. In fact, it might well be even more dangerous than the results imply: the response rate of the survey was dismal, and I fear that the less responsible NMPs tended not to reply.
None of the treatments listed above can cure cancer. For instance, homeopathy, the most popular alternative cancer treatment in Germany, will have no effect whatsoever on the natural history of the disease. To claim otherwise is criminally irresponsible.
But far too many patients are unaware of the evidence and of the dangers of being misled by bogus claims. What we need, I think, is a major campaign to get the word out. It would be a campaign that saves lives!
Indian researchers published a survey aimed at determining the practice of prescription by homeopathic undergraduate students. A cross-sectional study was carried out involving all the students from 4 government homeopathic schools of West Bengal, India. Data were collected using self-administered questionnaires.
A total of 328 forms were completed. 80.5% of all homeopathic undergraduate students admitted prescribing homeopathic medicines independently and 40.5% said that they did this 2-3 times a year. The most common reasons for this activity were 'urgency of the problem' (35.2%), 'previous experience with same kind of illness' (31.8%), and 'the problem too trivial to go to a doctor' (25.8%). About 63.4% of the students thought that it was alright to independently diagnose an illness, while 51.2% thought that it was alright for them to prescribe medicines to others. Common conditions encountered were fever, indigestion, and injury. Prescription by students gradually increased with academic years of homeopathic schools. Many students thought it was alright for students to diagnose and treat illnesses.
The authors conclude that prescription of medicines by homeopathic undergraduate students is quite rampant and corrective measures are warranted.
It's hard to know whether to laugh or cry about these findings:
If you are a homeopath, you ought to be upset to hear that students who are obviously neither fully trained, qualified or licensed already prescribe medicines.
If you are aware of the fact that homeopathic remedies are pure placebos, you might laugh about all this thinking "who cares?"
If you are into public health, you will worry that homeopaths are obviously being taught that homeopathic remedies can treat conditions which are considered to be urgent.
If you are someone who believes that sick people need evidence-based treatments, you might want to change the authors' conclusion into something like: prescription of medicines by homeopaths is quite rampant and, in the interest of patients, corrective measures are required to stop them.
Informed consent is generally considered to be an essential precondition for any health care practice. It requires the clinician giving the patient full information about the condition and the possible treatments. Amongst other things, the following information may be needed:
the nature and prognosis of the condition,
the evidence regarding the efficacy and risks of the proposed treatment,
the evidence regarding alternative options.
Depending on the precise circumstances of the clinical situation, patient's consent can be given either in writing or orally. Not obtaining any form of informed consent is a violation of the most fundamental ethics of health care.
In alternative medicine, informed consent seems often to be woefully neglected. This may have more than one reason:
practitioners have frequently no adequate training in medical ethics,
there is no adequate regulation and control of alternative practitioners,
practitioners have conflicts of interest and might view informed consent as commercially counter-productive
In order to render this discussion less theoretical, I will outline several scenarios from the realm of chiropractic. Specifically, I will discuss the virtual case of an asthma patient consulting a chiropractor for alleviation of his symptoms. I should stress that I have chosen chiropractic merely as an example – the issues outlines below apply to chiropractic as much as they apply to most other forms of alternative medicine.
SCENARIO 1
Our patient has experienced breathing problems and has heard that chiropractors are able to help this kind of condition. He consults a 'straight' chiropractor who adheres to Palmer's gospel of 'subluxation'. She explains to the patient that chiropractors use a holistic approach. By adjusting subluxations in the spine, she is confident to stimulate healing which will naturally ease the patient's breathing problems. No conventional diagnosis is discussed, nor is there any mention of the prognosis, likelihood of benefit, risks of treatment and alternative therapeutic options.
SCENARIO 2
Our patient consults a chiropractor who does not fully believe in the 'subluxation' theory of chiropractic. She conducts a thorough examination of our patient's spine and diagnoses several spinal segments that are blocked. She tells our patient that he might be suffering from asthma and that spinal manipulation might remove the blockages and thus increase the mobility of the spine which, in turn, would alleviate his breathing problems. She does not mention risks of the proposed interventions nor other therapeutic options.
SCENARIO 3
Our patient visits a chiropractor who considers herself a back pain specialist. She takes a medical history and conducts a physical examination. Subsequently she informs the patient that her breathing problems could be due to asthma and that she is neither qualified nor equipped to ascertain this diagnosis. She tells out patient that chiropractic is not an effective treatment for asthma but that his GP would be able to firstly make a proper diagnosis and secondly prescribe the optimal treatment for her condition. She writes a short note summarizing her thoughts and hands it to our patient to give it to his GP.
One could think of many more scenarios but the three above seem to cover a realistic spectrum of what a patient might encounter in real life. It seems clear, that the chiropractor in scenario 1 and 2 failed dismally regarding informed consent. In other words, only scenario 3 describes a behaviour that is ethically acceptable.
But how likely is scenario 3? I fear that it is an extremely rare turn of events. Even if well-versed in both medical ethics and scientific evidence, a chiropractor might think twice about providing all the information required for informed consent – because, as scenario 3 demonstrates, full informed consent in chiropractic essentially discourages a patient from agreeing to be treated. In other words, chiropractors have a powerful conflict of interest which prevents them to adhere to the rules of informed consent.
AND, AS POINTED OUT ALREADY, THAT DOES NOT JUST APPLY TO CHIROPRACTIC, IT APPLIES TO MOST OF ALTERNATIVE MEDICINE! IT SEEMS TO FOLLOW, I FEAR, THAT MUCH OF ALTERNATIVE MEDICINE IS UNETHICAL.