evidence
Recently, I have been invited by the final year pharmacy students of the 'SWISS FEDERAL INSTITUTE OF TECHNOLOGY ZURICH' to discuss alternative medicine with them. The aspect I was keen to debate was the issue of retail-pharmacists selling medicines which are unproven or even disproven. Using the example of homeopathic remedies, I asked them how many might, when working as retail-pharmacists, sell such products. About half of them admitted that they would do this. In real life, this figure is probably closer to 100%, and this discrepancy may well be a reflection of the idealism of the students, still largely untouched by the realities of retail-pharmacy.
In our discussions, we also explored the reasons why retail-pharmacists might offer unproven or disproven medicines like homeopathic remedies to their customers. The ethical codes of pharmacists across the world quite clearly prohibit this – but, during the discussions, we all realised that the moral high ground is not easily defended against the necessity of making a living. So, what are the possible motivations for pharmacists to sell bogus medicines?
One reason would be that they are convinced of their efficacy. Whenever I talk to pharmacists, I do not get the impression that many of them believe in homeopathy. During their training, they are taught the facts about homeopathy which clearly do not support the notion of efficacy. If some pharmacists nevertheless were convinced of the efficacy of homeopathy, they would obviously not be well informed and thus find themselves in conflict with their duty to practice according to the current best evidence. On reflection therefore, strong positive belief can probably be discarded as a prominent reason for pharmacists selling bogus medicines like homeopathic remedies.
Another common argument is the notion that, because patients want such products, pharmacists must offer them. When considering it, the tension between the ethical duties as a health care professional and the commercial pressures of a shop-keeper becomes painfully obvious. For a shop-keeper, it may be perfectly fine to offer all products which might customers want. For a heath care professional, however, this is not necessarily true. The ethical codes of pharmacists make it perfectly clear that the sale of unproven or disproven medicines is not ethical. Therefore, this often cited notion may well be what pharmacists feel, but it does not seem to be a valid excuse for selling bogus medicines.
A variation of this theme is the argument that, if patients were unable to buy homeopathic remedies for self-limiting conditions which do not really require treatment at all, they would only obtain more harmful drugs. The notion here is that it might be better to sell harmless homeopathic placebos in order to avoid the side-effects of real but non-indicated medicines. In my view, this argument does not hold water: if no (drug) treatment is indicated, professionals have a duty to explain this to their patients. In this sector of health care, a smaller evil cannot easily be justified by avoiding a bigger one; on the contrary, we should always thrive for the optimal course of action, and if this means reassurance that no medical treatment is needed, so be it.
An all too obvious reason for selling bogus medicines is the undeniable fact that pharmacists earn money by doing so. There clearly is a conflict of interest here, whether pharmacists want to admit it or not – and mostly they fail to do so or play down this motivation in their decision to sell bogus medicines.
Often I hear from pharmacists working in large chain pharmacies like Boots that they have no influence whatsoever over the range of products on sale. This perception mat well be true. But equally true is the fact that no health care professional can be forced to do things which violate their code of ethics. If Boots insists on selling bogus medicines, it is up to individual pharmacists and their professional organisations to change this situation by protesting against such unethical malpractice. In my view, the argument is therefore not convincing and certainly does not provide an excuse in the long-term.
While discussing with the Swiss pharmacy students, I was made aware of yet another reason for selling bogus medicines in pharmacies. Some pharmacists might feel that stocking such products provides an opportunity for talking to patients and informing them about the evidence related to the remedy they were about to buy. This might dissuade them from purchasing it and could persuade them to get something that is effective instead. In this case, the pharmacist would merely offer the bogus medicine in order to advise customers against employing it. This strategy might well be an ethical way out of the dilemma; however, I doubt that this strategy is common practice with many pharmacists today.
With all this, we should keep in mind that there are many shades of grey between the black and white of the two extreme attitudes towards bogus medicines. There is clearly a difference whether pharmacists actively encourage their customers to buy bogus treatments (in the way it often happens in France, for instance), or whether they merely stock such products and, where possible, offer responsible, evidence-based advise to people who are tempted to buy them.
At the end of the lively but fruitful discussion with the Swiss students I felt optimistic: perhaps the days when pharmacists were the snake-oil salesmen of the modern era are counted?
There is much debate about the usefulness of chiropractic. Specifically, many people doubt that their chiropractic spinal manipulations generate more good than harm, particularly for conditions which are not related to the spine. But do chiropractors treat such conditions frequently and, if yes, what techniques do they employ?
This investigation was aimed at describing the clinical practices of chiropractors in Victoria, Australia. It was a cross-sectional survey of 180 chiropractors in active clinical practice in Victoria who had been randomly selected from the list of 1298 chiropractors registered on Chiropractors Registration Board of Victoria. Twenty-four chiropractors were ineligible, 72 agreed to participate, and 52 completed the study.
Each participating chiropractor documented encounters with up to 100 consecutive patients. For each chiropractor-patient encounter, information collected included patient health profile, patient reasons for encounter, problems and diagnoses, and chiropractic care.
Data were collected on 4464 chiropractor-patient encounters between 11 December 2010 and 28 September 2012. In most (71%) cases, patients were aged 25-64 years; 1% of encounters were with infants. Musculoskeletal reasons for the consultation were described by patients at a rate of 60 per 100 encounters, while maintenance and wellness or check-up reasons were described at a rate of 39 per 100 encounters. Back problems were managed at a rate of 62 per 100 encounters.
The most frequent care provided by the chiropractors was spinal manipulative therapy and massage. The table shows the precise conditions treated
Distribution of problems managed (20 most frequent problems), as reported  by chiropractors
| | | | | |
| --- | --- | --- | --- | --- |
| Problem group | No. (%) of recorded diagnoses* (n = 5985) | Rate per 100 encounters (n = 4417) | 95% CI | ICC |
| Back problem | 2757 (46.07%) | 62.42 | (55.24–70.53) | 0.312 |
| Neck problem | 683 (11.41%) | 15.46 | (11.23–21.30) | 0.233 |
| Muscle problem | 434 (7.25%) | 9.83 | (6.64–14.55) | 0.207 |
| Health maintenance or preventive care | 254 (4.24%) | 5.75 | (3.24–10.22) | 0.251 |
| Back syndrome with radiating pain | 215 (3.59%) | 4.87 | (2.91–8.14) | 0.165 |
| Musculoskeletal symptom or complaint, or other | 219 (3.66%) | 4.96 | (2.39–10.28) | 0.350 |
| Headache | 179 (2.99%) | 4.05 | (2.87–5.71) | 0.053 |
| Sprain or strain of joint | 167 (2.79%) | 3.78 | (2.30–6.22) | 0.115 |
| Shoulder problem | 87 (1.45%) | 1.97 | (1.37–2.83) | 0.022 |
| Nerve-related problem | 62 (1.04%) | 1.40 | (0.72–2.75) | 0.072 |
| General symptom or complaint, other | 51 (0.85%) | 1.15 | (0.22–6.06) | 0.407 |
| Bursitis, tendinitis or synovitis | 47 (0.79%) | 1.06 | (0.71–1.60) | 0.011 |
| Kyphosis and scoliosis | 47 (0.79%) | 1.06 | (0.65–1.75) | 0.023 |
| Foot or toe symptom or complaint | 48 (0.80%) | 1.09 | (0.41–2.87) | 0.123 |
| Ankle problem | 46 (0.77%) | 1.04 | (0.40–2.69) | 0.112 |
| Osteoarthrosis, other (not spine) | 39 (0.65%) | 0.88 | (0.51–1.53) | 0.023 |
| Hip symptom or complaint | 35 (0.58%) | 0.79 | (0.53–1.19) | 0.006 |
| Leg or thigh symptom or complaint | 35 (0.58%) | 0.79 | (0.49–1.28) | 0.012 |
| Musculoskeletal injury | 33 (0.55%) | 0.75 | (0.45–1.24) | 0.013 |
| Depression | 29 (0.48%) | 0.66 | (0.10–4.23) | 0.288 |
These findings are impressive in that they suggest that most Australian chiropractors treat non-spinal conditions for which there is no evidence that the most frequently used interventions are effective. The treatments employed are depicted in this graph:
Distribution of techniques and care provided by chiropractors, with 95% CI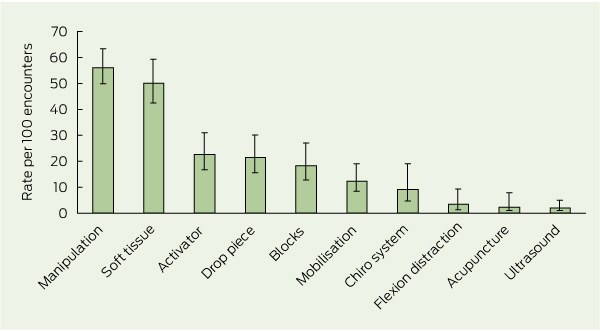 [Activator = hand-held spring-loaded device that delivers an impulse to the spine. Drop piece = chiropractic treatment table with a segmented drop system which quickly lowers the section of the patient's body corresponding with the spinal region being treated. Blocks = wedge-shaped blocks placed under the pelvis.
Chiro system = chiropractic system of care, eg, Applied Kinesiology, Sacro-Occipital Technique, Neuroemotional Technique. Flexion distraction = chiropractic treatment table that flexes in the middle to provide traction and mobilisation to the lumbar spine.]
There is no good evidence I know of demonstrating these techniques to be effective for the majority of the conditions listed in the above table.
A similar bone of contention is the frequent use of 'maintenance' and 'wellness' care. The authors of the article comment: The common use of maintenance and wellness-related terms reflects current debate in the chiropractic profession. "Chiropractic wellness care" is considered by an indeterminate proportion of the profession as an integral part of chiropractic practice, with the belief that regular chiropractic care may have value in maintaining and promoting health, as well as preventing disease. The definition of wellness chiropractic care is controversial, with some chiropractors promoting only spine care as a form of wellness, and others promoting evidence-based health promotion, eg, smoking cessation and weight reduction, alongside spine care. A 2011 consensus process in the chiropractic profession in the United States emphasised that wellness practice must include health promotion and education, and active strategies to foster positive changes in health behaviours. My own systematic review of regular chiropractic care, however, shows that the claimed effects are totally unproven.
One does not need to be overly critical to conclude from all this that the chiropractors surveyed in this investigation earn their daily bread mostly by being economical with the truth regarding the lack of evidence for their actions.
The Australian 'NATIONAL HEALTH AND MEDICAL RESEARCH COUNCIL' (NHMRC) has assessed the effectiveness of homeopathy. The evaluation looks like the most comprehensive and most independent in the history of homeopathy. Its draft report has just been released and concludes that "the evidence from research in humans does not show that homeopathy is effective for treating the range of health conditions considered."
Not for a single health conditions was there reliable evidence that homeopathy was effective. No rigorous studies reported either that homeopathy caused greater health improvements than a placebo, or that homeopathy caused health improvements equal to those of another treatment.
The overview considered a total of 57 systematic reviews that assessed the effectiveness of homeopathy for 61 different health conditions.
The draft report presents the evidence according to 4 different categories:
1)
Homeopathy was reported to be not more effective than placebo in either all the studies found, or in a large majority of the reliable studies for the treatment of the following health conditions:
adenoid vegetation in children
asthma
anxiety or stress-related conditions
diarrhoea in children
headache and migraine
muscle soreness
labour
pain due to dental work
pain due to orthopaedic surgery
postoperative ileus
premenstrual syndrome
upper respiratory tract infections
warts.
2)
For the following condition, although some studies reported that homeopathy was more effective than placebo, trials were not reliable and homeopathy was therefore judged to be no more effective than placebo:
allergic rhinitis
attention deficit/hyperactivity disorder
bruising
chronic fatigue syndrome
diarrhoea in children
fibromyalgia
hot flushes in women who have had breast cancer
human immunodeficiency virus infection
influenza-like illness
rheumatoid arthritis
sinusitis
sleep disturbances or circadian rhythm disturbances
stomatitis  due to chemotherapy
ulcers.
3)
For the following conditions, although some studies reported that homeopathy was as effective as or more effective than another treatment, trials were not reliable:
acute otitis media or otitis media with effusion
allergic rhinitis
anxiety or stress-related conditions
depression
eczema
non-allergic rhinitis
osteoarthritis
upper respiratory tract infection
4)
There was no reliable evidence on which to draw a conclusion about the effectiveness of homeopathy, compared with placebo, for the treatment of the following health conditions:
acne vulgaris
acute otitis media in children
acute ankle sprain
acute trauma
amoebiasis and giardiasis
ankylosing spondylitis
boils and pyoderma
Broca's aphasia after stroke
bronchitis
cholera
cough
chronic polyarthritis
dystocia
eczema
heroin addiction
knee joint haematoma
lower back pain
nausea and vomiting associated with chemotherapy
oral lichen planus
osteoarthritis
proctocolitis
postoperative pain-agitation syndrome
radiodermatitis in women with breast cancer
seborrhoeic dermatitis
suppression of lactation after childbirth
stroke
traumatic brain injury
uraemic pruritis
vein problems due to cannulas in people receiving chemotherapy.
5)
There was no reliable evidence on which to draw a conclusion about the effectiveness of homeopathy compared with other therapies for the treatment of the following health conditions:
burns
fibromyalgia
irritable bowel syndrome
malaria
proctocolitis
recurrent vulvovaginal candidiasis
rheumatoid arthritis.
The authors of the report now invite comments from interested parties. This means that homeopaths across the world can submit evidence which they feel has been ignored. It will be fascinating to see whether this changes the conclusion of the NHMRC's assessment.
The most widely used definition of EVIDENCE-BASED MEDICINE (EBM) is probably this one: The judicious use of the best current available scientific research in making decisions about the care of patients. Evidence-based medicine (EBM) is intended to integrate clinical expertise with the research evidence and patient values.
David Sackett's own definition is a little different: Evidence based medicine is the conscientious, explicit, and judicious use of current best evidence in making decisions about the care of individual patients. The practice of evidence based medicine means integrating individual clinical expertise with the best available external clinical evidence from systematic research.
Even though the principles of EBM are now widely accepted, there are those who point out that EBM has its limitations. The major criticisms of EBM relate to five themes: reliance on empiricism, narrow definition of evidence, lack of evidence of efficacy, limited usefulness for individual patients, and threats to the autonomy of the doctor/patient relationship.
Advocates of alternative medicine have been particularly vocal in pointing out that EBM is not really applicable to their area. However, as their arguments were less than convincing, a new strategy for dealing with EBM seemed necessary. Some proponents of alternative medicine therefore are now trying to hoist EBM-advocates by their own petard.
In doing so they refer directly to the definitions of EBM and argue that EBM has to fulfil at least three criteria: 1) external best evidence, 2) clinical expertise and 3) patient values or preferences.
Using this argument, they thrive to demonstrate that almost everything in alternative medicine is evidence-based. Let me explain this with two deliberately extreme examples.
CRYSTAL THERAPY FOR CURING CANCER
There is, of course, not a jot of evidence for this. But there may well be the opinion held by crystal therapist that some cancer patients respond to their treatment. Thus the 'best' available evidence is clearly positive, they argue. Certainly the clinical expertise of these crystal therapists is positive. So, if a cancer patient wants crystal therapy, all three preconditions are fulfilled and CRYSTAL THERAPY IS ENTIRELY EVIDENCE-BASED.
CHIROPRACTIC FOR ASTHMA
Even the most optimistic chiropractor would find it hard to deny that the best evidence does not demonstrate the effectiveness of chiropractic for asthma. But never mind, the clinical expertise of the chiropractor may well be positive. If the patient has a preference for chiropractic, at least two of the three conditions are fulfilled. Therefore – on balance – chiropractic for asthma is [fairly] evidence-based.
The 'HOISTING ON THE PETARD OF EBM'-method is thus a perfect technique for turning the principles of EBM upside down. Its application leads us straight back into the dark ages of medicine when anything was legitimate as long as some charlatan could convince his patients to endure his quackery and pay for it – if necessary with his life.
Do you think that chiropractic is effective for asthma? I don't – in fact, I know it isn't because, in 2009, I have published a systematic review of the available RCTs which showed quite clearly that the best evidence suggested chiropractic was ineffective for that condition.
But this is clearly not true, might some enthusiasts reply. What is more, they can even refer to a 2010 systematic review which indicates that chiropractic is effective; its conclusions speak a very clear language: …the eight retrieved studies indicated that chiropractic care showed improvements in subjective measures and, to a lesser degree objective measures… How on earth can this be?
I would not be surprised, if chiropractors claimed the discrepancy is due to the fact that Prof Ernst is biased. Others might point out that the more recent review includes more studies and thus ought to be more reliable. The newer review does, in fact, have about twice the number of studies than mine.
How come? Were plenty of new RCTs published during the 12 months that lay between the two publications? The answer is NO. But why then the discrepant conclusions?
The answer is much less puzzling than you might think. The 'alchemists of alternative medicine' regularly succeed in smuggling non-evidence into such reviews in order to beautify the overall picture and confirm their wishful thinking. The case of chiropractic for asthma does by no means stand alone, but it is a classic example of how we are being misled by charlatans.
Anyone who reads the full text of the two reviews mentioned above will find that they do, in fact, include exactly the same amount of RCTs. The reason why they arrive at different conclusions is simple: the enthusiasts' review added NON-EVIDENCE to the existing RCTs. To be precise, the authors included one case series, one case study, one survey, two randomized controlled trials (RCTs), one randomized patient and observer blinded cross-over trial, one single blind cross study design, and one self-reported impairment questionnaire.
Now, there is nothing wrong with case reports, case series, or surveys – except THEY TELL US NOTHING ABOUT EFFECTIVENESS. I would bet my last shirt that the authors know all of that; yet they make fairly firm and positive conclusions about effectiveness. As the RCT-results collectively happen to be negative, they even pretend that case reports etc. outweigh the findings of RCTs.
And why do they do that? Because they are interested in the truth, or because they don't mind using alchemy in order to mislead us? Your guess is as good as mine.
The efficacy or effectiveness of medical interventions is, of course, best tested in clinical trials. The principle of a clinical trial is fairly simple: typically, a group of patients is divided (preferably at random) into two subgroups, one (the 'verum' group) is treated with the experimental treatment and the other (the 'control' group) with another option (often a placebo), and the eventual outcomes of the two groups is compared. If done well, such studies are able to exclude biases and confounding factors such that their findings allow causal inference. In other words, they can tell us whether an outcome was caused by the intervention per se or by some other factor such as the natural history of the disease, regression towards the mean etc.
A clinical trial is a research tool for testing hypotheses; strictly speaking, it tests the 'null-hypothesis': "the experimental treatment generates the same outcomes as the treatment of the control group". If the trial shows no difference between the outcomes of the two groups, the null-hypothesis is confirmed. In this case, we commonly speak of a negative result. If the experimental treatment was better than the control treatment, the null-hypothesis is rejected, and we commonly speak of a positive result. In other words, clinical trials can only generate positive or negative results, because the null-hypothesis must either be confirmed or rejected – there are no grey tones between the black of a negative and the white of a positive study.
For enthusiasts of alternative medicine, this can create a dilemma, particularly if there are lots of published studies with negative results. In this case, the totality of the available trial evidence is negative which means the treatment in question cannot be characterised as effective. It goes without saying that such an overall conclusion rubs the proponents of that therapy the wrong way. Consequently, they might look for ways to avoid this scenario.
One fairly obvious way of achieving this aim is to simply re-categorise the results. What, if we invented a new category? What, if we called some of the negative studies by a different name? What about NON-CONCLUSIVE?
That would be brilliant, wouldn't it. We might end up with a simple statistic where the majority of the evidence is, after all, positive. And this, of course, would give the impression that the ineffective treatment in question is effective!
How exactly do we do this? We continue to call positive studies POSITIVE; we then call studies where the experimental treatment generated worst results than the control treatment (usually a placebo) NEGATIVE; and finally we call those studies where the experimental treatment created outcomes which were not different from placebo NON-CONCLUSIVE.
In the realm of alternative medicine, this 'non-conclusive result' method has recently become incredibly popular . Take homeopathy, for instance. The Faculty of Homeopathy proudly claim the following about clinical trials of homeopathy: Up to the end of 2011, there have been 164 peer-reviewed papers reporting randomised controlled trials (RCTs) in homeopathy. This represents research in 89 different medical conditions. Of those 164 RCT papers, 71 (43%) were positive, 9 (6%) negative and 80 (49%) non-conclusive.
This misleading nonsense was, of course, warmly received by homeopaths. The British Homeopathic Association, like many other organisations and individuals with an axe to grind lapped up the message and promptly repeated it: The body of evidence that exists shows that much more investigation is required – 43% of all the randomised controlled trials carried out have been positive, 6% negative and 49% inconclusive.
Let's be clear what has happened here: the true percentage figures seem to show that 43% of studies (mostly of poor quality) suggest a positive result for homeopathy, while 57% of them (on average the ones of better quality) were negative. In other words, the majority of this evidence is negative. If we conducted a proper systematic review of this body of evidence, we would, of course, have to account for the quality of each study, and in this case we would have to conclude that homeopathy is not supported by sound evidence of effectiveness.
The little trick of applying the 'NON-CONCLUSIVE' method has thus turned this overall result upside down: black has become white! No wonder that it is so popular with proponents of all sorts of bogus treatments.
Chiropractors are notorious for their overuse and misuse of x-rays for non-specific back and neck pain as well as other conditions. A recent study from the US has shown that the rate of spine radiographs within 5 days of an initial patient visit to a chiropractor is 204 per 1000 new patient examinations. Considering that X-rays are not usually necessary for patients with non-specific back pain, such rates are far too high. Therefore, a team of US/Canadian researchers conducted a study to evaluate the impact of web-based dissemination of a diagnostic imaging guideline discouraging the use of spine x-rays among chiropractors.
They disseminated an imaging guideline online in April 2008. Administrative claims data were extracted between January 2006 and December 2010. Segmented regression analysis with autoregressive error was used to estimate the impact of guideline recommendations on the rate of spine x-rays. Sensitivity analysis considered the effect of two additional quality improvement strategies, a policy change and an education intervention.
The results show a significant change in the level of spine x-ray ordering weeks after introduction of the guidelines (-0.01; 95% confidence interval=-0.01, -0.002; p=.01), but no change in trend of the regression lines. The monthly mean rate of spine x-rays within 5 days of initial visit per new patient exams decreased by 10 per 1000, a 5.26% relative decrease after guideline dissemination.
The authors concluded that Web-based guideline dissemination was associated with an immediate reduction in spine x-ray claims. Sensitivity analysis suggests our results are robust. This passive strategy is likely cost-effective in a chiropractic network setting.
These findings are encouraging because they suggest that at least some chiropractors are capable of learning, even if this means altering their practice against their financial interests – after all, there is money to be earned with x-ray investigations! At the same time, the results indicate that, despite sound evidence, chiropractors still order far too many x-rays for non-specific back pain. I am not aware of any recent UK data on chiropractic x-ray usage, but judging from old evidence, it might be very high.
It would be interesting to know why chiropractors order spinal x-rays for patients with non-specific back pain or other conditions. A likely answer is that they need them for the diagnosis of spinal 'subluxations'. To cite just one of thousands of chiropractors with the same opinion: spinography is a necessary part of the chiropractic examination. Detailed analysis of spinographic film and motion x-ray studies helps facilitate a specific and timely correction of vertebral subluxation by the Doctor of Chiropractic. The correction of a vertebral subluxation is called: Adjustment.
This, of course, merely highlights the futility of this practice: despite the fact that the concept is still deeply engrained in the teaching of chiropractic, 'subluxation' is a mystical entity or dogma which "is similar to the Santa Claus construct", characterised by a "significant lack of evidence to fulfil the basic criteria of causation". But even if chiropractic 'subluxation' were real, it would not be diagnosable with spinal x-ray investigations.
The inescapable conclusion from all this, I believe, is that the sooner chiropractors abandon their over-use of x-ray studies, the better for us all.
THERE WILL NEVER BE AN ALTERNATIVE CANCER CURE
This statement contradicts all those thousands of messages on the Internet that pretend otherwise. Far too many 'entrepreneurs' are trying to exploit desperate cancer patients by making claims about alternative cancer 'cures' ranging from shark oil to laetrile and from Essiac to mistletoe. The truth is that none of them are anything other than bogus.
Why? Let me explain.
If ever a curative cancer treatment emerged from the realm of alternative medicine that showed any promise at all, it would be very quickly researched by scientists and, if the results were positive, instantly adopted by mainstream oncology. The notion of an alternative cancer cure is therefore a contradiction in terms. It implies that oncologists are mean bastards who would, in the face of immense suffering, reject a promising cure simply because it did not originate from their own ranks.
BUT THAT DOES NOT NECESSARILY MEAN THAT ALTERNATIVE CANCER TREATMENTS ARE USELESS
So, let's forget about alternative cancer 'cures' and let's once and for all declare the people who sell or promote them as charlatans of the worst type. But some alternative therapies might nevertheless have a role in oncology – not as curative treatments but as supportive or palliative therapies.
The aim of supportive or palliative cancer care is not to cure the disease but to ease the suffering of cancer patients. According to my own research, promising evidence exists in this context, for instance, for massage, guided imagery, Co-enzyme Q10, acupuncture for nausea, and relaxation therapies. For other alternative therapies, the evidence is not supportive, e.g. reflexology, tai chi, homeopathy, spiritual healing, acupuncture for pain-relief, and aromatherapy.
So, in the realm of supportive and palliative care there is both encouraging as well as disappointing evidence. But what amazes me over and over again is the fact that the majority of cancer centres employing alternative therapies seem to bother very little about the evidence; they tend to use a weird mix of treatments regardless of whether they are backed by evidence or not. If patients like them, all is fine, they seem to think. I find this argument worrying.
Of course, every measure that increases the well-being of cancer patients must be welcome. But this should not mean that we disregard priorities or adopt any quackery that is on offer. In the interest of patients, we need to spend the available resources in the most effective ways. Those who argue that a bit of Reiki or reflexology, for example, is useful - if only via a non-specific (placebo) effects - seem to forget that we do not require quackery for patients to benefit from a placebo-response. An evidence-based treatment that is administered with kindness and compassion also generates specific non-specific effects. In addition, such treatments also generate specific effects. Therefore it would be a disservice to patients to merely rely on the non-specific effects of bogus treatments, even if the patients do experience some benefit from them.
ALTERNATIVE 'PAMPERING' AS A COMPENSATION FOR INADEQUACIES IN THE SYSTEM?
So, why are unproven or disproven treatments like Reiki or reflexology so popular for cancer palliation? This question has puzzled me for years, and I sometimes wonder whether some oncologists' tolerance of quackery is not an attempt to compensate for any inadequacies within the routine service they deliver to their patients. Sub-standard care, unappetising food, insufficient pain-control, lack of time and compassion as well as other problems undoubtedly exist in some cancer units. It might be tempting to assume that such deficiencies can be compensated by a little pampering from a reflexologist or Reiki master. And it might be easier to hire a few alternative therapists for treating patients with agreeable yet ineffective interventions than to remedy the deficits that may exist in basic conventional care.
But this strategy would be wrong, unethical and counter-productive. Empathy, sympathy and compassion are core features of conventional care and must not be delegated to quacks.
A recent interview on alternative medicine for the German magazine DER SPIEGEL prompted well over 500 comments; even though, in the interview, I covered numerous alternative therapies, the discussion that followed focussed almost entirely on homeopathy. Yet again, many of the comments provided a reminder of the quasi-religious faith many people have in homeopathy.
There can, of course, be dozens of reasons for such strong convictions. Yet, in my experience, some seem to be more prevalent and important than others. During my last two decades in researching homeopathy, I think, I have identified several of the most important ones. In this post, I try to outline a typical sequence of events that eventually leads to a faith in homeopathy which is utterly immune to fact and reason.
The epiphany
The starting point of this journey towards homeopathy-worship is usually an impressive personal experience which is often akin to an epiphany (defined as a moment of sudden and great revelation or realization). I have met hundreds of advocates of homeopathy, and those who talk about this sort of thing invariably offer impressive stories about how they metamorphosed from being a 'sceptic' (yes, it is truly phenomenal how many believers insist that they started out as sceptics) into someone who was completely bowled over by homeopathy, and how that 'moment of great revelation' changed the rest of their lives. Very often, this 'Saulus-Paulus conversion' relates to that person's own (or a close friend's) illness which allegedly was cured by homeopathy.
Rachel Roberts, chief executive of the Homeopathy Research Institute, provides as good an example of this sort of epiphany as anyone; in an article in THE GUARDIAN, she described her conversion to homeopathy with the following words:
I was a dedicated scientist about to begin a PhD in neuroscience when, out of the blue, homeopathy bit me on the proverbial bottom.
Science had been my passion since I began studying biology with Mr Hopkinson at the age of 11, and by the age of 21, when I attended the dinner party that altered the course of my life, I had still barely heard of it. The idea that I would one day become a homeopath would have seemed ludicrous.
That turning point is etched in my mind. A woman I'd known my entire life told me that a homeopath had successfully treated her when many months of conventional treatment had failed. As a sceptic, I scoffed, but was nonetheless a little intrigued.
She confessed that despite thinking homeopathy was a load of rubbish, she'd finally agreed to an appointment, to stop her daughter nagging. But she was genuinely shocked to find that, after one little pill, within days she felt significantly better. A second tablet, she said, "saw it off completely".
I admit I ruined that dinner party. I interrogated her about every detail of her diagnosis, previous treatment, time scales, the lot. I thought it through logically – she was intelligent, she wasn't lying, she had no previous inclination towards alternative medicine, and her reluctance would have diminished any placebo effect.
Scientists are supposed to make unprejudiced observations, then draw conclusions. As I thought about this, I was left with the highly uncomfortable conclusion that homeopathy appeared to have worked. I had to find out more.
So, I started reading about homeopathy, and what I discovered shifted my world for ever. I became convinced enough to hand my coveted PhD studentship over to my best friend and sign on for a three-year, full-time homeopathy training course.
Now, as an experienced homeopath, it is "science" that is biting me on the bottom. I know homeopathy works…
As I said, I have heard many strikingly similar accounts. Some of these tales seem a little too tall to be true and might be a trifle exaggerated, but the consistency of the picture that emerges from all of these stories is nevertheless extraordinary: people get started on a single anecdote which they are prepared to experience as an epiphanic turn-around. Subsequently, they are on a mission of confirming their new-found belief over and over again, until they become undoubting disciples for life.
So what? you might ask. But I do think this epiphany-like event at the outset of a homeopathic career is significant. In no other area of health care does the initial anecdote regularly play such a prominent role. People do not become believers in aspirin, for instance, on the basis of a 'moment of great revelation', they may take it because of the evidence. And, if there is a discrepancy between the external evidence and their own experience, as with homeopathy, most people would start to reflect: What other explanations exist to rationalise the anecdote? Invariably, there are many (placebo, natural history of the condition, concomitant events etc.).
Confirmation bias
Epiphany-stuck believers spends much time and effort to actively look for similar stories that seem to confirm the initial anecdote. They might, for instance, recommend or administer or prescribe homeopathy to others, many of whom would report positive outcomes. At the same time, all anecdotes that do not happen to fit the belief are brushed aside, forgotten, supressed, belittled, decried etc. This process leads to confirmation after confirmation after confirmation - and gradually builds up to what proponents of homeopathy would call 'years of experience'. And 'years of experience' can, of course, not be wrong!
Again, believers neglect to question, doubt and rationalise their own perceptions. They ignore the fact that years of experience might just be little more than a suborn insistence on repeating one's own mistakes. Even the most obvious confounders such as selective memory or alternative causes for positive clinical outcomes are quickly dismissed or not even considered at all.
Avoiding cognitive dissonance at all cost
But believers still has to somehow deal with the scientific facts about homeopathy; and these are, of course, grossly out of line with their belief. Thus the external evidence and the internal belief would inevitably clash creating a shrill cognitive dissonance. This must be avoided at all cost, as it might threaten the believer's peace of mind. And the solution is amazingly simple: scientific evidence that does not confirm the believer's conviction is ignored or, when this proves to be impossible, turned upside down.
Rachel Roberts' account is most enlightening also in this repect:
And yet I keep reading reports in the media saying that homeopathy doesn't work and that this scientific evidence doesn't exist.
The facts, it seems, are being ignored. By the end of 2009, 142 randomised control trials (the gold standard in medical research) comparing homeopathy with placebo or conventional treatment had been published in peer-reviewed journals – 74 were able to draw firm conclusions: 63 were positive for homeopathy and 11 were negative. Five major systematic reviews have also been carried out to analyse the balance of evidence from RCTs of homeopathy – four were positive (Kleijnen, J, et al; Linde, K, et al; Linde, K, et al; Cucherat, M, et al) and one was negative (Shang, A et al). It's usual to get mixed results when you look at a wide range of research results on one subject, and if these results were from trials measuring the efficacy of "normal" conventional drugs, ratios of 63:11 and 4:1 in favour of a treatment working would be considered pretty persuasive.
This statement is, in my view, a classic example of a desperate misinterpretation of the truth as a means of preventing the believer's house of cards from collapsing. It even makes the hilarious claim that not the believers but the doubters "ignore" the facts.
In order to be able to adhere to her belief, Roberts needs to rely on a woefully biased white-wash from the 'British Homeopathic Association'. And, in order to be on the safe side, she even quotes it misleadingly. The conclusion of the Cucherat review, for instance, can only be seen as positive by most blinkered of minds: There is some evidence that homeopathic treatments are more effective than placebo; however, the strength of this evidence is low because of the low methodological quality of the trials. Studies of high methodological quality were more likely to be negative than the lower quality studies. Further high quality studies are needed to confirm these results. Contrary to what Roberts states, there are at least a dozen more than 5 systematic reviews of homeopathy; my own systematic review of systematic reviews, for example, concluded that the best clinical evidence for homeopathy available to date does not warrant positive recommendations for its use in clinical practice.
It seems that, at this stage of a believer's development, the truth gets all too happily sacrificed on the altar of faith. All these 'ex-sceptics' turned believers are now able to display is a rather comical parody of scepticism.
The delusional end-stage
The last stage in the career of a believer has been reached when hardly anything that he or she is convinced of resembles reality any longer. I don't know much about Rachel Roberts, and she might not have reached this point yet; but there are many others who clearly have.
My two favourite examples of end-stage homeopathic delusionists are John Benneth and Dana Ullman. The final stage on the journey from 'sceptic scientist' to delusional disciple is characterised by an incessant stream of incoherent statements of vile nonsense that beggars belief. It is therefore easy to recognise and, because nobody can possibly take the delusionists seriously, they are best viewed as relatively harmless contributors to medical comedy.
Why does all of this matter?
Many homeopathy-fans are quasi-religious believers who, in my experience, have degressed way beyond reason. It is therefore a complete waste of time trying to reason with them. Initiated by a highly emotional epiphany, their faith cannot be shaken by rational arguments. Similar but usually less pronounced attitudes, I am afraid, can be observed in true believers of other alternative treatments as well (here I have chosen the example of homeopathy mainly because it is the area where things are most explicit).
True believers claim to have started out as sceptics and they often insist to be driven by a scientific mind. Yet I have never seen any evidence for these assumptions. On the contrary, for a relatively trivial episode to become a life-changing epiphany, the believer's mind needs to be lamentably unscientific, unquestioning and simple.
In my experience, true believers will not change their mind; I have never seen this happening. However, progress might nevertheless be made, if we managed to instil a more (self-) questioning rationality and scientific attitudes into the minds of the next generations. In other words, we need better education in science and more training of critical thinking during their formative years.
Alternative medicine thrives in the realm of common chronic conditions which conventional medicine cannot cure and which respond well to treatment with placebos. Irritable bowel syndrome (IBS) is such a condition, and IBS-sufferers who are often frustrated with the symptomatic relief conventional medicine has to offer are only too keen to try any therapy that promises help. There is hardly an alternative therapy which does not claim to be the solution to IBS-symptoms: herbal medicine, mind-body interventions, homeopathy (the subject of my next post), acupuncture, even 'MOXIBUSTION'.
Moxibustion is a derivative of acupuncture; instead of needles, this method employs heat to stimulate acupuncture points. Proponents believe that the effects of moxibustion are roughly equivalent to those of acupuncture but many acupuncturists feel that they are less powerful. One website explains: Moxibustion is a traditional Chinese medicine technique that involves the burning of mugwort, a small, spongy herb, to facilitate healing. Moxibustion has been used throughout Asia for thousands of years; in fact, the actual Chinese character for acupuncture, translated literally, means "acupuncture-moxibustion." The purpose of moxibustion, as with most forms of traditional Chinese medicine, is to strengthen the blood, stimulate the flow of qi, and maintain general health.
Many proponents of moxibustion claim that their treatment works for IBS. The evidence is, however, far less clear. Two recent meta-analyses might tell us more.
The first systematic review and meta-analysis was published by Korean researchers and aimed at critically evaluating the current evidence on moxibustion for improving global symptoms of IBS. The authors conducted extensive searches and found a total of 20 RCTs to be included in their analyses. The risk of bias in these studies was generally high. Compared with pharmacological medications, moxibustion significantly alleviated overall IBS symptoms but there was a moderate inconsistency among the 7 RCTs. Moxibustion combined with acupuncture was more effective than pharmacological therapy but a moderate inconsistency among the 4 studies was found. When moxibustion was added to pharmacological medications or herbal medicine, no additive benefit of moxibustion was shown compared with pharmacological medications or herbal medicine alone. One small sham-controlled trial found no difference between moxibustion and sham control in symptom severity. Moxibustion appeared to be associated with few adverse events but the evidence is limited due to poor reporting.
The authors concluded that moxibustion may provide benefit to IBS patients although the risk of bias in the included studies is relatively high. Future studies are necessary to confirm whether this finding is reproducible in carefully-designed and conducted trials and to firmly establish the place of moxibustion in current practice.
The way I see it, these conclusions are far too optimistic. There was only one RCT that controlled for placebo-effects, and the results of that study were negative. Thus I would conclude that some studies report effectiveness of moxibustion for IBS, yet the effects seem not to be caused by the treatment per se but are most likely due to a placebo-effect.
The second systematic review and meta-analysis was published by Chinese researchers and aimed at evaluating the clinical efficacy and safety of moxibustion and acupuncture in treatment of IBS. The authors included randomized and quasi-randomized clinical trials in their analyses and were able to include 11 trials. Their meta analysis suggests that the effectiveness of the combined methods of acupuncture and moxibustion is superior to conventional western medication treatment. The authors concluded that acupuncture-moxibustion for IBS is better than the conventional western medication treatment.
While the first meta-analysis was at least technically sound, the second seems to have too many flaws to mention: the search methodology was flimsy, many available studies were not included, their risk of bias was not assessed critically, the conclusions are based more on wishful thinking than on the available data, etc.
If we consider that moxibustion is a method of stimulating acupoints, we have to assume that it can at best be as effective as acupuncture, quite possibly slightly less. Thus it is relevant to see what the evidence tells us about acupuncture for IBS. The current Cochrane review of acupuncture for IBS shows that sham-controlled RCTs have found no benefits of acupuncture relative to a credible sham acupuncture control for IBS symptom severity or IBS-related quality of life.
I think I rest my case.