coronary heart disease
In the realm of alternative medicine, the Internet is a double-edged sword. It can be most useful to many, particularly to those who are able to think critically. To those who do not have this ability, it can be outright dangerous. We have researched this area in several way and always arrived at this very conclusion. For instance, we evaluated websites providing advice for cancer patients and concluded that "the most popular websites on complementary and alternative medicine for cancer offer information of extremely variable quality. Many endorse unproven therapies and some are outright dangerous."
This makes it abundantly clear that, for some, the Internet can become a danger to their health and life. Recently I was reminded of this fact when I saw this website entitled 'Foods that will naturally cleanse your arteries'. Its message is instantly clear, particularly as it provides this impressive drawing.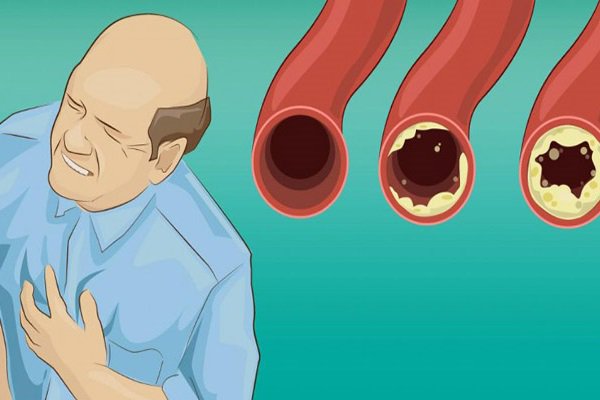 .
The implication here is that we can all clear our arteries of atherosclerotic plaques by eating the right foods. The site also lists the exact foods. Here they are:
START OF QUOTE
Salmon
Salmon is one of the best heart foods as it is packed with healthy fats which reduce cholesterol, triglycerides, and inflammation. However you must make sure that the fish is organic.
Orange juice
Orange juice is rich in antioxidants which strengthens the blood vessels and lowers blood pressure. Simply drink 2 glasses of fresh orange juice a day and you're good to go.
Coffee
According to numerous studies 2-4 cups of coffee a day can significantly reduce the risk of stroke and heart attack by 20%. However don't drink excessively as it may cause problems with your digestion.
Nuts
Nuts are packed with omega-3 fatty acids, healthy properties and unsaturated fats which regulate your memory, cholesterol and prevent joint pain.
Persimmon fruit
The persimmon fruit is packed with fiber and sterols which help lower cholesterol. It makes a great addition to salads and cereals
Turmeric
Curcumin, the active ingredient in turmeric provides a large variety of health benefits. It helps reduce tissue inflammation and prevents overactive fat accumulation. Feel free to add it to your meals or to your tasty cup of tea.
Green tea
Aside from having a soothing effect, green tea helps energize the whole body, boost the metabolism and lower the absorption of cholesterol. Just drink 1-2 cups of green tea a day and you have nothing to worry about.
Cheese
Cheese can also help lower blood pressure and cholesterol.
Watermelon
Watermelon is the most delicious summer fruit. But aside from its amazing taste, it also improves the production of nitric oxide which enhances the function of the blood vessels.
Whole grain
Whole grains are rich in fiber content which helps lower cholesterol and cholesterol accumulation in the arteries. Consume more whole grain bread, brown rice and oats.
Cranberries
Cranberries have been long known to be the richest source of potassium. Due to this, they can easily lower bad cholesterol and increase the good one. 2 glasses of cranberry juice a day can lower the risk of heart attack by 40%.
Seaweed
Seaweeds are packed with vitamins, proteins, minerals and carotenoids which easily regulate your blood pressure.
Cinnamon
Cinnamon prevents buildups in the arteries and lower cholesterol.
Pomegranate
It is an exotic fruit that provides a healthy portion of phytochemicals. These improve the production of nitric oxide, and boost circulation. Add pomegranate seeds to your salads.
Spinach
It is high in folic acid and potassium. You need this to lower your blood pressure, strengthen muscles, and prevent heart attack.
Broccoli
Broccoli is rich in vitamin K, which help lower blood pressure and cholesterol when eaten steam-cooked or raw.
Olive oil
Olive oil helps maintain your health at its peak. Be sure to use cold-pressed oil as it is rich in healthy fats which lower cholesterol and reduce the risk of heart attack by 40%.
Asparagus
Asparagus prevents inflammation, clogging and lowers cholesterols. Implement it to dishes, noodles, soups or potatoes.
Blueberries
Blueberries are high in potassium and as we mentioned above, potassium is the key to reducing bad cholesterol and increasing the good one. Drink 2 glasses of blueberry juice a day.
Avocado
Avocadoes are without a doubt – one of the healthiest fruits known to man. They're rich in healthy fat and improve the balance of bad and good cholesterol.
END OF QUOTE
As far as I know, there is no good evidence for the claim that any of these 20 foods will clear arteriosclerotic arteries. There is some evidence for fish oil and some for green tea to reduce the risk of cardiovascular disease. But surely, this is quite a different matter than reversing atherosclerotic plaques.
What's the harm? I believe the potential for harm is obvious: people at high risk of suffering a major cardiovascular event who read such nonsense and believe it might think they can abandon the treatments, drugs and life-styles they have been advised to follow and take. Instead they might eat a bit more of the 20 ingredients listed above. If they did that, many would die.
I think many of us who know better have become far too tolerant of dangerous nonsense of such nature. We tend to think that either nobody is as stupid as to follow such silly advice, or we assume that taking a bit of daft advice will not do much harm. I fear we are wrong on both accounts.
A new joint position statement of the Italian Society of Diabetology (SID) and of the Italian Society for the Study of Arteriosclerosis (SISA) has recently been published. In the context of this blog, it seems relevant enough for its summary to be reproduced here:
Evidence showed that LDL-cholesterol lowering is associated with a significant cardiovascular risk reduction. The initial therapeutic approach to hypercholesterolaemia includes dietary modifications but the compliance to recommendations is often inadequate. Some dietary components with potential cholesterol-lowering activity are present in small amounts in food. Therefore, in recent years the use of "nutraceuticals" (i.e., nutrients and/or bioactive compounds with potential beneficial effects on human health) has become widespread. Such substances may be added to foods and beverages, or taken as dietary supplements (liquid preparations, tablets, capsules). In the present manuscript, the cholesterol-lowering activity of some nutraceuticals (i.e. fiber, phytosterols, soy, policosanol, red yeast rice and berberine) will be discussed along with: 1) the level of evidence on the cholesterol-lowering efficacy emerging from clinical trial; 2) the possible side effects associated with their use; 3) the categories of patients who could benefit from their use.
DATA SYNTHESIS:
Based on the current literature, the cholesterol-lowering effect of fiber, phytosterols and red yeast rice is consistent and supported by a good level of evidence. Over berberine, there is sufficient evidence showing significant cholesterol-lowering effects, although the results come from studies carried out almost exclusively in Asian populations. Data on the effects of soy are conflicting and, therefore, the strength of recommendation is quite low. The evidence on policosanol is inconclusive.
CONCLUSION:
Although health benefits may arise from the use of nutraceuticals with cholesterol-lowering activity, their use might be also associated with possible risks and pitfalls, some of which are common to all nutraceuticals whereas others are related to specific nutraceuticals.
END OF QUOTE
Many advocates of alternative medicine are highly sceptical of the value of statins. Yet, it seems clear that statins exert considerably larger effects on our lipid profile than nutraceuticals. So, why not use the treatment that is best documented and most efficacious? One answer could lie in the well-known adverse effects of statins. However, can we be sure that nutraceuticals are devoid of serious side-effects? I am not sure that we can: statins have been fully investigated, and we therefore are well-informed about their risks. Nutraceuticals, by contrast, have not been monitored in such detail, and their safety profile is therefore not as well-understood.
Other advocates of alternative medicine argue that cholesterol (I use the term simplistically without differentiating between the 'good and bad' cholesterol) has been hyped by the pharmaceutical industry and is, in truth, not nearly as important a risk factor as we have been led to believe. This line of thought would consequently deny the need to lower elevated cholesterol levels and therefore negate the need for cholesterol-lowering treatments. This stance may be popular, particularly in the realm of alternative medicine, but, to the best of my knowledge, it is erroneous.
Obviously, the first line treatment for people with pathological lipid profiles is the adoption of different life-styles, particularly in terms of nutrition. This may well incorporate some of the nutraceuticals mentioned above. If that strategy is unsuccessful in normalizing our blood lipids – and it often is – we should consider the more effective conventional medications; and that unquestionably includes statins.
I do not expect that everyone reading these lines will agree with me, yet, after studying the evidence, this is my honest conclusion – and NO, I am not paid or otherwise rewarded by the pharmaceutical industry or anyone else!
Stable angina is a symptom of coronary heart disease which, in turn, is amongst the most frequent causes of death in developed countries. It is an alarm bell to any responsible clinician and requires causal, often life-saving treatments of which we today have several options. The last thing a patient needs in this condition is ACUPUNCTURE, I would say.
Yet acupuncture is precisely the therapy such patients might be tempted to employ.
Why?
Because irresponsible or criminally naïve acupuncturists advertise it!
Take this website, for instance; it informs us that a meta-analysis of eight clinical trials conducted between 2000 and 2014 demonstrates the efficacy of acupuncture for the treatment of stable angina. In all eight clinical trials, patients treated with acupuncture experienced a greater rate of angina relief than those in the control group treated with conventional drug therapies (90.1% vs 75.7%)….
I imagine that this sounds very convincing to patients and I fear that many might opt for acupuncture instead of potentially invasive/unpleasant but life-saving intervention. The original meta-analysis to which the above promotion referred to is equally optimistic. Here is its abstract:
Angina pectoris is a common symptom imperiling patients' life quality. The aim of this study is to evaluate the efficacy and safety of acupuncture for stable angina pectoris. Clinical randomized-controlled trials (RCTs) comparing the efficacy of acupuncture to conventional drugs in patients with stable angina pectoris were searched using the following database of PubMed, Medline, Wanfang and CNKI. Overall odds ratio (ORs) and weighted mean difference (MD) with their 95% confidence intervals (CI) were calculated by using fixed- or random-effect models depending on the heterogeneity of the included trials. Total 8 RCTs, including 640 angina pectoris cases with 372 patients received acupuncture therapy and 268 patients received conventional drugs, were included. Overall, our result showed that acupuncture significantly increased the clinical curative effects in the relief of angina symptoms (OR=2.89, 95% CI=1.87-4.47, P<0.00001) and improved the electrocardiography (OR=1.83, 95% CI=1.23-2.71, P=0.003), indicating that acupuncture therapy was superior to conventional drugs. Although there was no significant difference in overall effective rate relating reduction of nitroglycerin between two groups (OR=2.13, 95% CI=0.90-5.07, P=0.09), a significant reduction on nitroglycerin consumption in acupuncture group was found (MD=-0.44, 95% CI=-0.64, -0.24, P<0.0001). Furthermore, the time to onset of angina relief was longer for acupuncture therapy than for traditional medicines (MD=2.44, 95% CI=1.64-3.24, P<0.00001, min). No adverse effects associated with acupuncture therapy were found. Acupuncture may be an effective therapy for stable angina pectoris. More clinical trials are needed to systematically assess the role of acupuncture in angina pectoris.
In the discussion section of the full paper, the authors explain that their analysis has several weaknesses:
Several limitations were presented in this meta-analysis. Firstly, conventional drugs in control group were different, this may bring some deviation. Secondly, for outcome of the time to onset of angina relief with acupuncture, only one trial included. Thirdly, the result of some outcomes presented in different expression method such as nitroglycerin consumption. Fourthly, acupuncture combined with traditional medicines or other factors may play a role in angina pectoris.
However, this does not deter them to conclude on a positive note:
In conclusion, we found that acupuncture therapy was superior to the conventional drugs in increasing the clinical curative effects of angina relief, improving the electrocardiography, and reducing the nitroglycerin consumption, indicating that acupuncture therapy may be effective and safe for treating stable angina pectoris. However, further clinical trials are needed to systematically and comprehensively evaluate acupuncture therapy in angina pectoris.
So, why do I find this irresponsibly and dangerously misleading?
Here a just a few reasons why this meta-analysis should not be trusted:
There was no systematic attempt to evaluate the methodological rigor of the primary studies; any meta-analysis MUST include such an assessment, or else it is not worth the paper it was printed on.
The primary studies all look extremely weak; this means they are likely to be false-positive.
They often assessed not acupuncture alone but in combination with other treatments; consequently the findings cannot be attributed to acupuncture.
My conclusion: the authors, editors and reviewers responsible for this article should be ashamed; they committed or allowed scientific misconduct, mislead the public and endangered patients' lives.
Anyone who really wants to get an insight into the 'homeopathic mind-set' should read the regular newsletter 'HOMEOPATHY 4 EVERYONE'. Its current issue is focussed on cardiology. An article on coronary heart disease, a condition that kills about 40% of the population, informs us how homeopaths tackle this killer-disease:
If anything permanent is to be accomplished by treatment, a most careful examination of the individual case must be made. Not the attack alone, but the habits of the patient, his family history and environments must all be studied in every possible light. In the management, each case must be considered separately and the causes that excite an attack sought after. Many of these patients already have recognized the cause in their own case and often it is some irregularity of diet, exercise or mental condition. Many times it is not an easy matter to control the mental state, as the worry and strain of business life presses upon many of these patients, and is responsible for many cases of arterial degeneration that give rise to apoplexy, Bright 's disease, aneurysm or angina pectoris. The age and occupation of the patient, and the condition of the vascular system should be taken into consideration.

Following an attack the condition of the heart may require absolute rest, from a day to a week or more; this is especially true if the attacks are precipitated by a slight degree of exercise, which shows that the heart is not able to propel the blood under anything but normal conditions. Under no condition should quick movements and strong emotions be associated. Steady quiet exercise as walking upon level ground is beneficial. If the cardiac weakness is such as to forbid this, massage, or the resistance exercise of the Schott's method may be tried. This exercise should not follow immediately after a meal.
But this is not all. There are plenty more papers on life-threatening cardiac conditions. Take the article on pericarditis for instance. This is how homeopaths are told how to treat this medical emergency:
Remedies that may be indicated are as follows: If traumatic, Arnica. For the inflammatory outset, Aconite or Vera- trum viride. The anguish of Aconite distinguishes its inflammation from that attending the stupor of Veratrum. For the pain Bryonia or Spigelia. They may be indicated in this order, Bryonia for the first stage and Spigelia for the subsequent myalgia. In these cases there may be met with indications for Belladonna (its flushed face), Arsenicum (dyspnoea on lying down), Digitalis (its weak pulse), Cactus (severe myalgia) or Kali carb (stitching pains). General symptoms may call for Colchicum, Aesculus, Kali iod., Cimicifuga, Kahnia, Squilla
A further article tackles diseases of the blood vessels. The article on thrombosis informs the homeopath that
Thrombosis is a blocking of the local circulation either spontaneously, after injuries or from slow and imperfect circulation forming a clot. In thrombosis the part becomes pale and edematous. The remedies are Aconite for first stage. Hamamelis, Lachesis or Lycopodium may be indicated. If suppuration threatens Sulphur or Hepar.  Rest and a supporting diet.
The same article also tells us how to treat aneurysms:
Select the remedy carefully. Lycopodium 12 has cured aneurism of the carotid (Hughes). If the attack is due to a sudden strain or injury, Arnica; if from fear or fright, Aconite; if from syphilis, Mercurius, Kali hydr. or Nitric acid; if from alcoholism, Arsenicum or Nux vomica; if from fatty degeneration, Phosphorus; if from fibrous inflammation and degeneration, Bryonia; if there is great arterial excitement and delirium, Veratrum viride; if circulation sluggish, Digitalis. Secale has cured aneurism. Consult Carbo veg., Spigelia. See Heart Therapeutics.
After reading the entire issue, I was not sure whether this wasn't a hoax. Are we supposed to laugh or to cry? Personally I did giggle a lot while reading this. But if I imagine for a minute that some homeopaths might take this seriously, I am not far from crying.
A recent article promised to provide details of the '10 most mind-numbingly stupid alternative therapies'. Naturally I was interested what these might be. In descending order they are, according to the author of the most enjoyable piece:
10 VEGA TESTING
9 REIKI
8 CRYSTAL HEALING
7 URINE THERAPY
6 DETOXIFYING FOOT PADS
5 WHEAT-GRASS ENEMAS
4 PSYCHIC SURGERY
3 OZONE THERAPY
2 CUPPING THERAPY
1 HOMEOPATHY
This is quite a list, I have to admit. Despite some excellent choices, I might disagree with a few of them. Detoxifying foot pads will take care of a common and most annoying problem: smelly feet; therefore it cannot be all bad. And drinking your own urine can even be a life-saver! Lets assume someone has a kidney or bladder cancer. Her urine might, at one stage, be bright red with blood. The urine therapy enthusiast would realise early that something is wrong with her, go and see a specialist, get early treatment and save her life. No, no no, I cannot fully condemn urine therapy!
The other thing with the list is that one treatment which is surely mind-bogglingly stupid is missing: CHELATION THERAPY.
I have previously written about this form of treatment and pointed out that some practitioners of alternative medicine (doctors, naturopaths, chiropractors and others) earn a lot of money claiming that chelation therapy (a well-established mainstream treatment for acute heavy metal poisoning) is an effective therapy for cardiovascular and many other diseases. However, this claim is both implausible and not evidence-based. Several systematic reviews of the best evidence concluded less than optimistically:
…more controlled studies are required to determine the efficacy of chelation therapy in cardiovascular disease before it can be used broadly in the clinical setting.
The best available evidence does not support the therapeutic use of EDTA chelation therapy in the treatment of cardiovascular disease.
Given the potential of chelation therapy to cause severe adverse effects, this treatment should now be considered obsolete.
The available data do not support the use of chelation in cardiovascular diseases.
Despite all this, the promotion of chelation continues unabated. An Australian website, ironically entitled 'LEADERS IN INTEGRATIVE MEDICINE', might stand for many others when it informs its readers about chelation therapy. Here is a short passage:
Chelation therapy has the ability to remove the calcium from artery plaques as well as remove toxic ions, reduce free radical damage and restore circulation to all tissues of the body. A growing number of physicians use chelation therapy to reverse the process of atherosclerosis (hardening of the arteries) and as an alternative to angioplasty and bypass surgery.
Chelation therapy is a treatment to be considered for all conditions of reduced blood flow (coronary artery disease, cerebral vascular disease, peripheral vascular disease, angina, vertigo, tinnitus, senility), any situations of heavy metal toxicity or tissue overload and various chronic immune system disorders such as rheumatoid arthritis. Intravenous vitamin C is useful for the treatment of chronic and acute infections, fatigue, pre- and post-surgery and to boost the immune system while undergoing cancer therapies.
Not bad, isn't it. How come such mind-numbing stupidity escaped the author of the above article? Was it an oversight? Was the choice just too overwhelming? Or did he not think chelation was all that funny? I ought to mention that it is not at all harmless like sampling your own urine or having a Reiki healer sending some 'healing energy'.
Whatever the reason, I hope for an up-date of the list, he will consider chelation as a seriously mind-numbing contender.
If we go on the internet, we find no end of positive claims for TM. The official TM website, for instance, claims that more than 350 peer-reviewed research studies on the TM technique have been published in over 160 scientific journals. These studies were conducted at many US and international universities and research centers, including Harvard Medical School, Stanford Medical School, Yale Medical School, and UCLA Medical School.
This may well be true – but do those studies amount to more than a heap of beans? Let's find out.
The objective of our Cochrane review was to determine the effectiveness of TM for the primary prevention of cardiovascular disease (CVD). We searched the following electronic databases: the Cochrane Central Register of Controlled Trials (CENTRAL) (2013, Issue 10); MEDLINE (Ovid) (1946 to week three November 2013); EMBASE Classic and EMBASE (Ovid) (1947 to week 48 2013); ISI Web of Science (1970 to 28 November 2013); and Database of Abstracts of Reviews of Effects (DARE) and Health Technology Assessment Database and Health Economics Evaluations Database (November 2013). We also searched the Allied and complementary Medicine Database (AMED) (inception to January 2014) and IndMed (inception to January 2014). We hand searched trial registers and reference lists of reviews and articles and contacted experts in the field. We applied no language restrictions.
We included randomised controlled trials (RCTs) of at least three months' duration involving healthy adults or adults at high risk of CVD. Trials examined TM only and the comparison group was no intervention or minimal intervention. We excluded trials that involved multi-factorial interventions. Outcomes of interest were clinical CVD events (cardiovascular mortality, all-cause mortality and non-fatal events) and major CVD risk factors (e.g. blood pressure and blood lipids, occurrence of type 2 diabetes, quality of life, adverse events and costs). Two authors independently selected trials for inclusion, extracted data and assessed the risk of bias.
We identified 4 RCTs with a total of 430 participants for inclusion in this review. The included trials were small, short term (three months) and at risk of bias. In all studies, TM was practised for 15 to 20 minutes twice a day. None of the included studies reported all-cause mortality, cardiovascular mortality or non-fatal endpoints as trials were short term, but one study reported survival rate three years after the trial was completed. In view of the considerable statistical heterogeneity between the results of the studies for the only outcomes reported, systolic blood pressure (I2 = 72%) and diastolic blood pressure (I2 = 66%), we decided not to undertake a meta-analysis. None of the four trials reported blood lipids, occurrence of type 2 diabetes, adverse events, costs or quality of life.
We concluded that there are few trials with limited outcomes examining the effectiveness of TM for the primary prevention of CVD. Due to the limited evidence to date, we could draw no conclusions as to the effectiveness of TM for the primary prevention of CVD. There was considerable heterogeneity between trials and the included studies were small, short term and at overall serious risk of bias. More and larger long-term, high-quality trials are needed.
Even though I am a co-author of this review, I am not entirely sure that the last sentence of our conclusion is totally correct. The TM movement has, in my view, all the characteristics of a cult with all its the dangers that cults entail. This means, I think, we ought to be cautious about TM and sceptical about their research and results. At the risk of provoking harsh criticism, I would even say we should be distrustful of their aims and methods.
Many experts are critical about the current craze for dietary supplements. Now a publication suggests that it is something that can save millions.
This article examines evidence suggesting that the use of selected dietary supplements can reduce overall disease treatment-related hospital utilization costs associated with coronary heart disease (CHD) in the United States among those at a high risk of experiencing a costly, disease-related event.
Results show that:
the potential avoided hospital utilization costs related to the use of omega-3

supplements

at preventive intake levels among the target population can be as much as $2.06 billion on average per year from 2013 to 2020. The potential net savings in avoided CHD-related hospital utilization costs after accounting for the cost of omega-3

dietary supplements

at preventive daily intake levels would be more than $3.88 billion in cumulative health care cost savings from 2013 to 2020.
the use of folic acid, B6, and B12 among the target population at preventive intake levels could yield avoided CHD-related hospital utilization costs savings of an average savings of $1.52 billion per year from 2013 to 2020. The potential net savings in avoided CHD-related health care costs after accounting for the cost of folic acid, B6, and B12 utilization at preventive daily intake levels would be more than $5.23 billion in cumulative health care cost net savings during the same period.
The authors conclude that targeted dietary supplement regimens are recommended as a means to help control rising societal health care costs, and as a means for high-risk individuals to minimize the chance of having to deal with potentially costly events and to invest in increased quality of life.
These conclusions read like a 'carte blanche' for marketing all sorts of useless supplements to gullible consumers. I think we should take them with more than a pinch of salt.
To generate results of this nature, it is necessary to make a number of assumptions. If the assumptions are wrong, so will be the results. Furthermore, we should consider that the choice of supplements included was extremely limited and highly selected. Finally, we need to stress that the analysis related to a very specific patient group and not to the population at large. In view of these facts, caution might be advised in taking this analysis as being generalizable.
Because of these caveats, my conclusion would have been quite different: provided that the assumptions underlying these analyses are correct, the use of a small selection of dietary supplements by patients at risk of CHD might reduce health care cost.
Cardiovascular (and most other types of) patients frequently use herbal remedies in addition to their prescribed medicines. Can this behaviour create problems? Many experts think so.
The aim of a new study was to investigate the effect of herbal medicine use on medication adherence of cardiology patients. All patients admitted to the outpatient cardiology clinics, who had been prescribed at least one cardiovascular drug before, were asked to complete a questionnaire. Participants were asked if they have used any herbals during the past 12 months with an expectation of beneficial effect on health. Medication adherence was measured by using the Morisky Scale. High adherence was defined as a Morisky score lower than 2 and a score of 2 or more was seen as low adherence.
A total of 390 patients participated in this study; 29.7% of them had consumed herbals in the past 12 months. The median Morisky score was significantly higher in herbal users than non-users. The number of herbals used was moderately correlated with the Morisky score. In stepwise, multivariate logistic regression analysis, herbal use was significantly associated with low medication adherence.
From these findings, the authors conclude that herbal use was found to be independently associated with low medication adherence in our study population.
So far, the main known risk of herbal medicine use was the possibility that there might be herb-drug interactions. To the best of my knowledge, nobody has yet studied the possibility that herbal medicine users might neglect to take their prescribed drugs. The results of this investigation are somewhat worrying but they do make sense. Some patients who buy and take herbal remedies might think that they do not need to regularly take their prescribed medications because they already take herbal medicine which takes care of their health problem. They might even have been told by their herbalist that the herbal remedies suffice.
If that is so, and if the phenomenon can be confirmed in further investigations, it should be relevant not just in cardiology but in all fields of medicine. And if that is true for herbal remedies, it might also be the case for other types of alternative medicine. In other words, alternative medicine use might be a marker for poor adherence to prescribed medication. I feel that this hypothesis merits further study.
It goes without saying that poor adherence to prescribed drugs can be a very dangerous habit. Clinicians should therefore warn their patients and tell them that herbal remedies are no replacement of prescription drugs.
Yoga, it is often claimed, might be a unique method for disease prevention. One website, for instance, states that numerous studies show how yoga can help prevent these diseases: Heart disease, Alzheimer's, Osteoporosis and Type II Diabetes. 
Cardiovascular diseases (CVD) are responsible for more deaths than any other disease category. Preventing CVD is therefore of prime importance. But are the claims made for yoga really true? What does the reliable evidence tell us?
The aim of our systematic review was to determine the effects of yoga on the primary prevention of CVD. Extensive literature searches were performed to identify all RCTs lasting at least three months, involving healthy adults or people at high risk of CVD. Trials examined any type of yoga and the comparison groups received no intervention or minimal interventions. Outcomes of interest were clinical CVD events and major CVD risk factors. Trials that involved multifactorial lifestyle interventions or weight loss programmes were excluded.
We identified 11 RCTs with a total of just 800 participants. Style and duration of yoga differed between trials. About half of all the trial participants were at high risk of CVD. Most of the studies were at risk of performance bias, with inadequate details reported in many of them to judge the risk of selection bias. None of the studies reported cardiovascular mortality, all-cause mortality or non-fatal events, and most studies were small and short-term.
Yoga was found to produce an average reduction in diastolic blood pressure of 2.90 mmHg. The effect that was small but stable on sensitivity analysis. Triglycerides (-0.27 mmol/l) and high-density lipoprotein (HDL) cholesterol (0.08 mmol/l) were also positively affected. However, these findings were based on small, short-term studies at unclear or high risk of bias. There was no clear evidence of an effect on low-density lipoprotein (LDL) cholesterol. Adverse events, occurrence of type 2 diabetes and costs were not reported in any of the included studies. Quality of life was measured in three trials but the results were inconclusive.
Our conclusion: The limited evidence comes from small, short-term, low-quality studies. There is some evidence that yoga has favourable effects on diastolic blood pressure, HDL cholesterol and triglycerides, and uncertain effects on LDL cholesterol. These results should be considered as exploratory and interpreted with caution.
This systematic review thus offers both good and bad news. The good news is that yoga seems to hold some promise in the prevention of CVD. The bad news, however, is diverse:
We cannot be sure what type of yoga is best; yoga can entail anything from regular exercise, to breathing techniques, to a complete and comprehensive change of life style.
The effect sizes are far from remarkable.
The quality of the research tends to be poor.
Once again, we have to note that, by not reporting on adverse effects, alt med researchers are violating fundamental research ethics.
Many systematic reviews conclude by stating that more and better research is required – in the case of yoga, this platitude might actually be true.
In China (and increasingly elsewhere too), the gentle, meditative exercise of tai chi is being promoted and used for disease prevention, particularly for the prevention of cardiovascular disease (CVD). But are these exercises effective? We carried out a Cochrane review to find out.
We searched both English language and Asian electronic databases as well as trial registers and reference lists for relevant studies. No language restrictions were applied. We considered randomised clinical trials (RCTs) of tai chi lasting at least three months and involving healthy adults or adults at high risk of CVD. The comparison groups received no or only minimal interventions. Our outcome measures were CVD clinical events and CVD risk factors. We excluded trials involving multifactorial lifestyle interventions or focusing on weight loss. Two reviewers independently selected trials for inclusion, abstracted the data and assessed the risk of bias of each included study.
We identified 13 trials with a total of 1520 participants and three on-going studies. All of them had at least one domain with unclear risk of bias, and some were at high risk of bias. Duration and style of tai chi differed between trials. Seven studies recruited 903 healthy participants, the other studies recruited people with hypertension, elderly people at high risk of falling, and people with 'liver or kidney yin deficiency syndromes'.
No studies reported on cardiovascular mortality, all-cause mortality or non-fatal events as most studies were short-term. There was also considerable heterogeneity between studies, which meant that it was not possible to combine studies statistically for cardiovascular risk. Nine trials measured systolic blood pressure (SBP), and 6 of them found reductions in SBP. Two trials found no clear evidence of a difference, and one trial found an increase in SBP with tai chi. A similar pattern was seen for diastolic blood pressure (DBP): three trials found a reduction in DBP, while three found no clear evidence of a difference.
Three trials reported lipid levels and two found reductions in total cholesterol, LDL-C and triglycerides, while the third study found no clear evidence of a difference between groups on lipid levels. Quality of life was measured in only one trial: tai chi improved quality of life at three months. None of the included trials reported on adverse events, costs or occurrence of type 2 diabetes.
From these findings, we drew the following conclusions: "There are currently no long-term trials examining tai chi for the primary prevention of CVD. Due to the limited evidence available currently no conclusions can be drawn as to the effectiveness of tai chi on CVD risk factors. There was some suggestion of beneficial effects of tai chi on CVD risk factors but this was not consistent across all studies. There was considerable heterogeneity between the studies included in this review and studies were small and at some risk of bias. Results of the ongoing trials will add to the evidence base but additional longer-term, high-quality trials are needed."
These findings are somewhat disappointing. Tai chi might convey many health benefits, but whether a reduction of cardiovascular risk is amongst them seems doubtful. Even if a risk reduction were established beyond doubt, one would need to ask whether its effect size is larger than that achievable through regular conventional exercise. In my view, this is unlikely.