chiropractic
There is much debate about the usefulness of chiropractic. Specifically, many people doubt that their chiropractic spinal manipulations generate more good than harm, particularly for conditions which are not related to the spine. But do chiropractors treat such conditions frequently and, if yes, what techniques do they employ?
This investigation was aimed at describing the clinical practices of chiropractors in Victoria, Australia. It was a cross-sectional survey of 180 chiropractors in active clinical practice in Victoria who had been randomly selected from the list of 1298 chiropractors registered on Chiropractors Registration Board of Victoria. Twenty-four chiropractors were ineligible, 72 agreed to participate, and 52 completed the study.
Each participating chiropractor documented encounters with up to 100 consecutive patients. For each chiropractor-patient encounter, information collected included patient health profile, patient reasons for encounter, problems and diagnoses, and chiropractic care.
Data were collected on 4464 chiropractor-patient encounters between 11 December 2010 and 28 September 2012. In most (71%) cases, patients were aged 25-64 years; 1% of encounters were with infants. Musculoskeletal reasons for the consultation were described by patients at a rate of 60 per 100 encounters, while maintenance and wellness or check-up reasons were described at a rate of 39 per 100 encounters. Back problems were managed at a rate of 62 per 100 encounters.
The most frequent care provided by the chiropractors was spinal manipulative therapy and massage. The table shows the precise conditions treated
Distribution of problems managed (20 most frequent problems), as reported  by chiropractors
| | | | | |
| --- | --- | --- | --- | --- |
| Problem group | No. (%) of recorded diagnoses* (n = 5985) | Rate per 100 encounters (n = 4417) | 95% CI | ICC |
| Back problem | 2757 (46.07%) | 62.42 | (55.24–70.53) | 0.312 |
| Neck problem | 683 (11.41%) | 15.46 | (11.23–21.30) | 0.233 |
| Muscle problem | 434 (7.25%) | 9.83 | (6.64–14.55) | 0.207 |
| Health maintenance or preventive care | 254 (4.24%) | 5.75 | (3.24–10.22) | 0.251 |
| Back syndrome with radiating pain | 215 (3.59%) | 4.87 | (2.91–8.14) | 0.165 |
| Musculoskeletal symptom or complaint, or other | 219 (3.66%) | 4.96 | (2.39–10.28) | 0.350 |
| Headache | 179 (2.99%) | 4.05 | (2.87–5.71) | 0.053 |
| Sprain or strain of joint | 167 (2.79%) | 3.78 | (2.30–6.22) | 0.115 |
| Shoulder problem | 87 (1.45%) | 1.97 | (1.37–2.83) | 0.022 |
| Nerve-related problem | 62 (1.04%) | 1.40 | (0.72–2.75) | 0.072 |
| General symptom or complaint, other | 51 (0.85%) | 1.15 | (0.22–6.06) | 0.407 |
| Bursitis, tendinitis or synovitis | 47 (0.79%) | 1.06 | (0.71–1.60) | 0.011 |
| Kyphosis and scoliosis | 47 (0.79%) | 1.06 | (0.65–1.75) | 0.023 |
| Foot or toe symptom or complaint | 48 (0.80%) | 1.09 | (0.41–2.87) | 0.123 |
| Ankle problem | 46 (0.77%) | 1.04 | (0.40–2.69) | 0.112 |
| Osteoarthrosis, other (not spine) | 39 (0.65%) | 0.88 | (0.51–1.53) | 0.023 |
| Hip symptom or complaint | 35 (0.58%) | 0.79 | (0.53–1.19) | 0.006 |
| Leg or thigh symptom or complaint | 35 (0.58%) | 0.79 | (0.49–1.28) | 0.012 |
| Musculoskeletal injury | 33 (0.55%) | 0.75 | (0.45–1.24) | 0.013 |
| Depression | 29 (0.48%) | 0.66 | (0.10–4.23) | 0.288 |
These findings are impressive in that they suggest that most Australian chiropractors treat non-spinal conditions for which there is no evidence that the most frequently used interventions are effective. The treatments employed are depicted in this graph:
Distribution of techniques and care provided by chiropractors, with 95% CI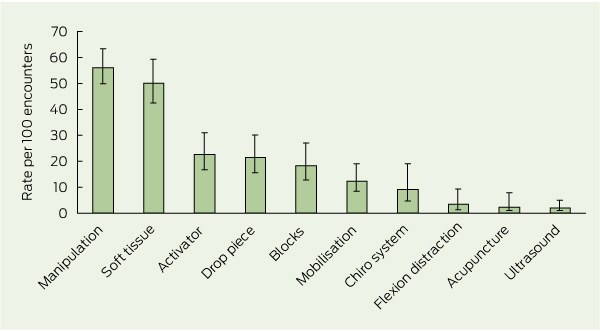 [Activator = hand-held spring-loaded device that delivers an impulse to the spine. Drop piece = chiropractic treatment table with a segmented drop system which quickly lowers the section of the patient's body corresponding with the spinal region being treated. Blocks = wedge-shaped blocks placed under the pelvis.
Chiro system = chiropractic system of care, eg, Applied Kinesiology, Sacro-Occipital Technique, Neuroemotional Technique. Flexion distraction = chiropractic treatment table that flexes in the middle to provide traction and mobilisation to the lumbar spine.]
There is no good evidence I know of demonstrating these techniques to be effective for the majority of the conditions listed in the above table.
A similar bone of contention is the frequent use of 'maintenance' and 'wellness' care. The authors of the article comment: The common use of maintenance and wellness-related terms reflects current debate in the chiropractic profession. "Chiropractic wellness care" is considered by an indeterminate proportion of the profession as an integral part of chiropractic practice, with the belief that regular chiropractic care may have value in maintaining and promoting health, as well as preventing disease. The definition of wellness chiropractic care is controversial, with some chiropractors promoting only spine care as a form of wellness, and others promoting evidence-based health promotion, eg, smoking cessation and weight reduction, alongside spine care. A 2011 consensus process in the chiropractic profession in the United States emphasised that wellness practice must include health promotion and education, and active strategies to foster positive changes in health behaviours. My own systematic review of regular chiropractic care, however, shows that the claimed effects are totally unproven.
One does not need to be overly critical to conclude from all this that the chiropractors surveyed in this investigation earn their daily bread mostly by being economical with the truth regarding the lack of evidence for their actions.
The safety of the manual treatments such as spinal manipulation is a frequent subject on this blog. Few experts would disagree with the argument that more good data are needed – and what could be better data than that coming from a randomised clinical trial (RCT)?
The aim of this RCT was to investigate differences in occurrence of adverse events between three different combinations of manual treatment techniques used by manual therapists (i.e. chiropractors, naprapaths, osteopaths, physicians and physiotherapists) for patients seeking care for back and/or neck pain.
Participants were recruited among patients seeking care at the educational clinic of the Scandinavian College of Naprapathic Manual Medicine in Stockholm. 767 patients were randomized to one of three treatment arms:
 manual therapy (i.e. spinal manipulation, spinal mobilization, stretching and massage) (n = 249),
 manual therapy excluding spinal manipulation (n = 258)
 manual therapy excluding stretching (n = 260).
Treatments were provided by students in the seventh semester (of total 8). Adverse events were monitored via a questionnaire after each return visit and categorized in to five levels:
short minor,
long minor,
short moderate,
long moderate,
serious
This was based on the duration and/or severity of the event.
The most common adverse events were soreness in muscles, increased pain and stiffness. No differences were found between the treatment arms concerning the occurrence of these adverse event. Fifty-one percent of patients, who received at least three treatments, experienced at least one adverse event after one or more visits. Women more often had short moderate adverse events, and long moderate adverse events than men.
The authors conclude that adverse events after manual therapy are common and transient. Excluding spinal manipulation or stretching do not affect the occurrence of adverse events. The most common adverse event is soreness in the muscles. Women reports more adverse events than men.
What on earth is naprapathy? I hear you ask. Here is a full explanation from a naprapathy website:
Naprapathy is a form of bodywork that is focused on the manual manipulation of the spine and connective tissue. Based on the fundamental principles of osteopathy and chiropractic techniques, naprapathy is a holistic and integrative approach to restoring whole health. In fact, naprapathy often incorporates multiple, complimentary therapies, such as massage, nutritional counseling, electrical muscle stimulation and low-level laser therapy.
Naprapathy also targets vertebral subluxations, or physical abnormalities present that suggest a misalignment or injury of the spinal vertebrae. This analysis is made by a physical inspection of the musculoskeletal system, as well as visual observation. The practitioner will also conduct a lengthy interview with the client to help determine stress level and nutritional status as well. An imbalance along one or more of these lines may signal trouble within the musculoskeletal structure.
The naprapathy practitioner is particularly skilled in identifying restricted or stressed components of the fascial system, or connective tissue. It is believed that where constriction of muscles, ligaments, and tendons exists, there is impaired blood flow and nerve functioning. Naprapathy attempts to correct these blockages through hands-on manipulation and stretching of connective tissue. However, since this discipline embodies a holistic approach, the naprapathy practitioner is also concerned with their client's emotional health. To that end, many practitioners are also trained in psychotherapy and even hypnotherapy.
So, now we know!
We also know that the manual therapies tested here cause adverse effects in about half of all patients. This figure ties in nicely with the ones we had regarding chiropractic: ~ 50% of all patients suffer mild to moderate adverse effects after chiropractic spinal manipulation which usually last 2-3 days and can be strong enough to affect their quality of life. In addition very serious complications have been noted which luckily seem to be much rarer events.
In my view, this raises the question: DO THESE TREATMENTS GENERATE MORE GOOD THAN HARM? I fail to see any good evidence to suggest that they do – but, of course, I would be more than happy to revise this verdict, provided someone shows me the evidence.
The dismal state of chiropractic research is no secret. But is anything being done about it? One important step would be to come up with a research strategy to fill the many embarrassing gaps in our knowledge about the validity of the concepts underlying chiropractic.
A brand-new article might be a step in the right direction. The aim of this survey was to identify chiropractors' priorities for future research in order to best channel the available resources and facilitate advancement of the profession. The researchers recruited 60 academic and clinician chiropractors who had attended any of the annual European Chiropractors' Union/European Academy of Chiropractic Researchers' Day meetings since 2008. A Delphi process was used to identify a list of potential research priorities. Initially, 70 research priorities were identified, and 19 of them reached consensus as priorities for future research. The following three items were thought to be most important:
 cost-effectiveness/economic evaluations,
 identification of subgroups likely to respond to treatment,
 initiation and promotion of collaborative research activities.
The authors state that this is the first formal and systematic attempt to develop a research agenda for the chiropractic profession in Europe. Future discussion and study is necessary to determine whether the themes identified in this survey should be broadly implemented.
Am I the only one who finds these findings extraordinary?
The chiropractic profession only recently lost the libel case against Simon Singh who had disclosed that chiropractors HAPPILY PROMOTE BOGUS TREATMENTS. One would have thought that this debacle might prompt the need for rigorous research testing the many unsubstantiated claims chiropractors still make. Alas, the collective chiropractic wisdom does not consider such research as a priority!
Similarly, I would have hoped that chiropractors perceive an urgency to investigate the safety of their treatments. Serious complications after spinal manipulation are well documented, and I would have thought that any responsible health care profession would consider it essential to generate reliable evidence on the incidence of such events.
The fact that these two areas are not considered to be priorities is revealing. In my view, it suggests that chiropractic is still very far from becoming a mature and responsible profession. It seems that chiropractors have not learned the most important lessons from recent events; on the contrary, they continue to bury their heads in the sand and carry on seeing research as a tool for marketing.
Informed consent is generally considered to be an essential precondition for any health care practice. It requires the clinician giving the patient full information about the condition and the possible treatments. Amongst other things, the following information may be needed:
the nature and prognosis of the condition,
the evidence regarding the efficacy and risks of the proposed treatment,
the evidence regarding alternative options.
Depending on the precise circumstances of the clinical situation, patient's consent can be given either in writing or orally. Not obtaining any form of informed consent is a violation of the most fundamental ethics of health care.
In alternative medicine, informed consent seems often to be woefully neglected. This may have more than one reason:
practitioners have frequently no adequate training in medical ethics,
there is no adequate regulation and control of alternative practitioners,
practitioners have conflicts of interest and might view informed consent as commercially counter-productive
In order to render this discussion less theoretical, I will outline several scenarios from the realm of chiropractic. Specifically, I will discuss the virtual case of an asthma patient consulting a chiropractor for alleviation of his symptoms. I should stress that I have chosen chiropractic merely as an example – the issues outlines below apply to chiropractic as much as they apply to most other forms of alternative medicine.
SCENARIO 1
Our patient has experienced breathing problems and has heard that chiropractors are able to help this kind of condition. He consults a 'straight' chiropractor who adheres to Palmer's gospel of 'subluxation'. She explains to the patient that chiropractors use a holistic approach. By adjusting subluxations in the spine, she is confident to stimulate healing which will naturally ease the patient's breathing problems. No conventional diagnosis is discussed, nor is there any mention of the prognosis, likelihood of benefit, risks of treatment and alternative therapeutic options.
SCENARIO 2
Our patient consults a chiropractor who does not fully believe in the 'subluxation' theory of chiropractic. She conducts a thorough examination of our patient's spine and diagnoses several spinal segments that are blocked. She tells our patient that he might be suffering from asthma and that spinal manipulation might remove the blockages and thus increase the mobility of the spine which, in turn, would alleviate his breathing problems. She does not mention risks of the proposed interventions nor other therapeutic options.
SCENARIO 3
Our patient visits a chiropractor who considers herself a back pain specialist. She takes a medical history and conducts a physical examination. Subsequently she informs the patient that her breathing problems could be due to asthma and that she is neither qualified nor equipped to ascertain this diagnosis. She tells out patient that chiropractic is not an effective treatment for asthma but that his GP would be able to firstly make a proper diagnosis and secondly prescribe the optimal treatment for her condition. She writes a short note summarizing her thoughts and hands it to our patient to give it to his GP.
One could think of many more scenarios but the three above seem to cover a realistic spectrum of what a patient might encounter in real life. It seems clear, that the chiropractor in scenario 1 and 2 failed dismally regarding informed consent. In other words, only scenario 3 describes a behaviour that is ethically acceptable.
But how likely is scenario 3? I fear that it is an extremely rare turn of events. Even if well-versed in both medical ethics and scientific evidence, a chiropractor might think twice about providing all the information required for informed consent – because, as scenario 3 demonstrates, full informed consent in chiropractic essentially discourages a patient from agreeing to be treated. In other words, chiropractors have a powerful conflict of interest which prevents them to adhere to the rules of informed consent.
AND, AS POINTED OUT ALREADY, THAT DOES NOT JUST APPLY TO CHIROPRACTIC, IT APPLIES TO MOST OF ALTERNATIVE MEDICINE! IT SEEMS TO FOLLOW, I FEAR, THAT MUCH OF ALTERNATIVE MEDICINE IS UNETHICAL.
Dutch neurologists recently described the case of a 63-year-old female patient presented at their outpatient clinic with a five-week history of severe postural headache, tinnitus and nausea. The onset of these symptoms was concurrent with chiropractic manipulation of the cervical spine which she had tried because of cervical pain.
Cranial MRI showed findings characteristic for intracranial hypotension syndrome. Cervical MRI revealed a large posterior dural tear at the level of C1-2. Following unsuccessful conservative therapy, the patient underwent a lumbar epidural blood patch after which she recovered rapidly.
The authors conclude that manipulation of the cervical spine can cause a dural tear and subsequently an intracranial hypotension syndrome. Postural headaches directly after spinal manipulation should therefore be a reason to suspect this complication. If conservative management fails, an epidural blood patch may be performed.
Quite obviously, this is sound advice that can save lives. The trouble, however, is that the chiropractic profession is, by and large, still in denial. A recent systematic review by a chiropractor included eight cases of intracranial hypotension (IH) and concluded that case reports on IH and spinal manipulative therapy (SMT) have very limited clinical details and therefore cannot exclude other theories or plausible alternatives to explain the IH. To date, the evidence that cervical SMT is not a cause of IH is inconclusive. Further research is required before making any conclusions that cervical SMT is a cause of IH. Chiropractors and other health practitioners should be vigilant in recording established risk factors for IH in all cases. It is possible that the published cases of cervical SMT and IH may have missed important confounding risk factors (e.g. a new headache, or minor neck trauma in young or middle-aged adults).
Instead of distracting us from the fact that chiropractic can lead to serious adverse events, chiropractors would be well-advised to face the music, admit that their treatments are not risk-free and conduct rigorous research with a view of minimizing the harm.
The purpose of this paper by Canadian chiropractors was to expand practitioners' knowledge on areas of liability when treating low back pain patients. Six cases where chiropractors in Canada were sued for allegedly causing or aggravating lumbar disc herniation after spinal manipulative therapy were retrieved using the CANLII database.
The patients were 4 men and 2 women with an average age of 37 years. Trial courts' decisions were rendered between 2000 and 2011. The following conclusions from Canadian courts were noted:
informed consent is an on-going process that cannot be entirely delegated to office personnel;
when the patient's history reveals risk factors for lumbar disc herniation the chiropractor has the duty to rule out disc pathology as an aetiology for the symptoms presented by the patients before beginning anything but conservative palliative treatment;
lumbar disc herniation may be triggered by spinal manipulative therapy on vertebral segments distant from the involved herniated disc such as the thoracic spine.
The fact that this article was published by chiropractors seems like a step into the right direction. Disc herniations after chiropractic have been reported regularly and since many years. It is not often that I hear chiropractors admit that their spinal manipulations carry serious risks.
And it is not often that chiropractors consider the issue of informed consent. One the one hand, one hardly can blame them for it: if they ever did take informed consent seriously and informed their patients fully about the evidence and risks of their treatments as well as those of other therapeutic options, they would probably be out of business for ever. One the other hand, chiropractors should not be allowed to continue excluding themselves from the generally accepted ethical standards of modern health care.
A meta-analysis compared the effectiveness of spinal manipulation therapies (SMT), medical management, physical therapies, and exercise for acute and chronic low back pain. Studies were chosen based on inclusion in prior evidence syntheses. Effect sizes were converted to standardized mean effect sizes and probabilities of recovery. Nested model comparisons isolated non-specific from treatment effects. Aggregate data were tested for evidential support as compared to shams.
The results suggest that, of 84% acute pain variance, 81% was from non-specific factors and 3% from treatment. No treatment was better than sham. Most acute results were within 95% confidence bands of that predicted by natural history alone. For chronic pain, 66% out of 98% was non-specific, but treatments influenced 32% of outcomes. Chronic pain treatments also fitted within 95% confidence bands as predicted by natural history. The evidential support for treating chronic back pain as compared to sham groups was weak, but chronic pain appeared to respond to SMT, while whole systems of chiropractic management did not.
The authors of this intriguing paper conclude: Meta-analyses can extract comparative effectiveness information from existing literature. The relatively small portion of outcomes attributable to treatment explains why past research results fail to converge on stable estimates. The probability of treatment superiority between treatment arms was equivalent to that expected by random selection. Treatments serve to motivate, reassure, and calibrate patient expectations – features that might reduce medicalization and augment self-care. Exercise with authoritative support is an effective strategy for acute and chronic low back pain.
This essentially indicates that none of these treatments for low back pain are convincingly effective. In turn this means we might as well stop using them. Alternatively, we could opt for the therapy that carries the least risks and cost. As the authors point out, this treatment is exercise.
Do you think that chiropractic is effective for asthma? I don't – in fact, I know it isn't because, in 2009, I have published a systematic review of the available RCTs which showed quite clearly that the best evidence suggested chiropractic was ineffective for that condition.
But this is clearly not true, might some enthusiasts reply. What is more, they can even refer to a 2010 systematic review which indicates that chiropractic is effective; its conclusions speak a very clear language: …the eight retrieved studies indicated that chiropractic care showed improvements in subjective measures and, to a lesser degree objective measures… How on earth can this be?
I would not be surprised, if chiropractors claimed the discrepancy is due to the fact that Prof Ernst is biased. Others might point out that the more recent review includes more studies and thus ought to be more reliable. The newer review does, in fact, have about twice the number of studies than mine.
How come? Were plenty of new RCTs published during the 12 months that lay between the two publications? The answer is NO. But why then the discrepant conclusions?
The answer is much less puzzling than you might think. The 'alchemists of alternative medicine' regularly succeed in smuggling non-evidence into such reviews in order to beautify the overall picture and confirm their wishful thinking. The case of chiropractic for asthma does by no means stand alone, but it is a classic example of how we are being misled by charlatans.
Anyone who reads the full text of the two reviews mentioned above will find that they do, in fact, include exactly the same amount of RCTs. The reason why they arrive at different conclusions is simple: the enthusiasts' review added NON-EVIDENCE to the existing RCTs. To be precise, the authors included one case series, one case study, one survey, two randomized controlled trials (RCTs), one randomized patient and observer blinded cross-over trial, one single blind cross study design, and one self-reported impairment questionnaire.
Now, there is nothing wrong with case reports, case series, or surveys – except THEY TELL US NOTHING ABOUT EFFECTIVENESS. I would bet my last shirt that the authors know all of that; yet they make fairly firm and positive conclusions about effectiveness. As the RCT-results collectively happen to be negative, they even pretend that case reports etc. outweigh the findings of RCTs.
And why do they do that? Because they are interested in the truth, or because they don't mind using alchemy in order to mislead us? Your guess is as good as mine.
Systematic reviews are widely considered to be the most reliable type of evidence for judging the effectiveness of therapeutic interventions. Such reviews should be focused on a well-defined research question and identify, critically appraise and synthesize the totality of the high quality research evidence relevant to that question. Often it is possible to pool the data from individual studies and thus create a new numerical result of the existing evidence; in this case, we speak of a meta-analysis, a sub-category of systematic reviews.
One strength of systematic review is that they minimise selection and random biases by considering at the totality of the evidence of a pre-defined nature and quality. A crucial precondition, however, is that the quality of the primary studies is critically assessed. If this is done well, the researchers will usually be able to determine how robust any given result is, and whether high quality trials generate similar findings as those of lower quality. If there is a discrepancy between findings from rigorous and flimsy studies, it is obviously advisable to trust the former and discard the latter.
And this is where systematic reviews of alternative treatments can run into difficulties. For any given research question in this area we usually have a paucity of primary studies. Equally important is the fact that many of the available trials tend to be of low quality. Consequently, there often is a lack of high quality studies, and this makes it all the more important to include a robust critical evaluation of the primary data. Not doing so would render the overall result of the review less than reliable – in fact, such a paper would not qualify as a systematic review at all; it would be a pseudo-systematic review, i.e. a review which pretends to be systematic but, in fact, is not. Such papers are a menace in that they can seriously mislead us, particularly if we are not familiar with the essential requirements for a reliable review.
This is precisely where some promoters of bogus treatments seem to see their opportunity of making their unproven therapy look as though it was evidence-based. Pseudo-systematic reviews can be manipulated to yield a desired outcome. In my last post, I have shown that this can be done by including treatments which are effective so that an ineffective therapy appears effective ("chiropractic is so much more than just spinal manipulation"). An even simpler method is to exclude some of the studies that contradict one's belief from the review. Obviously, the review would then not comprise the totality of the available evidence. But, unless the reader bothers to do a considerable amount of research, he/she would be highly unlikely to notice. All one needs to do is to smuggle the paper past the peer-review process – hardly a difficult task, given the plethora of alternative medicine journals that bend over backwards to publish any rubbish as long as it promotes alternative medicine.
Alternatively (or in addition) one can save oneself a lot of work and omit the process of critically evaluating the primary studies. This method is increasingly popular in alternative medicine. It is a fool-proof method of generating a false-positive overall result. As poor quality trials have a tendency to deliver false-positive results, it is obvious that a predominance of flimsy studies must create a false-positive result.
A particularly notorious example of a pseudo-systematic review that used this as well as most of the other tricks for misleading the reader is the famous 'systematic' review by Bronfort et al. It was commissioned by the UK GENERAL CHIROPRACTIC COUNCIL after the chiropractic profession got into trouble and was keen to defend those bogus treatments disclosed by Simon Singh. Bronfort and his colleagues thus swiftly published (of course, in a chiro-journal) an all-encompassing review attempting to show that, at least for some conditions, chiropractic was effective. Its lengthy conclusions seemed encouraging: Spinal manipulation/mobilization is effective in adults for: acute, subacute, and chronic low back pain; migraine and cervicogenic headache; cervicogenic dizziness; manipulation/mobilization is effective for several extremity joint conditions; and thoracic manipulation/mobilization is effective for acute/subacute neck pain. The evidence is inconclusive for cervical manipulation/mobilization alone for neck pain of any duration, and for manipulation/mobilization for mid back pain, sciatica, tension-type headache, coccydynia, temporomandibular joint disorders, fibromyalgia, premenstrual syndrome, and pneumonia in older adults. Spinal manipulation is not effective for asthma and dysmenorrhea when compared to sham manipulation, or for Stage 1 hypertension when added to an antihypertensive diet. In children, the evidence is inconclusive regarding the effectiveness for otitis media and enuresis, and it is not effective for infantile colic and asthma when compared to sham manipulation. Massage is effective in adults for chronic low back pain and chronic neck pain. The evidence is inconclusive for knee osteoarthritis, fibromyalgia, myofascial pain syndrome, migraine headache, and premenstrual syndrome. In children, the evidence is inconclusive for asthma and infantile colic. 
Chiropractors across the world cite this paper as evidence that chiropractic has at least some evidence base. What they omit to tell us (perhaps because they do not appreciate it themselves) is the fact that Bronfort et al
failed to formulate a focussed research question,
invented his own categories of inconclusive findings,
included all sorts of studies which had nothing to do with chiropractic,
and did not to make an assessment of the quality of the included primary studies they included in their review.
If, for a certain condition, three trials were included, for instance, two of which were positive but of poor quality and one was negative but of good quality, the authors would conclude that, overall, there is sound evidence.
Bronfort himself is, of course, more than likely to know all that (he has learnt his trade with an excellent Dutch research team and published several high quality reviews) - but his readers mostly don't. And for chiropractors, this 'systematic' review is now considered to be the most reliable evidence in their field.
Imagine a type of therapeutic intervention that has been shown to be useless. Let's take surgery, for instance. Imagine that research had established with a high degree of certainty that surgical operations are ineffective. Imagine further that surgeons, once they can no longer hide this evidence, argue that good surgeons do much more than just operate: surgeons wash their hands which effectively reduces the risk of infections, they prescribe medications, they recommend rehabilitative and preventative treatments, etc. All of these measures are demonstratively effective in their own right, never mind the actual surgery. Therefore, surgeons could argue that the things surgeons do are demonstrably effective and helpful, even though surgery itself would be useless in this imagined scenario.
I am, of course, not for a minute claiming that surgery is rubbish, but I have used this rather extreme example to expose the flawed argument that is often used in alternative medicine for white-washing bogus treatments. The notion is that, because a particular alternative health care profession employs not just one but multiple forms of treatments, it should not be judged by the effectiveness of its signature-therapy, particularly if it happens to be ineffective.
This type of logic seems nowhere more prevalent than in the realm of chiropractic. Its founding father, D.D. Palmer, dreamt up the bizarre notion that all human disease is caused by 'subluxations' which require spinal manipulation for returning the ill person to good health. Consequently, most chiropractors see spinal manipulation as a panacea and use this type of treatment for almost 100% of their patients. In other words, spinal manipulation is as much the hallmark-therapy for chiropractic as surgery is for surgeons.
When someone points out that, for this or that condition, spinal manipulation is not of proven effectiveness or even of proven ineffectiveness, chiropractors have in recent years taken to answering as outlined above; they might say: WE DO ALL SORTS OF OTHER THINGS TOO, YOU KNOW. FOR INSTANCE, WE EMPLOY OTHER MANUAL TECHNIQUES, GIVE LIFE-STYLE ADVICE AND USE NO END OF PHYSIOTHERAPEUTIC INTERVENTIONS. YOU CANNOT SAY THAT THESE APPROACHES ARE BOGUS. THEREFORE CHIROPRACTIC IS FAR FROM USELESS.
To increase the chances of convincing us with this notion, they have, in recent months, produced dozens of 'systematic reviews' which allegedly prove their point. Here are some of the conclusions from these articles which usually get published in chiro-journals:
The use of manual techniques on children with respiratory diseases seems to be beneficial.
The majority of the included trials appeared to indicate that the parents of infants receiving manipulative therapies reported fewer hours crying per day than parents whose infants did not, based on contemporaneous crying diaries, and this difference was statistically significant.
A limited amount of research has been published that supports a role for manual therapy in improving postural stability and balance.
…a trial of chiropractic care for sufferers of autism is prudent and warranted.
This study found a level of B or fair evidence for manual manipulative therapy of the shoulder, shoulder girdle, and/or the FKC combined with multimodal or exercise therapy for rotator cuff injuries/disorders, disease, or dysfunction.
Chiropractic care is an alternative approach to the care of the child with colic.
There is a baseline of evidence that suggests chiropractic care improves cervical range of motion (cROM) and pain in the management of whiplash-associated disorders.
Results of the eight retrieved studies indicated that chiropractic care showed improvements [for asthma].
Personally, I find this kind of 'logic' irritatingly illogical. If we accept it as valid, the boundaries between sense and nonsense disappear, and our tools of differentiating between quackery and ethical health care become blunt.
The next step could then even be to claim that a homeopathic hospital must be a good thing because some of its clinicians occasionally also prescribe non-homeopathic treatments.