charlatan
There is much debate about the usefulness of chiropractic. Specifically, many people doubt that their chiropractic spinal manipulations generate more good than harm, particularly for conditions which are not related to the spine. But do chiropractors treat such conditions frequently and, if yes, what techniques do they employ?
This investigation was aimed at describing the clinical practices of chiropractors in Victoria, Australia. It was a cross-sectional survey of 180 chiropractors in active clinical practice in Victoria who had been randomly selected from the list of 1298 chiropractors registered on Chiropractors Registration Board of Victoria. Twenty-four chiropractors were ineligible, 72 agreed to participate, and 52 completed the study.
Each participating chiropractor documented encounters with up to 100 consecutive patients. For each chiropractor-patient encounter, information collected included patient health profile, patient reasons for encounter, problems and diagnoses, and chiropractic care.
Data were collected on 4464 chiropractor-patient encounters between 11 December 2010 and 28 September 2012. In most (71%) cases, patients were aged 25-64 years; 1% of encounters were with infants. Musculoskeletal reasons for the consultation were described by patients at a rate of 60 per 100 encounters, while maintenance and wellness or check-up reasons were described at a rate of 39 per 100 encounters. Back problems were managed at a rate of 62 per 100 encounters.
The most frequent care provided by the chiropractors was spinal manipulative therapy and massage. The table shows the precise conditions treated
Distribution of problems managed (20 most frequent problems), as reported  by chiropractors
| | | | | |
| --- | --- | --- | --- | --- |
| Problem group | No. (%) of recorded diagnoses* (n = 5985) | Rate per 100 encounters (n = 4417) | 95% CI | ICC |
| Back problem | 2757 (46.07%) | 62.42 | (55.24–70.53) | 0.312 |
| Neck problem | 683 (11.41%) | 15.46 | (11.23–21.30) | 0.233 |
| Muscle problem | 434 (7.25%) | 9.83 | (6.64–14.55) | 0.207 |
| Health maintenance or preventive care | 254 (4.24%) | 5.75 | (3.24–10.22) | 0.251 |
| Back syndrome with radiating pain | 215 (3.59%) | 4.87 | (2.91–8.14) | 0.165 |
| Musculoskeletal symptom or complaint, or other | 219 (3.66%) | 4.96 | (2.39–10.28) | 0.350 |
| Headache | 179 (2.99%) | 4.05 | (2.87–5.71) | 0.053 |
| Sprain or strain of joint | 167 (2.79%) | 3.78 | (2.30–6.22) | 0.115 |
| Shoulder problem | 87 (1.45%) | 1.97 | (1.37–2.83) | 0.022 |
| Nerve-related problem | 62 (1.04%) | 1.40 | (0.72–2.75) | 0.072 |
| General symptom or complaint, other | 51 (0.85%) | 1.15 | (0.22–6.06) | 0.407 |
| Bursitis, tendinitis or synovitis | 47 (0.79%) | 1.06 | (0.71–1.60) | 0.011 |
| Kyphosis and scoliosis | 47 (0.79%) | 1.06 | (0.65–1.75) | 0.023 |
| Foot or toe symptom or complaint | 48 (0.80%) | 1.09 | (0.41–2.87) | 0.123 |
| Ankle problem | 46 (0.77%) | 1.04 | (0.40–2.69) | 0.112 |
| Osteoarthrosis, other (not spine) | 39 (0.65%) | 0.88 | (0.51–1.53) | 0.023 |
| Hip symptom or complaint | 35 (0.58%) | 0.79 | (0.53–1.19) | 0.006 |
| Leg or thigh symptom or complaint | 35 (0.58%) | 0.79 | (0.49–1.28) | 0.012 |
| Musculoskeletal injury | 33 (0.55%) | 0.75 | (0.45–1.24) | 0.013 |
| Depression | 29 (0.48%) | 0.66 | (0.10–4.23) | 0.288 |
These findings are impressive in that they suggest that most Australian chiropractors treat non-spinal conditions for which there is no evidence that the most frequently used interventions are effective. The treatments employed are depicted in this graph:
Distribution of techniques and care provided by chiropractors, with 95% CI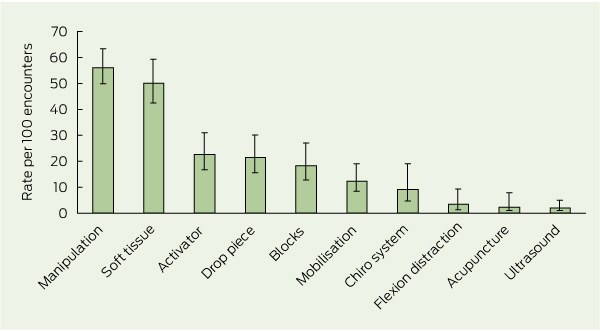 [Activator = hand-held spring-loaded device that delivers an impulse to the spine. Drop piece = chiropractic treatment table with a segmented drop system which quickly lowers the section of the patient's body corresponding with the spinal region being treated. Blocks = wedge-shaped blocks placed under the pelvis.
Chiro system = chiropractic system of care, eg, Applied Kinesiology, Sacro-Occipital Technique, Neuroemotional Technique. Flexion distraction = chiropractic treatment table that flexes in the middle to provide traction and mobilisation to the lumbar spine.]
There is no good evidence I know of demonstrating these techniques to be effective for the majority of the conditions listed in the above table.
A similar bone of contention is the frequent use of 'maintenance' and 'wellness' care. The authors of the article comment: The common use of maintenance and wellness-related terms reflects current debate in the chiropractic profession. "Chiropractic wellness care" is considered by an indeterminate proportion of the profession as an integral part of chiropractic practice, with the belief that regular chiropractic care may have value in maintaining and promoting health, as well as preventing disease. The definition of wellness chiropractic care is controversial, with some chiropractors promoting only spine care as a form of wellness, and others promoting evidence-based health promotion, eg, smoking cessation and weight reduction, alongside spine care. A 2011 consensus process in the chiropractic profession in the United States emphasised that wellness practice must include health promotion and education, and active strategies to foster positive changes in health behaviours. My own systematic review of regular chiropractic care, however, shows that the claimed effects are totally unproven.
One does not need to be overly critical to conclude from all this that the chiropractors surveyed in this investigation earn their daily bread mostly by being economical with the truth regarding the lack of evidence for their actions.
These days, there is so much hype about alternative cancer treatments that it is hard to find a cancer patient who is not tempted to try this or that alternative medicine. Often it is employed without the knowledge of the oncology team, solely on the advice of non-medically qualified practitioners (NMPs). But is that wise? The aim of this survey was to find out.
Members of several German NMP-associations were invited to complete an online questionnaire. The questionnaire explored areas such as the diagnosis and treatment, goals for using complementary/alternative medicine (CAM), communication with the oncologist, and sources of information.
Of a total of 1,500 members of the NMP associations, 299 took part in this survey. The results show that the treatments employed by NMPs were heterogeneous. Homeopathy was used by 45% of the NMPs, and 10% believed it to be a treatment directly against cancer. Herbal therapy, vitamins, orthomolecular medicine, ordinal therapy, mistletoe preparations, acupuncture, and cancer diets were used by more than 10% of the NMPs. None of the treatments were discussed with the respective physician on a regular basis.
The authors concluded from these findings that many therapies provided by NMPs are biologically based and therefore may interfere with conventional cancer therapy. Thus, patients are at risk of interactions, especially as most NMPs do not adjust their therapies to those of the oncologist. Moreover, risks may arise from these CAM methods as NMPs partly believe them to be useful anticancer treatments. This may lead to the delay or even omission of effective therapies.
Anyone faced with a diagnosis of CANCER is understandably keen to leave no stone unturned to bring about a cure of the disease. Many patients thus go on to the Internet and look what alternative options are on offer. There they find virtually millions of sites advertising thousands of bogus cancer 'cures'. Others consult their alternative practitioners and seek help. This new survey shows yet again that the advice they receive is dangerous. In fact, it might well be even more dangerous than the results imply: the response rate of the survey was dismal, and I fear that the less responsible NMPs tended not to reply.
None of the treatments listed above can cure cancer. For instance, homeopathy, the most popular alternative cancer treatment in Germany, will have no effect whatsoever on the natural history of the disease. To claim otherwise is criminally irresponsible.
But far too many patients are unaware of the evidence and of the dangers of being misled by bogus claims. What we need, I think, is a major campaign to get the word out. It would be a campaign that saves lives!
Fibromyalgia (FM) is a chronic condition which ruins the quality of life of many patients. It is also a domain of alternative medicine: dozens of different treatments are on offer - this is clearly a paradise for charlatans and bogus claims. So is there a treatment that is demonstrably effective? The purpose of this systematic review is to evaluate the evidence of massage therapy FM.
Electronic databases were searched to identify relevant studies. The main outcome measures were pain, anxiety, depression, and sleep disturbance. Two reviewers independently abstracted data and appraised risk of bias. The risk of bias of eligible studies was assessed based on Cochrane tools.
Nine randomized controlled trials involving 404 patients met the inclusion criteria. A meta-analyses showed that massage therapy with a duration of at least 5 weeks significantly improved pain , anxiety, and depression. Sleep disturbance was not improved by massage therapy.
The authors conclude that massage therapy with duration ≥5 weeks had beneficial immediate effects on improving pain, anxiety, and depression in patients with FM. Massage therapy should be one of the viable complementary and alternative treatments for FM. However, given fewer eligible studies in subgroup meta-analyses and no evidence on follow-up effects, large-scale randomized controlled trials with long follow-up are warrant to confirm the current findings.
To put these results into context, we need to consider the often poor methodological quality of the primary studies. It is, of course, not easy to test massage therapy in rigorous trials. For instance, there is no obvious placebo, and we can therefore not be sure whether the treatment benefits patients through a specific effect or whether non-specific effects are the cause of the improvement.
We also should be aware of the facts that for most other alternative therapies the evidence is not encouraging, and that massage therapy is relatively safe. Therefore the conclusion for those who suffer from FM might well be that massage therapy is worth a try.
Indian researchers published a survey aimed at determining the practice of prescription by homeopathic undergraduate students. A cross-sectional study was carried out involving all the students from 4 government homeopathic schools of West Bengal, India. Data were collected using self-administered questionnaires.
A total of 328 forms were completed. 80.5% of all homeopathic undergraduate students admitted prescribing homeopathic medicines independently and 40.5% said that they did this 2-3 times a year. The most common reasons for this activity were 'urgency of the problem' (35.2%), 'previous experience with same kind of illness' (31.8%), and 'the problem too trivial to go to a doctor' (25.8%). About 63.4% of the students thought that it was alright to independently diagnose an illness, while 51.2% thought that it was alright for them to prescribe medicines to others. Common conditions encountered were fever, indigestion, and injury. Prescription by students gradually increased with academic years of homeopathic schools. Many students thought it was alright for students to diagnose and treat illnesses.
The authors conclude that prescription of medicines by homeopathic undergraduate students is quite rampant and corrective measures are warranted.
It's hard to know whether to laugh or cry about these findings:
If you are a homeopath, you ought to be upset to hear that students who are obviously neither fully trained, qualified or licensed already prescribe medicines.
If you are aware of the fact that homeopathic remedies are pure placebos, you might laugh about all this thinking "who cares?"
If you are into public health, you will worry that homeopaths are obviously being taught that homeopathic remedies can treat conditions which are considered to be urgent.
If you are someone who believes that sick people need evidence-based treatments, you might want to change the authors' conclusion into something like: prescription of medicines by homeopaths is quite rampant and, in the interest of patients, corrective measures are required to stop them.
The aim of this survey was to investigate the use of alternative medicines (AMs) by Scottish healthcare professionals involved in the care of pregnant women, and to identify predictors of usage.
135 professionals (midwives, obstetricians, anaesthetists) involved in the care of pregnant women filled a questionnaire. A response rate of 87% was achieved. A third of respondents (32.5%) had recommended (prescribed, referred, or advised) the use of AMs to pregnant women. The most frequently recommended AMs modalities were: vitamins and minerals (excluding folic acid) (55%); massage (53%); homeopathy (50%); acupuncture (32%); yoga (32%); reflexology (26%); aromatherapy (24%); and herbal medicine (21%). Univariate analysis identified that those who recommended AMs were significantly more likely to be midwives who had been in post for more than 5 years, had received training in AMs, were interested in AMs, and were themselves users of AMs. However, the only variable retained in bivariate logistic regression was 'personal use of AM' (odds ratio of 8.2).
The authors draw the following conclusion: Despite the lack of safety or efficacy data, a wide variety of AM therapies are recommended to pregnant women by approximately a third of healthcare professionals, with those recommending the use of AMs being eight times more likely to be personal AM users.
There are virtually thousands of websites which recommend unproven treatments to pregnant women. This one may stand for the rest:
Chamomile, lemon balm, peppermint, and raspberry leaf are also effective in treating morning sickness. Other helpful herbs for pregnancy discomforts include:
dandelion leaf for water retention
lavender, mint, and slippery elm for heartburn
butcher's broom, hawthorn, and yarrow, applied externally to varicose veins
garlic for high blood pressure
witch hazel, applied externally to haemorrhoids.
Our research has shown that midwives are particularly keen to recommend and often sell AMs to their patients. In fact, it would be difficult to find a midwife in the UK or elsewhere who is not involved in this sort of thing. Similarly, we have demonstrated that the advice given by herbalists is frequently not based on evidence and prone to harm the unborn child, the mother or both. Finally, we have pointed out that many of the AMs in question are by no means free of risks.
The most serious risk, I think, is that advice to use AM for health problems during pregnancy might delay adequate care for potentially serious conditions. For instance, the site quoted above advocates garlic for a pregnant women who develops high blood pressure during pregnancy and dandelion for water retention. These two abnormalities happen to be early signs that a pregnant women might be starting to develop eclampsia. Treating such serious conditions with a few unproven herbal remedies is dangerous and recommendations to do so are irresponsible.
I think the new survey discussed above suggests a worrying degree of sympathy amongst conventional healthcare professionals for unproven treatments. This is likely to render healthcare less effective and less safe and is not in the interest of patients.
Do you think that chiropractic is effective for asthma? I don't – in fact, I know it isn't because, in 2009, I have published a systematic review of the available RCTs which showed quite clearly that the best evidence suggested chiropractic was ineffective for that condition.
But this is clearly not true, might some enthusiasts reply. What is more, they can even refer to a 2010 systematic review which indicates that chiropractic is effective; its conclusions speak a very clear language: …the eight retrieved studies indicated that chiropractic care showed improvements in subjective measures and, to a lesser degree objective measures… How on earth can this be?
I would not be surprised, if chiropractors claimed the discrepancy is due to the fact that Prof Ernst is biased. Others might point out that the more recent review includes more studies and thus ought to be more reliable. The newer review does, in fact, have about twice the number of studies than mine.
How come? Were plenty of new RCTs published during the 12 months that lay between the two publications? The answer is NO. But why then the discrepant conclusions?
The answer is much less puzzling than you might think. The 'alchemists of alternative medicine' regularly succeed in smuggling non-evidence into such reviews in order to beautify the overall picture and confirm their wishful thinking. The case of chiropractic for asthma does by no means stand alone, but it is a classic example of how we are being misled by charlatans.
Anyone who reads the full text of the two reviews mentioned above will find that they do, in fact, include exactly the same amount of RCTs. The reason why they arrive at different conclusions is simple: the enthusiasts' review added NON-EVIDENCE to the existing RCTs. To be precise, the authors included one case series, one case study, one survey, two randomized controlled trials (RCTs), one randomized patient and observer blinded cross-over trial, one single blind cross study design, and one self-reported impairment questionnaire.
Now, there is nothing wrong with case reports, case series, or surveys – except THEY TELL US NOTHING ABOUT EFFECTIVENESS. I would bet my last shirt that the authors know all of that; yet they make fairly firm and positive conclusions about effectiveness. As the RCT-results collectively happen to be negative, they even pretend that case reports etc. outweigh the findings of RCTs.
And why do they do that? Because they are interested in the truth, or because they don't mind using alchemy in order to mislead us? Your guess is as good as mine.
Systematic reviews are widely considered to be the most reliable type of evidence for judging the effectiveness of therapeutic interventions. Such reviews should be focused on a well-defined research question and identify, critically appraise and synthesize the totality of the high quality research evidence relevant to that question. Often it is possible to pool the data from individual studies and thus create a new numerical result of the existing evidence; in this case, we speak of a meta-analysis, a sub-category of systematic reviews.
One strength of systematic review is that they minimise selection and random biases by considering at the totality of the evidence of a pre-defined nature and quality. A crucial precondition, however, is that the quality of the primary studies is critically assessed. If this is done well, the researchers will usually be able to determine how robust any given result is, and whether high quality trials generate similar findings as those of lower quality. If there is a discrepancy between findings from rigorous and flimsy studies, it is obviously advisable to trust the former and discard the latter.
And this is where systematic reviews of alternative treatments can run into difficulties. For any given research question in this area we usually have a paucity of primary studies. Equally important is the fact that many of the available trials tend to be of low quality. Consequently, there often is a lack of high quality studies, and this makes it all the more important to include a robust critical evaluation of the primary data. Not doing so would render the overall result of the review less than reliable – in fact, such a paper would not qualify as a systematic review at all; it would be a pseudo-systematic review, i.e. a review which pretends to be systematic but, in fact, is not. Such papers are a menace in that they can seriously mislead us, particularly if we are not familiar with the essential requirements for a reliable review.
This is precisely where some promoters of bogus treatments seem to see their opportunity of making their unproven therapy look as though it was evidence-based. Pseudo-systematic reviews can be manipulated to yield a desired outcome. In my last post, I have shown that this can be done by including treatments which are effective so that an ineffective therapy appears effective ("chiropractic is so much more than just spinal manipulation"). An even simpler method is to exclude some of the studies that contradict one's belief from the review. Obviously, the review would then not comprise the totality of the available evidence. But, unless the reader bothers to do a considerable amount of research, he/she would be highly unlikely to notice. All one needs to do is to smuggle the paper past the peer-review process – hardly a difficult task, given the plethora of alternative medicine journals that bend over backwards to publish any rubbish as long as it promotes alternative medicine.
Alternatively (or in addition) one can save oneself a lot of work and omit the process of critically evaluating the primary studies. This method is increasingly popular in alternative medicine. It is a fool-proof method of generating a false-positive overall result. As poor quality trials have a tendency to deliver false-positive results, it is obvious that a predominance of flimsy studies must create a false-positive result.
A particularly notorious example of a pseudo-systematic review that used this as well as most of the other tricks for misleading the reader is the famous 'systematic' review by Bronfort et al. It was commissioned by the UK GENERAL CHIROPRACTIC COUNCIL after the chiropractic profession got into trouble and was keen to defend those bogus treatments disclosed by Simon Singh. Bronfort and his colleagues thus swiftly published (of course, in a chiro-journal) an all-encompassing review attempting to show that, at least for some conditions, chiropractic was effective. Its lengthy conclusions seemed encouraging: Spinal manipulation/mobilization is effective in adults for: acute, subacute, and chronic low back pain; migraine and cervicogenic headache; cervicogenic dizziness; manipulation/mobilization is effective for several extremity joint conditions; and thoracic manipulation/mobilization is effective for acute/subacute neck pain. The evidence is inconclusive for cervical manipulation/mobilization alone for neck pain of any duration, and for manipulation/mobilization for mid back pain, sciatica, tension-type headache, coccydynia, temporomandibular joint disorders, fibromyalgia, premenstrual syndrome, and pneumonia in older adults. Spinal manipulation is not effective for asthma and dysmenorrhea when compared to sham manipulation, or for Stage 1 hypertension when added to an antihypertensive diet. In children, the evidence is inconclusive regarding the effectiveness for otitis media and enuresis, and it is not effective for infantile colic and asthma when compared to sham manipulation. Massage is effective in adults for chronic low back pain and chronic neck pain. The evidence is inconclusive for knee osteoarthritis, fibromyalgia, myofascial pain syndrome, migraine headache, and premenstrual syndrome. In children, the evidence is inconclusive for asthma and infantile colic. 
Chiropractors across the world cite this paper as evidence that chiropractic has at least some evidence base. What they omit to tell us (perhaps because they do not appreciate it themselves) is the fact that Bronfort et al
failed to formulate a focussed research question,
invented his own categories of inconclusive findings,
included all sorts of studies which had nothing to do with chiropractic,
and did not to make an assessment of the quality of the included primary studies they included in their review.
If, for a certain condition, three trials were included, for instance, two of which were positive but of poor quality and one was negative but of good quality, the authors would conclude that, overall, there is sound evidence.
Bronfort himself is, of course, more than likely to know all that (he has learnt his trade with an excellent Dutch research team and published several high quality reviews) - but his readers mostly don't. And for chiropractors, this 'systematic' review is now considered to be the most reliable evidence in their field.
Steve Scrutton is a UK homeopath on a mission; he seems to want to promote homeopathy at all cost - so much so that he recently ran into trouble with the ASA for breaching CAP Code (Edition 12) rules 3.1 and 3.3 (Misleading advertising), 3.7 (Substantiation) and 12.1, 12.2 and 12.6 (Medicines, medical devices, health-related products and beauty products). Scrutton happens to be a Director of the 'ALLIANCE OF REGISTERED HOMEOPATHS' (ARH) which represents nearly 700 homeopaths in the UK. On one of his websites, he promotes homeopathy as a treatment and prevention for measles:
Many homeopaths feel that it is better for children, who are otherwise healthy, to contract measles naturally. Homeopathy is less concerned with doing this as it has remedies to treat measles, especially if it persists, or become severe.Other homeopaths will use the measles nosode, Morbillinum, for prevention.Homeopaths have been treating measles for over 200 years with success.
The main remedies used for the condition, according to Scrutton, are the following: Aconite, Belladonna, Gelsemium, Euphrasia, Bryonia, Pulsatilla, Kali Bich, Sulphur, Apis Mel or Arsenicum – depending on the exact set of presenting symptoms.
At the very end of this revealing post, Scrutton makes the following statement: To my knowledge, there have been no RCTs conducted on either the prevention or treatment of Measles with Homeopathy. However, homeopaths have been treating Measles safely and effectively since the early 19th Century, and through many serious epidemics throughout the world.
Why would anyone write such dangerous nonsense, particularly in the position of a director of the ARH? There can, in my view be only one answer: he must be seriously deluded and bar any knowledge what sound medical evidence looks like. One of his articles seems to confirm this suspicion; in 2008, Scrutton wrote: What 'scientific' medicine does not like about homeopathy is not the lack of an evidence base – it is the ability to help people get well – and perhaps even more important, we can do it safely.
Intriguingly, the ARH has a code of ethics which states that members must not claim or imply, orally or in writing, to be able to cure any named disease and that they should be aware of the extent and limits of their clinical skills.
Could it be that a director of the ARH violates his own code of ethics?
I am sure, we have all heard it hundreds of times: THERE ARE IMPORTANT LINKS BETWEEN OUR DIET AND CERTAIN CANCERS. The evidence for this statement seems fairly compelling. Yet it also is complex and often confusing.
A recent review, for instance, suggested that fruits (particularly citrus) and vegetable consumption may be beneficial in the primary prevention of pancreatic cancer, the consumption of whole grains has been shown to reduce the risk and fortification of whole grains with folate may confer further protection. Red meat, cooked at high temperatures, should be avoided, and replaced with poultry or fish. Total fat should be reduced. The use of curcumin and other flavonoids should be encouraged in the diet. Another equally recent review, however, indicated that there is no conclusive evidence as an independent risk factor for isolated nutrients versus adoption of dietary patterns for cancer risk. Cancer colon risk derived from meat intake is influenced by both total intake and its frequency. The interaction of phenolic compounds on metabolic and signalling pathways seems to exert an inhibitory effect on cell proliferation and tumor metastasis and induces apoptosis in various types of cancer cells, including colon, lung, prostate, hepatocellular or breast cancer. A third recent review concluded that cruciferous vegetable intake protects against cancer of the colon, while a forth review suggested that the Mediterranean dietary pattern and diets composed largely of vegetables, fruit, fish, and soy are associated with a decreased risk of breast cancer. There was no evidence of an association between traditional dietary patterns and risk of breast cancer.
Not least based on these mixed messages from the scientific literature, an entire industry has developed selling uncounted alternative cancer-diets and dietary supplements to desperate patients and consumers. They promise much more than just cancer prevention, in fact, leave little doubt about the notion that cancer might be curable by diet. Here are just a few quotes from the thousands of websites promoting alternative cancer diets:
Confused? Yes, I do worry how many cancer patients listen to these claims and pin their hopes on one of these diets. But what exactly does the evidence tell us about them?
A German team of researchers evaluated the following alternative cancer-diets: raw vegetables and fruits, alkaline diet, macrobiotics, Gerson's regime, Budwig's and low carbohydrate or ketogenic diet. Their extensive searches of the published literature failed to find clinical evidence supporting any of the diets. Furthermore, case reports and pre-clinical data pointed to the potential harm of some of these diets. The authors concluded that considering the lack of evidence of benefits from cancer diets and potential harm by malnutrition, oncologists should engage more in counselling cancer patients on such diets.
In other words, alternative cancer diets – and I mean not just the ones mentioned above, but all of them – are not supported by good evidence for efficacy as a treatment or prevention of any type of cancer. In addition, they might also cause harm.
What follows is obvious: cancer patients should take sound nutritional advice and adopt a healthy general life-style. But they should run a mile as soon as anyone suggests an alternative dietary cure for their disease.
Visceral Manipulation (VM) was developed by the French Osteopath and Physical Therapist Jean-Pierre Barral. According to uncounted Internet-sites, books and other promotional literature, VM is a miracle cure for just about every disease imaginable. On one of his many websites, Barral claims that: Comparative Studies found Visceral Manipulation Beneficial for Various Disorders
Acute Disorders Whiplash Seatbelt Injuries Chest or Abdominal Sports Injuries
Digestive Disorders Bloating and Constipation Nausea and Acid Reflux GERD Swallowing Dysfunctions
Women's and Men's Health Issues Chronic Pelvic Pain Endometriosis Fibroids and Cysts Dysmenorrhea Bladder Incontinence Prostate Dysfunction Referred Testicular Pain Effects of Menopause
Emotional Issues Anxiety and Depression Post-Traumatic Stress Disorder
Musculoskeletal Disorders Somatic-Visceral Interactions Chronic Spinal Dysfunction Headaches and Migraines Carpal Tunnel Syndrome Peripheral Joint Pain Sciatica
Pain Related to Post-operative Scar Tissue Post-infection Scar Tissue Autonomic Mechanisms
Pediatric Issues Constipation and Gastritis Persistent Vomiting Vesicoureteral Reflux Infant Colic
This sounds truly wonderful, and we want to learn more. The text goes on to explain that:
VM assists functional and structural imbalances throughout the body including musculoskeletal, vascular, nervous, urogenital, respiratory, digestive and lymphatic dysfunction. It evaluates and treats the dynamics of motion and suspension in relation to organs, membranes, fascia and ligaments. VM increases proprioceptive communication within the body, thereby revitalizing a person and relieving symptoms of pain, dysfunction, and poor posture.
Fascinating! Sceptics might think that such phraseology is a prime example of pseudo-scientific gobbledegook – but wait:
An integrative approach to evaluation and treatment of a patient requires assessment of the structural relationships between the viscera, and their fascial or ligamentous attachments to the musculoskeletal system. Strains in the connective tissue of the viscera can result from surgical scars, adhesions, illness, posture or injury. Tension patterns form through the fascial network deep within the body, creating a cascade of effects far from their sources for which the body will have to compensate. This creates fixed, abnormal points of tension that the body must move around, and this chronic irritation gives way to functional and structural problems.
Imagine an adhesion around the lungs. It would create a modified axis that demands abnormal accommodations from nearby body structures. For example, the adhesion could alter rib motion, which could then create imbalanced forces on the vertebral column and, with time, possibly develop a dysfunctional relationship with other structures. This scenario highlights just one of hundreds of possible ramifications of a small dysfunction – magnified by thousands of repetitions each day….the sinuvertebral nerves innervate the intervertebral disks and have direct connections with the sympathetic nervous system, which innervates the visceral organs. The sinuvertebral nerves and sympathetic nervous system are linked to the spinal cord, which has connections with the brain. In this way someone with chronic pain can have irritations and facilitated areas not only in the musculoskeletal system (including joints, muscles, fascia, and disks) but also the visceral organs and their connective tissues (including the liver, stomach, gallbladder, intestines and adrenal glands), the peripheral nervous system, the sympathetic nervous system and even the spinal cord and brain….
Visceral Manipulation is based on the specific placement of soft manual forces to encourage the normal mobility, tone and motion of the viscera and their connective tissues. These gentle manipulations can potentially improve the functioning of individual organs, the systems the organs function within, and the structural integrity of the entire body….Visceral Manipulation works only to assist the forces already at work. Because of that, trained therapists can be sure of benefiting the body rather than adding further injury or disorganization.
By now, we are all wondering how Barral was able to dream up this truly fantastic panacea. Reading on, we learn that it was not 'dreamt up' at all – it was developed through painstaking research and rigorous science:
Jean-Pierre Barral first became interested in biomechanics while working as a registered physical therapist of the Lung Disease Hospital in Grenoble, France. That's where he met Dr. Arnaud, a recognized specialist in lung diseases and a master of cadaver dissection. Working with Dr. Arnaud, Barral followed patterns of stress in the tissues of cadavers and studied biomechanics in living subjects. This introduced him to the visceral system, its potential to promote lines of tension within the body, and the notion that tissues have memory. All this was fundamental to his development of Visceral Manipulation. In 1974, Barral earned his diploma in osteopathic medicine from the European School of Osteopathy in Maidstone, England. Working primarily with articular and structural manipulation, he began forming the basis for Visceral Manipulation during an unusual session with a patient he'd been treating with spinal manipulations.
During the preliminary examination, Barral was surprised to find appreciable movement. The patient confirmed that he felt relief from his back pain after going to an "old man who pushed something in his abdomen."
This incident piqued Barral's interest in the relationship between the viscera and the spine. That's when he began exploring stomach manipulations with several patients, with successful results gradually leading him to develop Visceral Manipulation. Between 1975 and 1982, Barral taught spinal biomechanics at England's European School of Osteopathy. In collaboration with Dr. Jean-Paul Mathieu and Dr. Pierre Mercier, he published Articular Vertebrae Diagnosis.
With all this serious science, we are, of course, keen to learn about the studies of VM published in peer-reviewed journals. Amazingly, there seems to be an acute shortage of that sort of thing. You can buy many books by Barral, but to the best of my knowledge, there are no studies of VM by Barral or anyone else in medical journals. My own searches resulted in precisely zero papers, and Medline returns not a single article of Barral J-P on VM, osteopathy or manipulation.
This is odd, I must say!
Could all this important-sounding scientific (some might say pseudo-scientific) text be a complete fake? Where are the 'COMPARATIVE STUDIES' mentioned above? Could it be that VM is nothing more than a rip-off for gullible half-wits?
I really cannot imagine - after all, VM is even being taught at some universities! And one could never make all this up; that would be dishonest!!!
I hope my readers can point me to the proper science of VM and thus put my suspicions to rest.