alternative medicine
There is much debate about the usefulness of chiropractic. Specifically, many people doubt that their chiropractic spinal manipulations generate more good than harm, particularly for conditions which are not related to the spine. But do chiropractors treat such conditions frequently and, if yes, what techniques do they employ?
This investigation was aimed at describing the clinical practices of chiropractors in Victoria, Australia. It was a cross-sectional survey of 180 chiropractors in active clinical practice in Victoria who had been randomly selected from the list of 1298 chiropractors registered on Chiropractors Registration Board of Victoria. Twenty-four chiropractors were ineligible, 72 agreed to participate, and 52 completed the study.
Each participating chiropractor documented encounters with up to 100 consecutive patients. For each chiropractor-patient encounter, information collected included patient health profile, patient reasons for encounter, problems and diagnoses, and chiropractic care.
Data were collected on 4464 chiropractor-patient encounters between 11 December 2010 and 28 September 2012. In most (71%) cases, patients were aged 25-64 years; 1% of encounters were with infants. Musculoskeletal reasons for the consultation were described by patients at a rate of 60 per 100 encounters, while maintenance and wellness or check-up reasons were described at a rate of 39 per 100 encounters. Back problems were managed at a rate of 62 per 100 encounters.
The most frequent care provided by the chiropractors was spinal manipulative therapy and massage. The table shows the precise conditions treated
Distribution of problems managed (20 most frequent problems), as reported  by chiropractors
| | | | | |
| --- | --- | --- | --- | --- |
| Problem group | No. (%) of recorded diagnoses* (n = 5985) | Rate per 100 encounters (n = 4417) | 95% CI | ICC |
| Back problem | 2757 (46.07%) | 62.42 | (55.24–70.53) | 0.312 |
| Neck problem | 683 (11.41%) | 15.46 | (11.23–21.30) | 0.233 |
| Muscle problem | 434 (7.25%) | 9.83 | (6.64–14.55) | 0.207 |
| Health maintenance or preventive care | 254 (4.24%) | 5.75 | (3.24–10.22) | 0.251 |
| Back syndrome with radiating pain | 215 (3.59%) | 4.87 | (2.91–8.14) | 0.165 |
| Musculoskeletal symptom or complaint, or other | 219 (3.66%) | 4.96 | (2.39–10.28) | 0.350 |
| Headache | 179 (2.99%) | 4.05 | (2.87–5.71) | 0.053 |
| Sprain or strain of joint | 167 (2.79%) | 3.78 | (2.30–6.22) | 0.115 |
| Shoulder problem | 87 (1.45%) | 1.97 | (1.37–2.83) | 0.022 |
| Nerve-related problem | 62 (1.04%) | 1.40 | (0.72–2.75) | 0.072 |
| General symptom or complaint, other | 51 (0.85%) | 1.15 | (0.22–6.06) | 0.407 |
| Bursitis, tendinitis or synovitis | 47 (0.79%) | 1.06 | (0.71–1.60) | 0.011 |
| Kyphosis and scoliosis | 47 (0.79%) | 1.06 | (0.65–1.75) | 0.023 |
| Foot or toe symptom or complaint | 48 (0.80%) | 1.09 | (0.41–2.87) | 0.123 |
| Ankle problem | 46 (0.77%) | 1.04 | (0.40–2.69) | 0.112 |
| Osteoarthrosis, other (not spine) | 39 (0.65%) | 0.88 | (0.51–1.53) | 0.023 |
| Hip symptom or complaint | 35 (0.58%) | 0.79 | (0.53–1.19) | 0.006 |
| Leg or thigh symptom or complaint | 35 (0.58%) | 0.79 | (0.49–1.28) | 0.012 |
| Musculoskeletal injury | 33 (0.55%) | 0.75 | (0.45–1.24) | 0.013 |
| Depression | 29 (0.48%) | 0.66 | (0.10–4.23) | 0.288 |
These findings are impressive in that they suggest that most Australian chiropractors treat non-spinal conditions for which there is no evidence that the most frequently used interventions are effective. The treatments employed are depicted in this graph:
Distribution of techniques and care provided by chiropractors, with 95% CI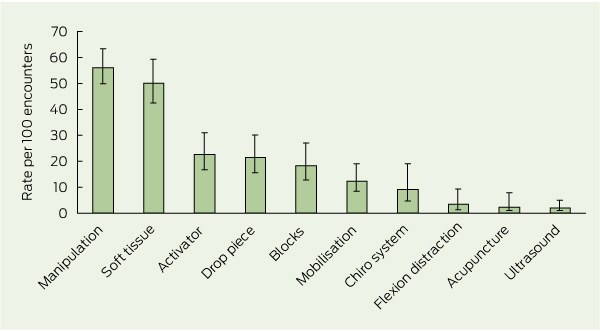 [Activator = hand-held spring-loaded device that delivers an impulse to the spine. Drop piece = chiropractic treatment table with a segmented drop system which quickly lowers the section of the patient's body corresponding with the spinal region being treated. Blocks = wedge-shaped blocks placed under the pelvis.
Chiro system = chiropractic system of care, eg, Applied Kinesiology, Sacro-Occipital Technique, Neuroemotional Technique. Flexion distraction = chiropractic treatment table that flexes in the middle to provide traction and mobilisation to the lumbar spine.]
There is no good evidence I know of demonstrating these techniques to be effective for the majority of the conditions listed in the above table.
A similar bone of contention is the frequent use of 'maintenance' and 'wellness' care. The authors of the article comment: The common use of maintenance and wellness-related terms reflects current debate in the chiropractic profession. "Chiropractic wellness care" is considered by an indeterminate proportion of the profession as an integral part of chiropractic practice, with the belief that regular chiropractic care may have value in maintaining and promoting health, as well as preventing disease. The definition of wellness chiropractic care is controversial, with some chiropractors promoting only spine care as a form of wellness, and others promoting evidence-based health promotion, eg, smoking cessation and weight reduction, alongside spine care. A 2011 consensus process in the chiropractic profession in the United States emphasised that wellness practice must include health promotion and education, and active strategies to foster positive changes in health behaviours. My own systematic review of regular chiropractic care, however, shows that the claimed effects are totally unproven.
One does not need to be overly critical to conclude from all this that the chiropractors surveyed in this investigation earn their daily bread mostly by being economical with the truth regarding the lack of evidence for their actions.
The Australian 'NATIONAL HEALTH AND MEDICAL RESEARCH COUNCIL' (NHMRC) has assessed the effectiveness of homeopathy. The evaluation looks like the most comprehensive and most independent in the history of homeopathy. Its draft report has just been released and concludes that "the evidence from research in humans does not show that homeopathy is effective for treating the range of health conditions considered."
Not for a single health conditions was there reliable evidence that homeopathy was effective. No rigorous studies reported either that homeopathy caused greater health improvements than a placebo, or that homeopathy caused health improvements equal to those of another treatment.
The overview considered a total of 57 systematic reviews that assessed the effectiveness of homeopathy for 61 different health conditions.
The draft report presents the evidence according to 4 different categories:
1)
Homeopathy was reported to be not more effective than placebo in either all the studies found, or in a large majority of the reliable studies for the treatment of the following health conditions:
adenoid vegetation in children
asthma
anxiety or stress-related conditions
diarrhoea in children
headache and migraine
muscle soreness
labour
pain due to dental work
pain due to orthopaedic surgery
postoperative ileus
premenstrual syndrome
upper respiratory tract infections
warts.
2)
For the following condition, although some studies reported that homeopathy was more effective than placebo, trials were not reliable and homeopathy was therefore judged to be no more effective than placebo:
allergic rhinitis
attention deficit/hyperactivity disorder
bruising
chronic fatigue syndrome
diarrhoea in children
fibromyalgia
hot flushes in women who have had breast cancer
human immunodeficiency virus infection
influenza-like illness
rheumatoid arthritis
sinusitis
sleep disturbances or circadian rhythm disturbances
stomatitis  due to chemotherapy
ulcers.
3)
For the following conditions, although some studies reported that homeopathy was as effective as or more effective than another treatment, trials were not reliable:
acute otitis media or otitis media with effusion
allergic rhinitis
anxiety or stress-related conditions
depression
eczema
non-allergic rhinitis
osteoarthritis
upper respiratory tract infection
4)
There was no reliable evidence on which to draw a conclusion about the effectiveness of homeopathy, compared with placebo, for the treatment of the following health conditions:
acne vulgaris
acute otitis media in children
acute ankle sprain
acute trauma
amoebiasis and giardiasis
ankylosing spondylitis
boils and pyoderma
Broca's aphasia after stroke
bronchitis
cholera
cough
chronic polyarthritis
dystocia
eczema
heroin addiction
knee joint haematoma
lower back pain
nausea and vomiting associated with chemotherapy
oral lichen planus
osteoarthritis
proctocolitis
postoperative pain-agitation syndrome
radiodermatitis in women with breast cancer
seborrhoeic dermatitis
suppression of lactation after childbirth
stroke
traumatic brain injury
uraemic pruritis
vein problems due to cannulas in people receiving chemotherapy.
5)
There was no reliable evidence on which to draw a conclusion about the effectiveness of homeopathy compared with other therapies for the treatment of the following health conditions:
burns
fibromyalgia
irritable bowel syndrome
malaria
proctocolitis
recurrent vulvovaginal candidiasis
rheumatoid arthritis.
The authors of the report now invite comments from interested parties. This means that homeopaths across the world can submit evidence which they feel has been ignored. It will be fascinating to see whether this changes the conclusion of the NHMRC's assessment.
It is almost 10 years ago that Prof Kathy Sykes' BBC series entitled ALTERNATIVE MEDICINE was aired. I had been hired by the BBC as their advisor for the programme and had tried my best to iron out the many mistakes that were about to be broadcast. But the scope for corrections turned out to be narrow and, at one stage, the errors seemed too serious and too far beyond repair to continue with my task. I had thus offered my resignation from this post. Fortunately this move led to some of my concerns being addressed after all, and they convinced me to remain in post.
The first part of the series was on acupuncture, and Kathy presented the opening scene of a young women undergoing open heart surgery with the aid of acupuncture. All the BBC had ever shown me and asked me to advise on was the text – I had never seen the images. Kathy's text included the statement that the patient was having the surgery "with only needles to control the pain."  I had not objected to this statement in the firm belief that the images of the film would back up this extraordinary claim. As it turned out, it did not; the patient clearly had all sorts of other treatments given through intra-venous lines and, in the film, these were openly in the view of Kathy Sykes.
This overt contradiction annoyed not just me but several other people as well. One of them was Simon Singh who filed an official complaint against the BBC for misleading the public, and eventually won his case.
The notion that acupuncture can serve as an alternative to anaesthesia or other surgical conditions crops up with amazing regularity. It is important not least because is often used as a promotional tool with the implication that, IF ACUPUNCTURE CAN ACHIVE SUCH DRAMATIC EFFECTS, IT MUST BE AN INCREDIBLY USEFUL TREATMENT! It is therefore relevant to ask what the scientific evidence tells us about this issue.
This was the question we wanted to address in a recent publication. Specifically, our aim was to summarise recent systematic reviews of acupuncture for surgical conditions.
Thirteen electronic databases were searched for relevant reviews published since 2000. Data were extracted by two independent reviewers according to predefined criteria. Twelve systematic reviews met our inclusion criteria. They related to the prevention or treatment of post-operative nausea and vomiting as well as to surgical or post-operative pain. The reviews drew conclusions which were far from uniform; specifically for surgical pain the evidence was not convincing. We concluded that "the evidence is insufficient to suggest that acupuncture is an effective intervention in surgical settings."
So, Kathy Sykes' comment was misguided in more than just one way: firstly, the scene she described in the film did not support what she was saying; secondly, the scientific evidence fails to support the notion that acupuncture can be used as an alternative to analgesia during surgery.
This story has several positive outcomes all the same. After seeing the BBC programme, Simon Singh contacted me to learn my views on the matter. This prompted me to support his complaint against the BBC and helped him to win this case. Furthermore, it led to a co-operation and friendship which produced our book TRICK OR TREATMENT.
As promised in the last post, I will try to briefly address the issues which make me uncomfortable about the quotes by Anthony Campbell. Readers will recall that Campbell, an ex-director of what was arguably the most influential homeopathic hospital in the world and a long-time editor of the journal HOMEOPATHY, freely admitted that homeopathy was unproven and its effects were most likely not due to any specific properties of the homeopathic remedies [which are, in fact, pure placebos] but largely rely on non-specific effects.
I agree with much that Campbell wrote but I disagree with one particular implication of his conclusions: "Homeopathy has not been proved to work but neither has it been conclusively disproven…." and "…it is impossible to say categorically that all the remedies are without objective effect…"
This is an argument, we hear from proponents of alternative medicine with unfailing regularity: "MY TREATMENT MAY NOT BE SUPPORTED BY GOOD SCIENCE [BECAUSE GOOD SCIENCE IS EXPENSIVE, AND WE CANNOT AFFORD IT] BUT IT HAS NOT BEEN DISPROVEN EITHER – AND, AS LONG AS IT IS NOT DISPROVEN, NOBODY SHOULD STOP US USING IT"
Campbell does not explicitly draw this latter conclusion but he certainly implies it. In his book, he explains that, even though homeopathic remedies probably are placebos, homeopathy does a lot of good through the placebo effect and through its spiritual aspects. And that is, in his view, sufficient reason to employ it for healing the sick. The very last sentence of his book reads: "Love it or loathe it, homeopathy is here to stay"
So the implication is there: alternative therapies can be as bizarre, nonsensical, implausible, unscientific or idiotic as they like, if we scientists cannot disprove them, they must be legitimate for general use. But there are, of course, two obvious errors in this line of reasoning:
Why on earth should scientists waste their time and resources on testing notions which are clearly bonkers? It is hard to imagine research that is less fruitful than such an endeavour.
Disproving homeopathy [or similarly ridiculous treatments] is a near impossibility. Proving a negative is rarely feasible in science.
In the best interest of patients, responsible health care has to follow an entirely different logic: we must consider any treatment to be unproven, while it is not supported with reasonably sound evidence for effectiveness; and in clinical routine, we employ mostly such treatments which are backed by sound evidence, and we avoid those that are unproven. In other words, whether homeopathy or any other medicine is unproven or disproven is of little practical consequence: we try not to use either category.
While I applaud Campbell's candid judgement regarding the lack of effectiveness of homeopathic remedies, I feel the need to finish his conclusion for him giving it a dramatically different meaning: Homeopathy has not been proved to work but neither has it been conclusively disproven; this means that, until new evidence unambiguously demonstrates otherwise, we should classify homeopathy as ineffective – and this, of course, applies not just to homeopathy but to ALL unproven interventions.
'Homeopathy in perspective' is the title of a book by Anthony Campbell, the revised edition of which has recently become available. Dr Campbell has been a consultant at the Royal London Homeopathic Hospital (RLHH, as it was called then) for ~20 years and also served as the editor of the journal 'Homeopathy' (as it is now called) for many years. He retired in 1998 but is still active in writing and teaching. His book is well-written, informative and far less promotional than one would expect. It summarizes the history of homeopathy in some detail and then discusses the scientific evidence – and it is, of course, this section that might be of particular interest for this blog and its readers.
I think Campbell is correct when he writes that it is wrong to say, as some critics do, that there is no objective evidence for homeopathy. There is, but most of it is of rather poor quality. Even at its best there is evidence for only a small effect, and when an effect is as small as this it may not be there at all. It is also disturbing that the better the quality of a trial the less likely it is to show a positive effect.
Amazing, coming from a retired consultant of the RLHH, isn't it? It gets even more surprising as we read on: I conclude that there are no firm answers to questions about the efficacy of homeopathy to be found in the research that has been done up to now. Homeopathy has not been proved to work but neither has it been conclusively disproven – it is of course notoriously difficult to prove a negative.
A few paragraphs further on, Campbell provides his final conclusions on the evidence and gets even more explicit: My own assessment of homeopathy is that, while it is impossible to say categorically that all the remedies are without objective effect, any effect there may be is small and unimportant. The great majority, at least, of the improvement that patients experience is due to non-specific causes.
When I began saying and writing things like this, the world of homeopathy decided that I was a fraud and imposter who had no training in or knowledge of homeopathy; therefore, they almost unanimously agreed, my verdict was not to be trusted. I wonder how they are going to try to invalidate the words of someone who was for 20 years a consultant and director of the RLHH.
PS 
While I agree with much of what Campbell writes here, I have reservations about one particular aspect and will explain in the next post.
Chronic neck pain is common and makes the life of many sufferers a misery. Pain-killers are helpful, of course, but who wants to take such medications on the long-term? Is there anything else these patients can do?
Massage therapy has been shown to work but how often for how long? This trial was designed to evaluate the optimal dose of massage for individuals with chronic neck pain. 228 individuals with chronic non-specific neck pain were recruited and randomized them to 5 groups receiving various doses of massage:
30-minute treatments 2 or 3 times weekly
60-minute treatments once weekly
60-minutte treatments twice weekly
60-minute treatments thrice weekly
a 4-week period on a wait list
Neck-related dysfunction was assessed with the Neck Disability Index (range, 0-50 points) and pain intensity with a numerical rating scale (range, 0-10 points) at baseline and at 5 weeks.
The results suggested that 30-minute treatments were not significantly better than the waiting list control condition in terms of achieving a clinically meaningful improvement in neck dysfunction or pain, regardless of the frequency of treatments. In contrast, 60-minute treatments 2 and 3 times weekly significantly increased the likelihood of such improvement compared with the control condition in terms of both neck dysfunction and pain intensity.
The authors conclude that after 4 weeks of treatment, we found multiple 60-minute massages per week more effective than fewer or shorter sessions for individuals with chronic neck pain. Clinicians recommending massage and researchers studying this therapy should ensure that patients receive a likely effective dose of treatment.
So two or three hours of massage therapy seems to be optimal as a treatment for chronic neck pain. This would cost ~£ 200-300 per week! Who can or wants to afford this? And are there other options that might be less expensive and equally or more effective? For instance, is physiotherapeutic exercise an option?
I am not sure I know the answers to these questions but, before we recommend massage therapy to the many who chronically suffer from neck pain, we should find out.
The safety of the manual treatments such as spinal manipulation is a frequent subject on this blog. Few experts would disagree with the argument that more good data are needed – and what could be better data than that coming from a randomised clinical trial (RCT)?
The aim of this RCT was to investigate differences in occurrence of adverse events between three different combinations of manual treatment techniques used by manual therapists (i.e. chiropractors, naprapaths, osteopaths, physicians and physiotherapists) for patients seeking care for back and/or neck pain.
Participants were recruited among patients seeking care at the educational clinic of the Scandinavian College of Naprapathic Manual Medicine in Stockholm. 767 patients were randomized to one of three treatment arms:
 manual therapy (i.e. spinal manipulation, spinal mobilization, stretching and massage) (n = 249),
 manual therapy excluding spinal manipulation (n = 258)
 manual therapy excluding stretching (n = 260).
Treatments were provided by students in the seventh semester (of total 8). Adverse events were monitored via a questionnaire after each return visit and categorized in to five levels:
short minor,
long minor,
short moderate,
long moderate,
serious
This was based on the duration and/or severity of the event.
The most common adverse events were soreness in muscles, increased pain and stiffness. No differences were found between the treatment arms concerning the occurrence of these adverse event. Fifty-one percent of patients, who received at least three treatments, experienced at least one adverse event after one or more visits. Women more often had short moderate adverse events, and long moderate adverse events than men.
The authors conclude that adverse events after manual therapy are common and transient. Excluding spinal manipulation or stretching do not affect the occurrence of adverse events. The most common adverse event is soreness in the muscles. Women reports more adverse events than men.
What on earth is naprapathy? I hear you ask. Here is a full explanation from a naprapathy website:
Naprapathy is a form of bodywork that is focused on the manual manipulation of the spine and connective tissue. Based on the fundamental principles of osteopathy and chiropractic techniques, naprapathy is a holistic and integrative approach to restoring whole health. In fact, naprapathy often incorporates multiple, complimentary therapies, such as massage, nutritional counseling, electrical muscle stimulation and low-level laser therapy.
Naprapathy also targets vertebral subluxations, or physical abnormalities present that suggest a misalignment or injury of the spinal vertebrae. This analysis is made by a physical inspection of the musculoskeletal system, as well as visual observation. The practitioner will also conduct a lengthy interview with the client to help determine stress level and nutritional status as well. An imbalance along one or more of these lines may signal trouble within the musculoskeletal structure.
The naprapathy practitioner is particularly skilled in identifying restricted or stressed components of the fascial system, or connective tissue. It is believed that where constriction of muscles, ligaments, and tendons exists, there is impaired blood flow and nerve functioning. Naprapathy attempts to correct these blockages through hands-on manipulation and stretching of connective tissue. However, since this discipline embodies a holistic approach, the naprapathy practitioner is also concerned with their client's emotional health. To that end, many practitioners are also trained in psychotherapy and even hypnotherapy.
So, now we know!
We also know that the manual therapies tested here cause adverse effects in about half of all patients. This figure ties in nicely with the ones we had regarding chiropractic: ~ 50% of all patients suffer mild to moderate adverse effects after chiropractic spinal manipulation which usually last 2-3 days and can be strong enough to affect their quality of life. In addition very serious complications have been noted which luckily seem to be much rarer events.
In my view, this raises the question: DO THESE TREATMENTS GENERATE MORE GOOD THAN HARM? I fail to see any good evidence to suggest that they do – but, of course, I would be more than happy to revise this verdict, provided someone shows me the evidence.
These days, there is so much hype about alternative cancer treatments that it is hard to find a cancer patient who is not tempted to try this or that alternative medicine. Often it is employed without the knowledge of the oncology team, solely on the advice of non-medically qualified practitioners (NMPs). But is that wise? The aim of this survey was to find out.
Members of several German NMP-associations were invited to complete an online questionnaire. The questionnaire explored areas such as the diagnosis and treatment, goals for using complementary/alternative medicine (CAM), communication with the oncologist, and sources of information.
Of a total of 1,500 members of the NMP associations, 299 took part in this survey. The results show that the treatments employed by NMPs were heterogeneous. Homeopathy was used by 45% of the NMPs, and 10% believed it to be a treatment directly against cancer. Herbal therapy, vitamins, orthomolecular medicine, ordinal therapy, mistletoe preparations, acupuncture, and cancer diets were used by more than 10% of the NMPs. None of the treatments were discussed with the respective physician on a regular basis.
The authors concluded from these findings that many therapies provided by NMPs are biologically based and therefore may interfere with conventional cancer therapy. Thus, patients are at risk of interactions, especially as most NMPs do not adjust their therapies to those of the oncologist. Moreover, risks may arise from these CAM methods as NMPs partly believe them to be useful anticancer treatments. This may lead to the delay or even omission of effective therapies.
Anyone faced with a diagnosis of CANCER is understandably keen to leave no stone unturned to bring about a cure of the disease. Many patients thus go on to the Internet and look what alternative options are on offer. There they find virtually millions of sites advertising thousands of bogus cancer 'cures'. Others consult their alternative practitioners and seek help. This new survey shows yet again that the advice they receive is dangerous. In fact, it might well be even more dangerous than the results imply: the response rate of the survey was dismal, and I fear that the less responsible NMPs tended not to reply.
None of the treatments listed above can cure cancer. For instance, homeopathy, the most popular alternative cancer treatment in Germany, will have no effect whatsoever on the natural history of the disease. To claim otherwise is criminally irresponsible.
But far too many patients are unaware of the evidence and of the dangers of being misled by bogus claims. What we need, I think, is a major campaign to get the word out. It would be a campaign that saves lives!
Fibromyalgia (FM) is a chronic condition which ruins the quality of life of many patients. It is also a domain of alternative medicine: dozens of different treatments are on offer - this is clearly a paradise for charlatans and bogus claims. So is there a treatment that is demonstrably effective? The purpose of this systematic review is to evaluate the evidence of massage therapy FM.
Electronic databases were searched to identify relevant studies. The main outcome measures were pain, anxiety, depression, and sleep disturbance. Two reviewers independently abstracted data and appraised risk of bias. The risk of bias of eligible studies was assessed based on Cochrane tools.
Nine randomized controlled trials involving 404 patients met the inclusion criteria. A meta-analyses showed that massage therapy with a duration of at least 5 weeks significantly improved pain , anxiety, and depression. Sleep disturbance was not improved by massage therapy.
The authors conclude that massage therapy with duration ≥5 weeks had beneficial immediate effects on improving pain, anxiety, and depression in patients with FM. Massage therapy should be one of the viable complementary and alternative treatments for FM. However, given fewer eligible studies in subgroup meta-analyses and no evidence on follow-up effects, large-scale randomized controlled trials with long follow-up are warrant to confirm the current findings.
To put these results into context, we need to consider the often poor methodological quality of the primary studies. It is, of course, not easy to test massage therapy in rigorous trials. For instance, there is no obvious placebo, and we can therefore not be sure whether the treatment benefits patients through a specific effect or whether non-specific effects are the cause of the improvement.
We also should be aware of the facts that for most other alternative therapies the evidence is not encouraging, and that massage therapy is relatively safe. Therefore the conclusion for those who suffer from FM might well be that massage therapy is worth a try.
After a traumatic brain injury (TBI) the risk of stroke is significantly increased. Taiwanese researchers conducted a study to find out whether acupuncture can help to protect TBI patients from stroke. They used Taiwan's National Health Insurance Research Database to conduct a retrospective cohort study of 7409 TBI patients receiving acupuncture treatment and 29,636 propensity-score-matched TBI patients without acupuncture treatment as controls. Both TBI cohorts were followed for up to two years and adjusted for immortal time to measure the incidence and adjusted hazard ratios (HRs) of new-onset stroke.
TBI patients with acupuncture treatment (4.9 per 1000 person-years) had a lower incidence of stroke compared with those without acupuncture treatment (7.5 per 1000 person-years), with a HR of 0.59 (95% CI = 0.50-0.69) after adjustment for sociodemographics, coexisting medical conditions and medications. The association between acupuncture treatment and stroke risk was investigated by sex and age group (20-44, 45-64, and ≥65 years). The probability curve with log-rank test showed that TBI patients receiving acupuncture treatment had a lower probability of stroke than those without acupuncture treatment during the follow-up period (p<0.0001).
The authors conclude that patients with TBI receiving acupuncture treatment show decreased risk of stroke compared with those without acupuncture treatment. However, this study was limited by lack of information regarding lifestyles, biochemical profiles, TBI severity, and acupuncture points used in treatments.
I want to congratulate the authors for adding the last sentence to their conclusions. There is no plausible mechanism that I can think of by which acupuncture might bring about the observed effect. This does not mean that an effect does not exist; it means, however, that it is wise to be cautious and to not jump to conclusions which later need to be revised. The simplest interpretation, by far, of the observed phenomenon is that those patients opting to have acupuncture were, on average, less ill and therefore had a lower risk of stroke.
Having said that, the findings are, I think, intriguing enough to conduct further investigations – provided they are rigorous and eliminate the confounders that prevented this study from arriving at more definitive conclusions.